The second type of cloth diaper I want to tell you about is the fitted diaper.  Fitted diapers are shaped just like disposables and fasten with either velcro or snaps.  There are also contour diapers, which are close cousins to fitteds, but you need to fasten those with a Snappi.  Like with prefolds, fitted diapers are not waterproof so you need to use a cover or wrap over them.
Pros
They are more convenient to use than prefolds, since there is no folding or Snappi involved.  They also tend to be less bulky than prefolds, which is a definitely plus.  Also, most fitteds are also extremely absorbent.
Cons
This is also a two-part system…you need to use diaper covers over fitteds.  Also, because they're thicker and more absorbent, they take a little longer to dry than prefolds do.
Cost
Fitteds range from $8-$30, depending on the brand.
My Thoughts
Honestly, I'm not a fan of fitteds.  I ordered 6 Green Mountain Diaper Fitteds (they're about halfway down the page) before Kelvin was born and they were easy to use and worked fine, but I find them a little unnecessary.  My main problems with prefolds is that they're bulky and require a cover (which makes them more bulky).  Fitteds don't fix either of those problems.  They are trimmer than prefolds, but not as trim as pocket diapers or AIO's.  And of course, they require a cover.
But for someone who dislikes folding prefolds or needs something easy for other caregivers to use, this would be a good solution.  They're substantially less expensive than pockets or AIO's, too.
If you didn't read my thoughts on covers yet, you can see them at the end of this post.
Have you tried fitteds?  What did you think of them?  What brands did you like?
That's what I'm thinking right now as I sat down to write a post and Kelvin woke up the SECOND my butt hit the chair.  This is not happening, is it?
These kids and their wacky schedules are really hitting me hard lately.  Like body-slamming me.  They're going to bed late, waking up all night long, getting up at the butt-crack of dawn and taking measly little naps!  And never at the same time!  Oh, no…they couldn't possibly both go to bed late and both get up late.  Nope, one has to stay up until 10 and then sleep in, while the other goes to bed early and gets up at 6.  That's how they keep their strength up while completely zapping me of energy, you see!  I think they have secret meetings to plan their strategy while I'm in the bathroom….you know, applying anti wrinkle cream to keep sleep deprivation from making me look old before my time!
I would love to sit here and complain more about my kids and their conspiring against me, but apparently Kelvin's bed is like the worst place on earth and he's screaming bloody murder about it.  Sigh.  Someone send coffee!!!
This morning was one of those mornings where I have a hard time motivating myself to do anything but lay on the couch.  It was pouring rain outside, I only got to sleep about five hours, and the kids were bouncing off the walls.
And then our Parents As Teachers educator showed up!  With shaving cream!
We let Ava play with it on a mat for awhile while Kelvin played with toys in his highchair next to her, but then it became obvious that Kelvin wanted in on it.  So we wiped up the shaving cream and broke out the whipped cream!
Seriously, you guys…we went through TWO cans!!
They were rubbing it in their hair, on their bellies, in their mouths (of course), all over the table…it was everywhere!!  Aside from Ava being concerned about her hands being dirty, we all had a blast.
This is a great activity to let the kids go crazy with on a day when they can't play outside.  And it would be even better to do outside where you can just hose everything off when you're done!  If you do it inside, though, I have one pointer: Have a clear path to the bathtub!
For more great ideas, visit this week's Works For Me Wednesday!
Chad's birthday was Saturday and now that Ava is old enough to understand the concept of birthdays, I wanted to help her make a gift for him.  I wanted it to be something that would be meaningful to him, that could capture this moment in the kids' lives, in a way.
My first thought was that I wanted to do something with the kids' handprints.  I considered putting their handprints in stepping stones, but that's a little more than I could handle by myself.  My next thought was to put their handprints on paper and frame it.
With that general idea, we headed to Walmart to look for a frame.  I ended up finding a frame with four sections that each would hold a 4×6 picture.  I decided that would be perfect, because I could put each of their handprints in a slot, and then put their picture in another slot and a cute quote about Daddies in the final slot.
When it came down to making it, I decided to use Crayola Color Wonder fingerpaint on Color Wonder paper.  That cut down on the mess immensely!!  In fact, there really wasn't any mess.  And you would be able to see that with your own eyes if my camera didn't hate me.  I took pictures and videos throughout the whole process so I could share them with you and it turned out I didn't have the memory card in the camera.  And I have no way to get the pictures off of the camera's "internal memory".  It's all the camera's fault.
So I only have pictures of the final product.
And this.  I have no idea how Kelvin's first attempt at a handprint ended up with 5 fingers and a thumb.
And here are the kids with Daddy after they gave him their gift.  He said he really liked it and he'd been wanting something with their handprints on it.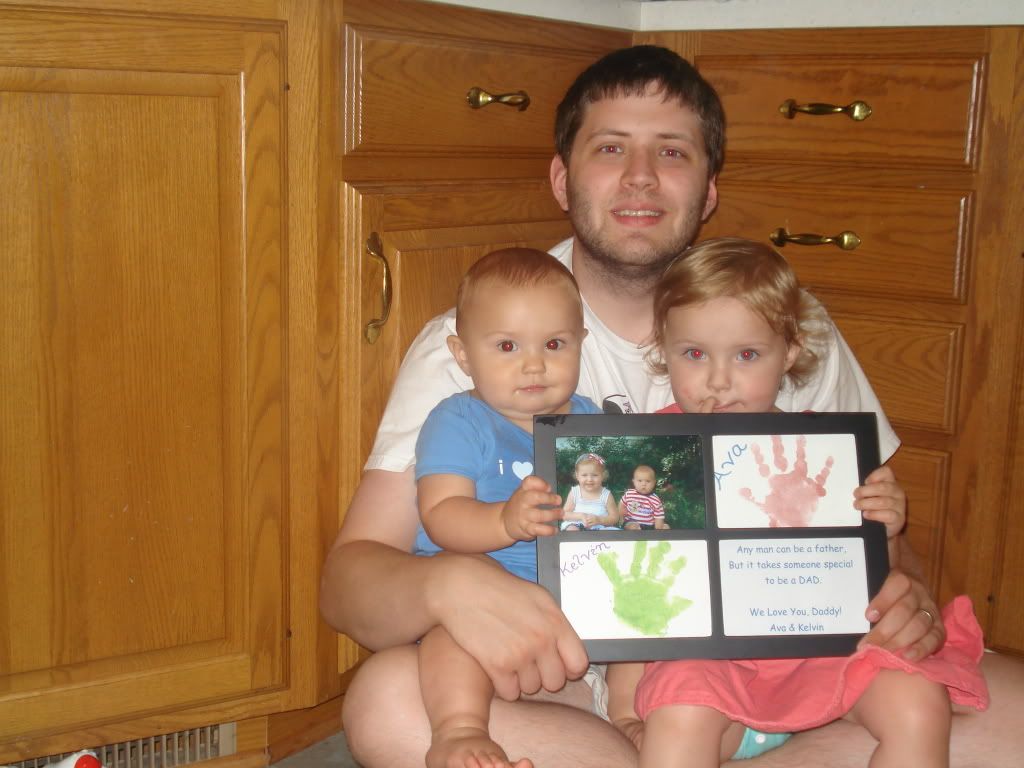 This makes a great gift, not only for Daddies, but for grandparents or anyone else who is close to your children (you would want to pick a different quote though, obviously).
Do you have an idea for a gift for children to make and give?  Please leave it in a comment!
Wow, we've had a busy weekend!  The kind of weekend that has no business calling itself the "weekend".  You know the type…tons of running around, traveling, and general wearing-ourselves-out.
On Saturday night, we were coming home from Kansas City and Kelvin fell asleep in his car seat.  Ava was still awake though, and was apparently in the mood to play!
Ava: Hi, Mom.
Me: Hi, Ava.
Ava: SHHHH!!  You'll wake up Baby!!!
(a minute or so passes)
Ava: Mom?
Me: What, Ava?
Ava: SHHHH!!  You'll wake up Baby!!!
(This repeated about 10 times)
I think she's going to have a sense of humor like her Daddy!!!  LOL
One thing I love about cloth-diapering is that there are so many options!  There are four major types of cloth diapers: prefolds, fitted, pockets and all-in-one's (AIO's).  There's lots of variety within each type, too. Over the next few posts, I'll be describing each type, some pros and cons, average cost and my personal opinion of it.
The first type is prefolds
.  A prefold is a flat diaper that you fold onto the baby and secure with a Snappi.  Because it is just absorbent fabric, you also have to use a waterproof cover over it.
In case you're having trouble visualizing it, I made a video showing how I put prefolds on.  There are many different ways to do it, so if my way doesn't work for you, Google it and you can find other videos.
You're going to have to excuse the fact that my model is a teddy bear.  This was the bear's first Take, but it was Take 529 for me.  Neither one of the kids wanted to cooperate and be famous on my blog, so the teddy bear had to step in.
?action=view&current=MOV05004.flv
Pros
Many people choose prefolds because they're the least expensive option.  Not only do they cost less up-front, you can use them longer because you can fold them to fit your baby, so you don't need as many sizes.  Another advantage is the fast drying time.
Cons
My biggest complaint about prefolds is that they're bulkier than pocket diapers or AIO's.  I need to make sure that my kids are wearing stretchy or slightly big pants in order to fit them over their diaper.  Some people dislike them because they require folding, but as I've said before: With a little bit of practice, you'll be a pro!  You should also keep in mind that this is a two-part system…you also need diaper covers to go over them.
Cost
Basic prefolds cost $14-$32 per dozen, depending on which size you're buying.  Most covers range from $7-$30.
My Thoughts
Prefolds and covers are the foundation of my cloth-diapering system.  I've dabbled in a little bit of everything, but prefolds have always been my standby.  We use them quite a bit when we're at home, but not at night.
In the beginning, I bought these prefolds in the newborn and infant sizes (3 dozen newborns, 1 dozen infants).  If I had it to do over again, I would only buy the infant size.  They shrink and get all quilty when you wash them and both ended up being the same size, but the infant diapers are thicker and more absorbent.  I only used the newborn size for a very short time.
After Kelvin outgrew the infant diapers, I went straight to the premium ones and now use them on him and Ava.  Like I said, you can fold them to fit your baby, so there's no reason to buy any of the sizes in between, since there isn't much difference.
I would not recommend buying the toddler size unless you know the premium ones are too small.  I have a dozen toddler diapers and they're HUGE.  I doubt either of my kids will ever wear them.
So to sum up…my advice if you decide on prefolds is to buy 2-3 dozen infant diapers and 2-3 dozen premium diapers and you'll be set.
For covers, I bought Bummis, Litewraps, Thirsties, Proraps, Mommy's Touch, and Wonder Wraps.  I did not like the Bummis at all.  They leaked every single time I used them.  I also did not like the Mommy's Touch because the placement of the snaps caused red marks on the kids' legs.  The Litewraps and Proraps were alright, but Kelvin outgrew them very quickly, so I didn't use them much.  I loved Thirsties until I discovered Wonder Wraps!!
After I tried Wonder Wraps, no other diaper cover would do.  That's all we have now because they're awesome.  They never, ever leak and they fit great.  And the best part is that they're one-size!!  You buy them when your baby is born and adjust them as your baby grows…you never have to buy covers again!
So in case you can't tell, my recommendation would be to skip the other covers and go for Wonder Wraps!
(The cover shown in the video is a Wonder Wrap and I wish I would have shown you how to adjust them, but I didn't think of it until later.  And I did not want to start all over again…that would have been Take 530, folks!  But you adjust it to smaller with the snaps on the front)
The nice thing about covers is that you don't have to put them in the diaper pail after every use (unless they get poop on them).  I use two covers per child per day and switch back and forth between them (to let Cover #1 air out while Cover #2 is on Baby and vice versa).  If you're washing every other day, you should probably have 5-6 covers per child.  I have 10 (five per child) and it works perfectly for me.
I've said it before and I'll say it again: This is just my experience with cloth diapering.  Different diapers work for different people.  If you have a thought to share about prefolds or covers, please share it in a comment!!
"If you bungle raising your children, I don't think whatever else you do well matters very much."
~ Jacqueline Kennedy Onassis
Tonight before dinner, Chad said a prayer over the food, like he always does.  We usually encourage Ava to say her own prayer when he's finished, if she wants to.  So tonight, Ava folded her hands, bowed her head and said, "Please, good food.  Amen." 🙂
Apparently she thinks my cooking needs a little extra help!!  Or maybe she wasn't too thrilled with it being a new recipe…maybe she should have been praying for me to get an online backup of my good old tried-and-true's!  LOL
When Ava was about a year old, she started getting interested in art.  Crayons, markers, paint…you name it, she loved it (and still does!).  My grandpa picked up this desk for her at a garage sale and I was thrilled that she would have her own little area for her art!  And yes, she is the one who "decorated" the desk top.
Pretty soon, she got far too many art supplies to fit in her desk.  So I picked up this cute little white cart at Walmart for less than $10.  It has worked perfectly for us.  It's big enough to hold everything, it has three drawers to help with keeping everything organized and it has wheels so we can easily move it around as we need to.
Here's a look at how I have it all organized.
The top drawer has all of the basic art supplies…crayons, markers, colored pencils, glue, foam stickers, regular stickers, etc.  The only "basic" that we don't keep in here is the scissors.  Those are kept up high so she can only use them when Mommy is supervising…for obvious reasons!!
This is the middle drawer.  It holds all of her Crayola Color Wonder products.  I love these, by the way!!  These made the "learning to color" stage so mess-free.  In fact, we didn't even have regular markers until about a month ago.  We still use Color Wonder quite a bit, though…especially at church when I don't want her getting regular marker all over her dresses.
And the bottom drawer is for her play-doh and modeling clay.
Now her desk is free to store all of her masterpieces until I box them up to save!
The art cart works for me!!  To see more Works For Me Wednesday, click here!
Kelvin has a foot issue…and it's getting a little bit frustrating.  I've talked to other moms about it, and it seems to be fairly common, but I need a solution here!
His issue?  Fat feet!!  And me not being able to find any shoes that I can cram them into!  I know Payless sells Wide shoes, but "wide" isn't the problem…his feet are really "tall".  Like thick, from the sole of the shoe to the top of the shoe.  Does that make any sense?  He has several pairs of shoes that are "tall" enough, but they're way too long…there's about an inch from his toes to the end of the shoe.
It's not such a big deal right now, with it being summer and all.  I don't really care if he wears shoes right now, since it's warm and he's carried everywhere.  But soon, he's going to be walking and it's going to get cold and I need something to put on his feet.
The only possible solution I've come up with is to buy him some Robeez soft soles.  I'm not worried about having hard soles because I think I'll still be carrying him when he's outside this winter.  My only concern is whether his feet will stay warm enough.  I also don't even know for sure that they'll fit his feet, either.
Has anyone who has had this problem found a solution?  Do you know of a brand that's "tall" enough to fit his feet?