Archive for January, 2010
Since I gave up writing at Screaming Pennies in order to focus on this blog more, I haven't written a single money-saving post. Right now I don't have the time or energy to keep a blog updated with deals and ways to save money….but I really wish I did! How can I track down and post about cheap photo graduation announcements when I have a 2-year-old and 1-year-old wreaking havoc on my office area though? LOL Even though I'm taking an extended hiatus from that blog, I still keep up on current deals, which saves my family quite a bit of money. Today I found a deal that I thought quite a few of my readers would be interested in, so I'm passing it on…
Right now you can get a free sample of Pampers Cruisers with Dry Max! I've heard about these and wanted to try them, but since we cloth-diaper about 98% of the time, I only buy disposables when they're on sale (plus, these won't hit stores until March 2010). This is a great opportunity to see what I think of them for free! When you request this sample, you'll receive 3 diapers, plus a chance to win free Pampers for a year (you're a winner if one of your samples is stamped with Team USA)!
Since we're on the subject of saving money, have you noticed the new page on my sidebar? The one titled Samples, Coupons, and Other Savings? If you click on that, you can see a list of sites and programs that can save you lots of money. The sites featured there change frequently, so you can check back often to save even more! I especially recommend checking out Coupons.com. I print lots of coupons there and that site saves me literally hundreds of dollars every year.
P.S. Want to hear about my horrible morning at the mechanic that involved an accidental call to 911? Click here!
I've now been staring at this blank post for about ten minutes and can't think of a single thing to write. No, scratch that. I can't think of a single thing I want to write right now. I've got plenty of ideas for awesome posts, but they all require thought and research and my brain is just too tired tonight. That's what three years of sleep deprivation will do to you. Chad proved tonight that my brain is too tired to even do grade-school-level subtraction, so it's definitely too worn out to write a well-thought-out post (especially about stuff like rv financing). Which is why I'm rambling right now instead of telling you about what we did yesterday.
A few weeks ago, I found out that our MOMS Club was going to have a swimming "field trip" and I instantly wrote it off as something I wasn't crazy enough to do. But cabin fever does strange things to your head and a few days ago I actually started considering it. After much debate back and forth in my head, I finally decided to suck it up and just go. I'm not saying I wasn't nervous though…trying to watch a two-year-old and one-year-old in a pool and keep everyone's head above water? Not for the weak or faint-of-heart!
It turned out way better than I thought it would, though. Even without a nap, Ava behaved really well and didn't have any meltdowns. Kelvin wanted me to hold him for the first 45 minutes or so, but after that he had a blast and even walked out in the water until he was neck-deep (it started at zero-depth). They both had a lot of fun on the slides and luckily, I only had to go down one slide to get Kelvin to see how much fun they were! And since we were with friends, if I couldn't see Ava behind a slide or something, someone was always there to tell me that they could see her and she was fine.
We all ended up being really glad we went and it was a huge boost to my mom-confidence to realize that I can take both kids swimming by myself! 🙂
You are never going to guess what my 15-month-old has become obsessed with over the last week. Never in a million years! Are you ready for this?
Coffee!!!
I know! I would have to be clinically insane to give Kelvin coffee, but for some reason he thinks he needs it!
He sees me drink mine every morning (and mid-morning….and afternoon….and mid-afternoon…but that's not the point!) and he's never shown any interest in it. But then a few mornings ago, I hear, "Cottee? Cottee?! COTTEE?!"
He kept talking about it all morning and finally Chad said I should just let him try some, he'd hate it and it would be over. So I gave him a teeny-tiny sip. And he loved it. Perfect. You'd think the kid was a business plan consultant that had been up all night, with the way he thinks he needs his "cottee"!
Of course, I haven't let him have any more than that one tiny sip, but the next morning, he got up after Ava had already finished her breakfast and when she saw him, she squealed, "Hi, Babycake!" He just looked at her and said, in a very matter-of-fact tone of voice, "Cottee." Apparently, he thinks he can't talk to any of us until he gets his morning coffee. Good to know.
Eczema is not fun, but is increasingly common. I've dealt with it, to various degrees my entire life. Throughout my entire childhood, my mom tried giving me every treatment for eczema she could find or think of…countless creams, going to bed wearing gloves (it itched horribly at night), oatmeal baths, etc.
And now poor Ava is starting to show signs of eczema too. Since she is far from the only child dealing with this, here are some tips that I've found effective:
1. Avoid baths and instead give the child warm (not hot!) showers. Showers dry the skin out far less than baths do. If the child does take a bath, try to make it a short one.
2. Use a mild hypoallergenic soap with no fragrances.
3. After the shower, apply a moisturizing fragrance-free lotion or eczema cream all over the body. Try to do this within the first five minutes after the child gets out of the shower, to seal in as much moisture as possible.
4. Dress the child in soft, loose-fitting clothing to avoid further irritation.
5. Hydrocortisone (steroid) cream can be extremely effective if used regularly.
Relief workers are now in Haiti (and have been for several days), but there's still a lot that needs to be done in many different areas. So many people have donated, commented on blogs that were donating on a pay-per-comment basis and most importantly, prayed! Today when I visited my blog-friend Lovelyn's blog, I found another way that we can help.
When the earthquake struck, there were many families in the process of adopting Haitian children. Needless to say, they want to get their children out as quickly as possible. From what I understand, Haiti has agreed to release the children, they can get humanitarian parole, and they have planes and places to take the children that have food, water, and medical care. The only thing they still need is the US to approve the children's evacuation.
These families and children need us to call or email our Congressmen and ask them to help! Please visit A Place Called Simplicity for more information and a sample letter with the info the Congressmen need. Obviously, time is of the essence. Please make time to do this today!
I will let you know if I find other ways that we can help the Haitians in their time of need. Like many others, I have a hard time sitting around and worrying about things like acne solutions when so many people are suffering so much!
This week, we had the opportunity to go on a "field trip" to Cici's to let the kids make their own pizza. We got to go before they opened and they set all the kids up with their own crusts, sauce and cheese.
Ava had a blast, but Kelvin was not thrilled with me wanting him to stay at the table. Here's the only picture I got with both of them in it. You can see the level of not-thrilled-ness!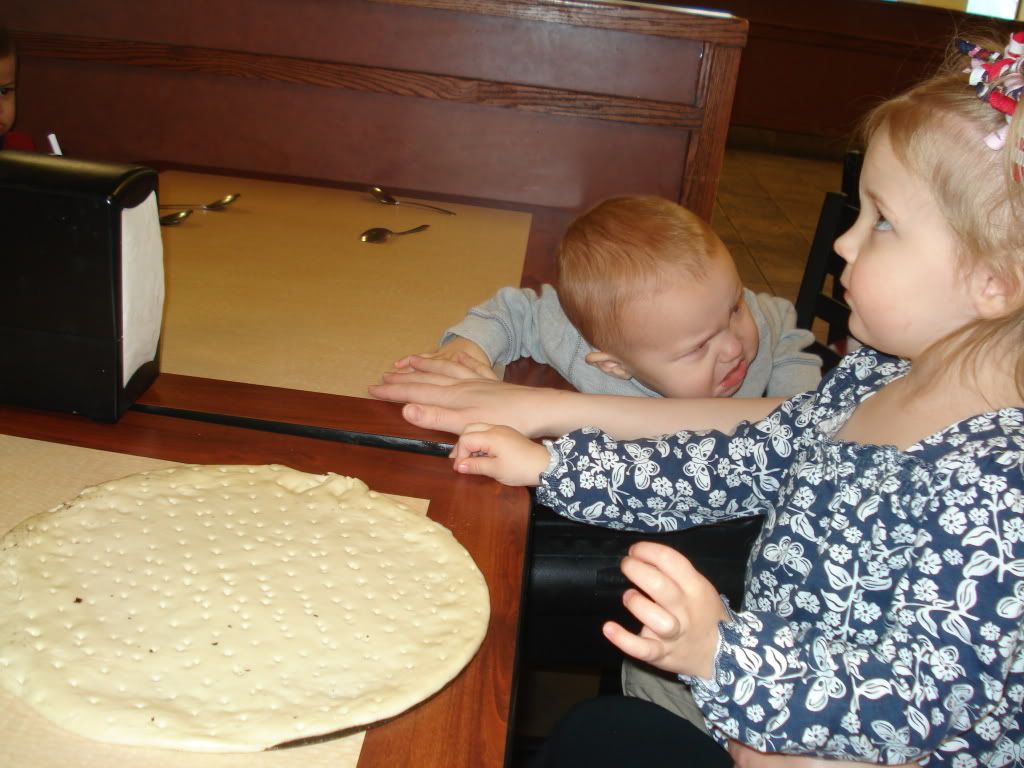 Here is Ava with her crust: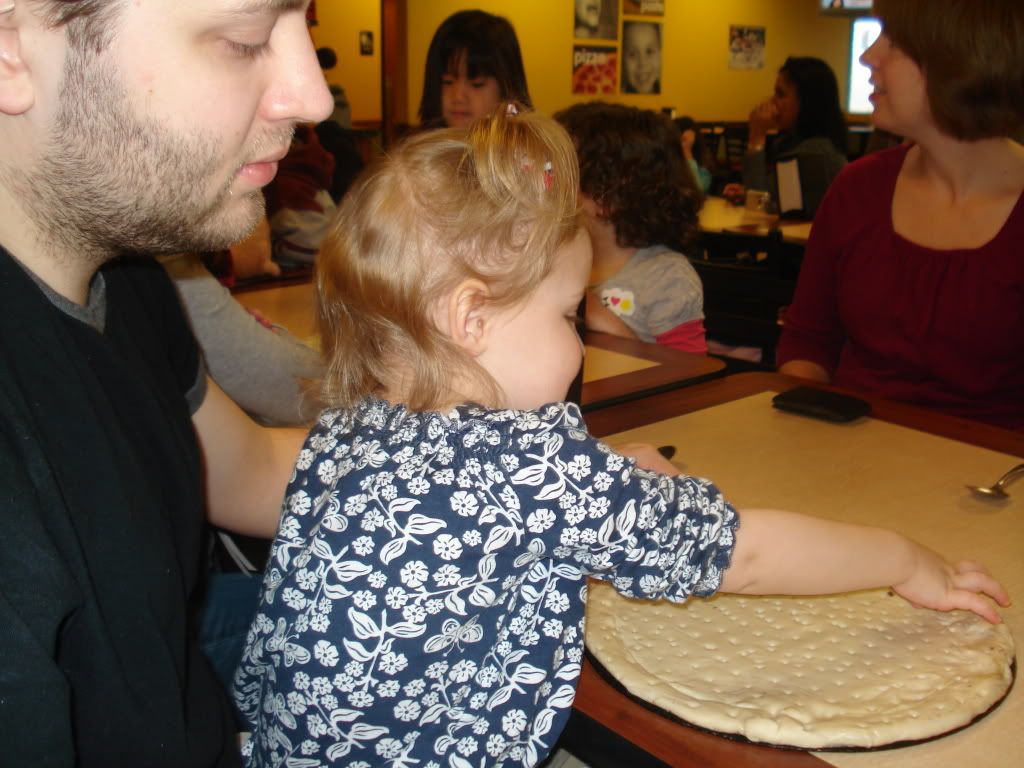 Enjoying the final product:
It was a really fun field trip for Ava and it was even more fun because the mess was made in someone else's kitchen and not mine!! Plus, who needs weight gain supplements when you get to bring a box full of pizza home with you afterwards?
A couple of weeks ago, Ava all of a sudden decided that she absolutely had to build a birdhouse. I have no idea where that idea came from, but she went on and on about it for days, telling us that she needed wood and glue and paint.
I looked for a birdhouse-making kit at Walmart but didn't have any luck. I looked at a couple other stores (talk about a natural fat burner! Shopping burns lots of calories! LOL) and was planning on going to Michael's to see if I could find anything when my mom emailed me, telling me to watch the mail for a package for Ava.
When the package arrived, we opened it and it was a Melissa & Doug Build-Your-Own Wooden Birdhouse
! Ava was beside herself with excitement and couldn't wait for Daddy to come home and help her build it. She got out her little toolbox and set it and the birdhouse up on the dining room table.
They spent about an hour building it and then came the fun part…painting!! That took another hour, but it turned out really nice and I'll take a picture of it once they get it hung up outside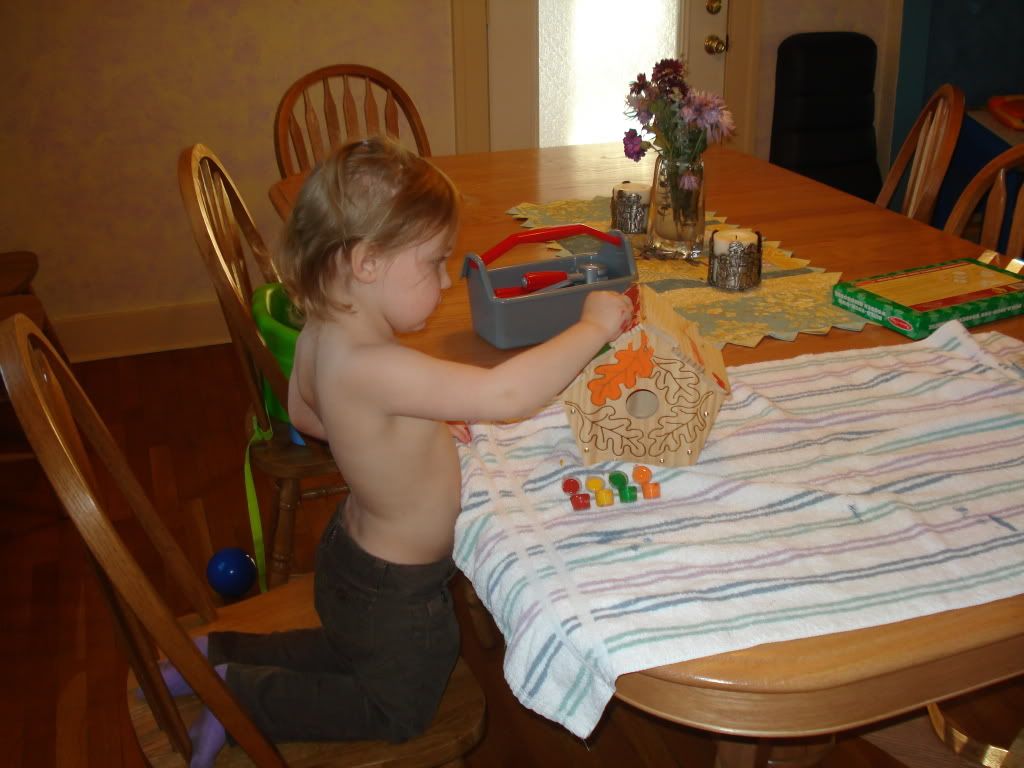 Big thanks to "Mema" for finding this and making Ava's day (actually more like week, or even month!). 🙂
Disclaimer: The link to the birdhouse is an affiliate link and I will get a small percentage back, should you decide to buy it through that link. However, I was not paid anything to put that link in this post.
I've mentioned before that I haven't quite lost all of the baby weight from Kelvin yet. Honestly, I blame nursing. I know nursing helps you lose weight, but seriously…all that milk must weigh at least the 5 or so pounds my body is bound and determined to hang onto!
So I have been trying to do the 30-Day Shred every day this month…I won't be able to blame nursing forever! I also take diet supplements in the form of prenatal vitamins, and I'd like to think that helps, too. But it's very hard to get any benefit from exercise when you have temptation literally shoved in your face!
The first time this happened, Ava had taken a really short nap and I still hadn't done the Shred, so I decided to get her to do it with me. She did like one jumping jack, sighed and said, "This is too hard. I'm going to get food." I almost died laughing.
So she went and got her Cheez-its and sat on the couch and watched me work out. But that wasn't enough! In between every exercise, she would shove her bowl in my face and say, "Want a Cheez-it?"
And she has continued to do variations on that story nearly everyday since then! Seriously, people, how am I supposed to get anything out of exercising when I have to deal with this?!
Last time our Parents as Teachers educator visited, she brought us this homemade game that Ava absolutely loves. She's really good at it and I love that it teaches her to match items just by touching them.
All you need is a clean sock and some small objects with interesting textures (you need two of each object). You can see in the picture that we have a crayon, a clothespin, a small pingpong ball, a little pom-pom, a button, a ribbon, a foam shape, a cotton ball, etc. Disregard the cup of coffee in the picture. It's not necessary, but it sure does help! LOL
Set one of each object in front of the child and keep the matching objects for yourself. Have the child close their eyes while you put one of your objects in the sock. The child can then put their hand in the sock and try to guess which object it is. Then start again with a different object. I was surprised at how quickly Ava picked this up and got good at it!
Have fun! And who knows? Maybe keeping their fingers active will keep them from needing arthritis relief treatments later on! LOL
By this time, I'm sure all of us have heard about the Haiti earthquake that happened on January 12. I cannot even imagine the suffering all of those people are going through right now….the ones who have lost their families, their homes, and everything they own.
I've seen the pictures and watched the videos and my heart just breaks for them. I wish I could go there and hold those children and give them the food and water and shelter that they need. But obviously, at this point in my life, I can't. I have children of my own here to take care of, as do most of my readers. But you can still help!
First and foremost, you can pray! Pray for comfort for those who are suffering, pray for strength and safety for those who are down there helping, and pray for generosity from those who are giving.
You can also give money to help the relief workers help those affected by the earthquake. There are many organizations that are accepting donations to help them, but my favorite is Compassion International.
Here is how your donation will be used by Compassion:
• $35 helps provide a relief pack filled with enough food and water to sustain a family for one week.
• $70 gift helps care for their needs for two weeks.
• $105 helps provide relief packs filled with enough food and water to sustain two families for two weeks.
• $210 gift helps care for two families' needs.
• $525 helps provide relief packs filled with enough food and water to sustain 10 families for two weeks.
• $1,050 gift helps care for 10 families' needs.
• $1,500 helps rebuild a home.
• $2,100 helps supply 20 families with the basics for three weeks.
If you have anything at all to give, please do. Even if things are tight right now, maybe you can donate anything you saved on food this week. Maybe instead of eating out, you can eat in this weekend and donate what you would have spent. Maybe you can buy the cheaper first communion invitations and donate the difference.
Personally, I had an auction ending on ebay today and we decided to donate everything we got from that auction. I'm sure it doesn't even make a dent in what is needed overall, but to those few families who benefit from the money we gave, it makes all the difference in the world. Don't decide not to give anything just because you can't give much…the little things add up!
We have all been so richly blessed, and even a little bit goes a long way to help those in need!
**UPDATE**
Since I wrote this post, I found out that Crystal at Money Saving Mom has organized a post with lots of different ways you can help! There are even ways that you can donate for free, if you can't donate financially…visit blogs, leave comments and the blogger will donate a predetermined dollar amount for every comment or link. At the very least, please consider clicking over and doing this!