Archive for February, 2010
Today Swagbucks is celebrating their second birthday!
Have you signed up with Swagbucks yet?  If you haven't, what are you waiting for?  This is the easiest way to earn free gift cards and other awesome prizes.  Plus, if you sign up right now through my link and use the code LORASCODE1 (case sensitive), you will start out with 60 FREE swagbucks (30 for signing up and 30 for using the code)!  For more instructions on how to sign up, keep reading.
What is Swagbucks?
Swagbucks is  a search engine that rewards you for using it.  Every few searches, you'll be rewarded with swagbucks.  The swagbucks build up and you can trade them in for gift cards (to places like Amazon, Target, Starbucks, Barnes & Noble, and Victoria's Secret to name a few) or other prizes.
How Do I Earn Swagbucks?
It's easy!  Just use it to do your normal searches that you normally use Google, Yahoo or another search engine for.  It's that simple!
You can also make extra swagbucks by referring friends. Whenever your friends earn swagbucks, you earn the same number they do, up to 100.  So if you sign up, please go through the links in this post!
Plus, they're introducing some new ways to win (detailed below).
Until 3/4, Swagbucks is offering my readers a swag bucks code to earn 60 swagbucks right off the bat, just for signing up!  The code is: LORASCODE1 (case sensitive).  Just click here to go to the registration form.  All you have to do is enter that code in the blue box that says SwagCode and you're ready to start earning!!
To celebrate their birthday, Swagbucks is making a bunch of great changes.  Here is what they told me:
1) More ways to earn Swag Bucks every day: With Swabucks.com 3.0 users will be able to earn by having their toolbar visible on their browser (must be logged in) and also by simply viewing our 'No Obligation' special offers.   This means that in addition to all the regular ways to earn, the more you are engaged with Swagbucks.com, the more you will earn!

2) New look home page and Swag Store & rewards store:  Swagbucks.com 3.0 will include a revamped, cleaner interface that will provide a better user experience.

3)  Launch of the Swagstakes Portal: As you may know we currently run about a dozen on-going sweepstakes (called Swagstakes) at any given time.  With the launch of 3.0 we are going to have a brand new, fully stocked Swagstakes portal in which there will be dozens of Swagstakes running at all times! Some contests will be limited entry (meaning a set number of entries will be offered) so the odds for a user to win are greater.  The tentative list of items that will be offered during initial launch should include: $100 Amazon Gift Cards, Sony Bravia 32? TV, Amazon Kindle, Apple iPod Touch, Flip Ultra HD Camera, Panasonic Blu Ray with Remote, Apple iPad, Sopranos Complete Series Box Set, Rachel Ray 10 piece cookware set, Playstation 3 system + games bundle, Canon Powershot Camera, Seinfeld Complete Series DVD box Set, Viziio 22? LCD TV and plenty more!

4) Starting today, you will notice that your Swag Bucks in your account will be multiplied by 10 (as will the prices in the store.  So for example, if you had 45 bucks in your account you will now have 450 SB;  The Amazon which was 45 SB will now be 450 SB). NO prices are being raised on prizes (it will all be proportional – so have no fear about that), but what this split of the SB will allow us to do is to award bucks to users in ways that were not before imaginable (such as being logged into the toolbar, and viewing our special offers).

Don't hesitate!  With all the free codes they're giving away right now, this is the best time to sign up!

Note: With all the traffic from their birthday celebration, the site is running a little slowly.  If you can't get through, try again later.
Last week, we began a new approach to homeschooling.  Last fall, I purchased a preschool curriculum and now wish I hadn't.  It isn't engaging, interesting or worth the money I spent on it, in my opinion.  I wish I'd discovered Confessions of a Homeschooler last summer…
If you have any interest in homeschooling or even just want some fun activities to do with your kids, you absolutely must visit her blog.  She has activities for all ages, but she seems to focus a lot on preschool, which is definitely to my advantage.  She has an entire set of downloads for each letter….letter/pre-reading activites, counting activities, color and shape recognition….you name it, it's all there!  She's offering the entire set for $10, but you can also go to her Letter of the Week category, search for the letter you want to focus on and download all of it for free (that's what I'm doing).
Last week we also began using the workbox system, which I love.  It takes a little more organization and preparation on my part, but it's very effective.  Both of the kids have a set of workboxes.  For school-age kids, you're supposed to have 12 boxes for each day, but we're just doing 4 for each of the kids right now because they're just toddlers.
For Kelvin, I just put toys or puzzles in his boxes.
He also loves doing magnetic pages like Ava does.  You can buy magnets to go with these printables, but I just bought some magnets from Walmart and used a hot glue gun to attach poms to them.  The kids love them!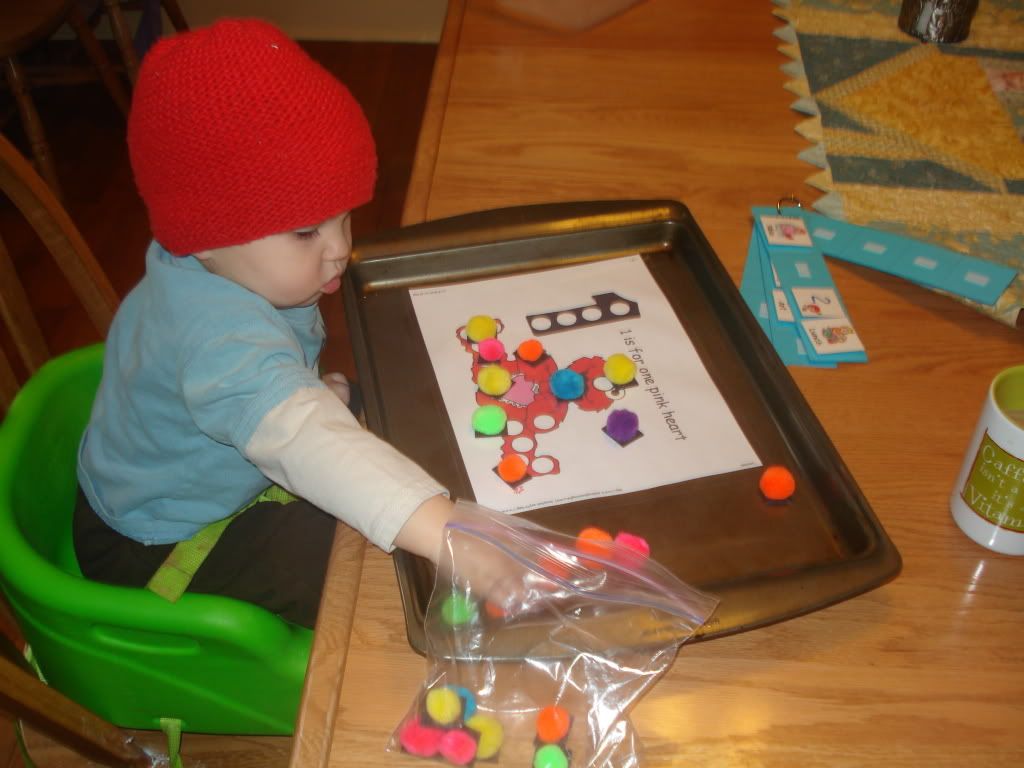 Obviously, he's not old enough for things like counting and letter recognition, but this gets him involved which thrills him and prepares him for preschool.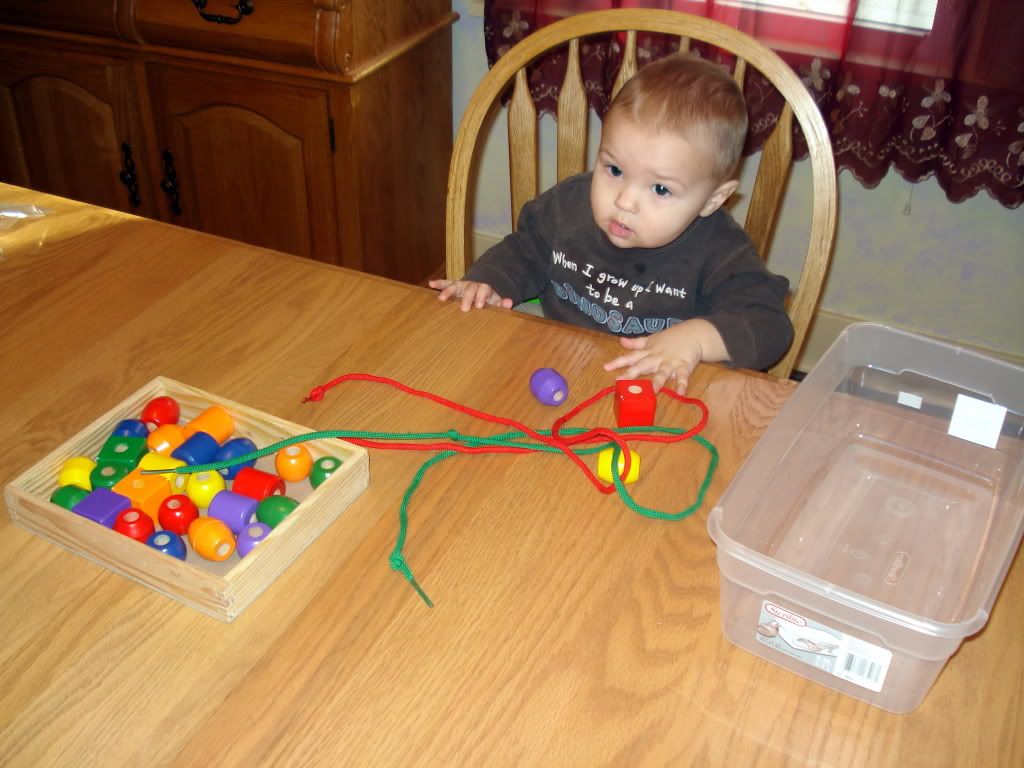 Before you get the idea that he always sits there and concentrates on his projects, let me assure you that sometimes he runs wild and stands on the table while I'm trying to help Ava with an activity. *sigh*  This kid is going to give me a heart attack one of these days…I'd better start looking at life insurance quotes!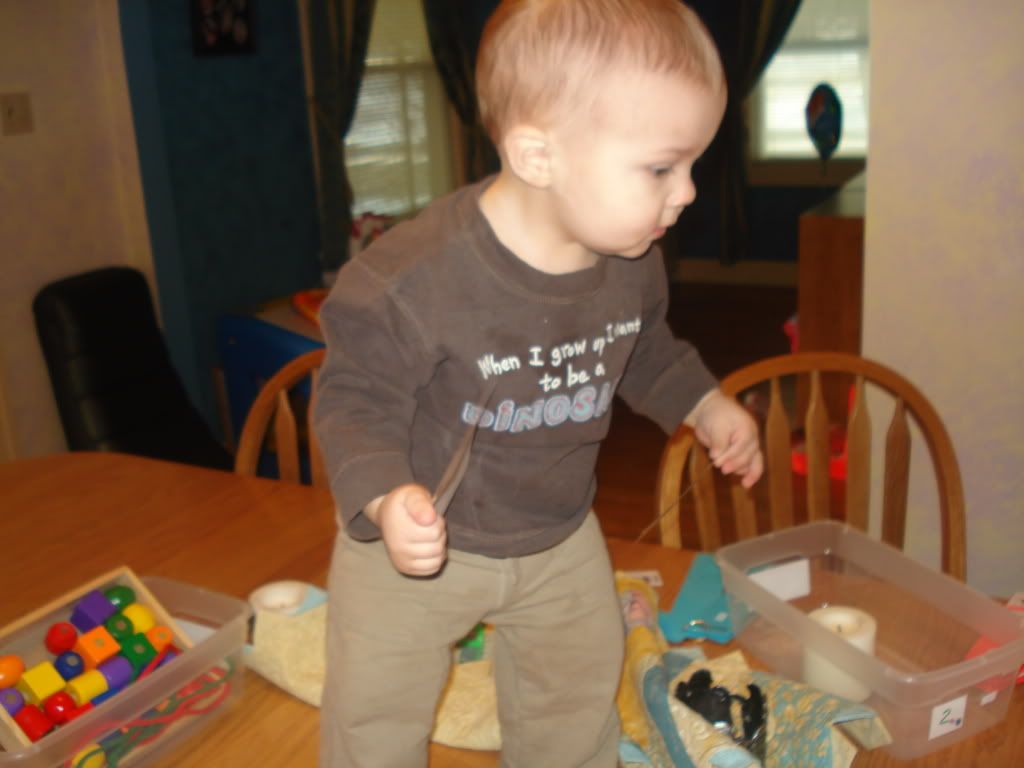 Ava started working on the Letter A last week.  We had some activities that we did every day, such as her memory verse and story from My ABC Bible Verses: Hiding God's Word in Little Hearts
and tracing her letter A's.  I laminated this so that she could practice and wipe it off as many times as she needed or wanted to.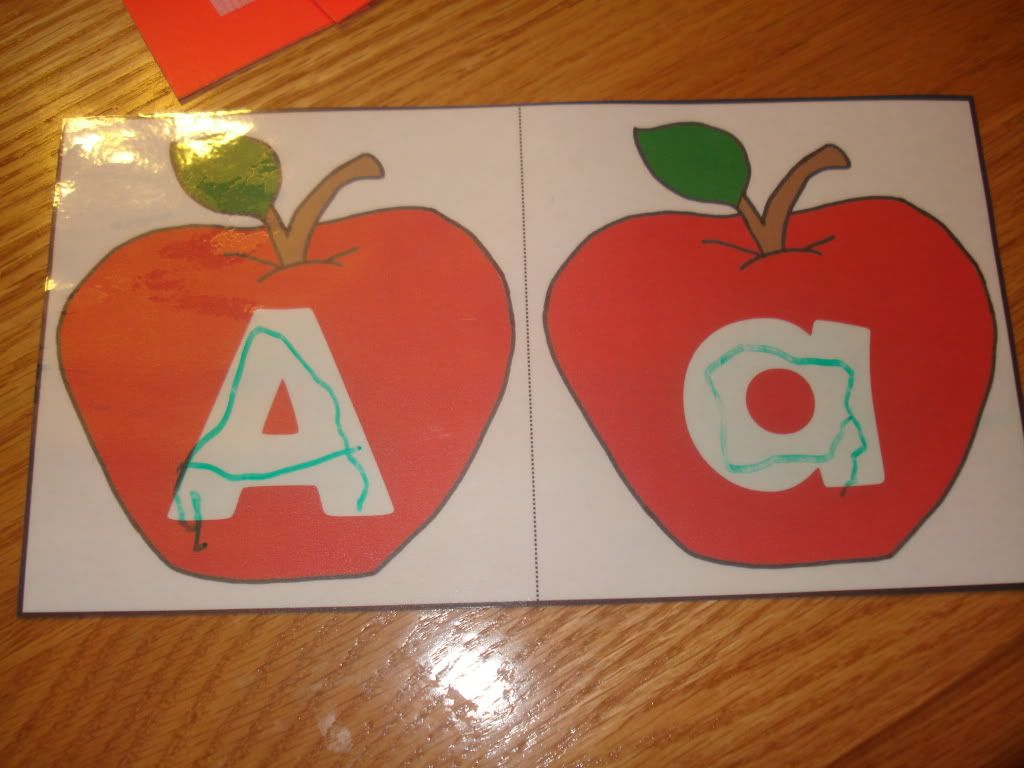 Then we had other activities we only did a few times.  Some of them are pictured here, but I wasn't able to snap shots of every activity, thanks to a busy little guy who kept me on my toes!
We made letter A alligators out of green foam.  I cut out the letter A and she cut and glued the teeth and the googly eye on it.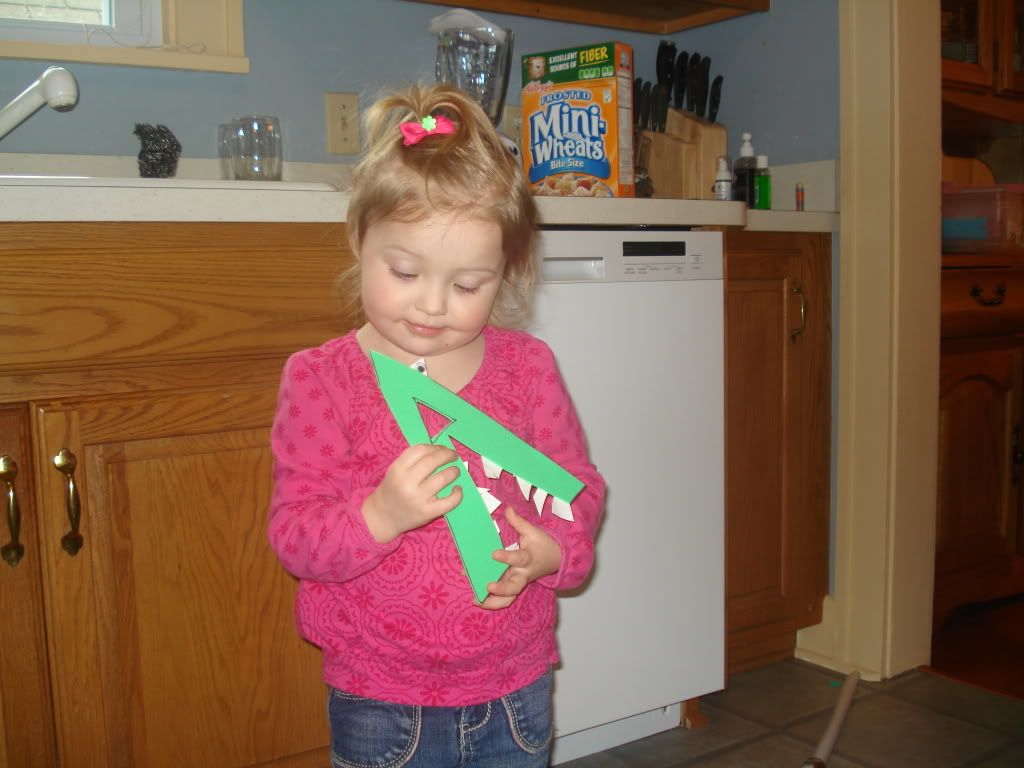 We did a puzzle with Aa's and an apple tree on it.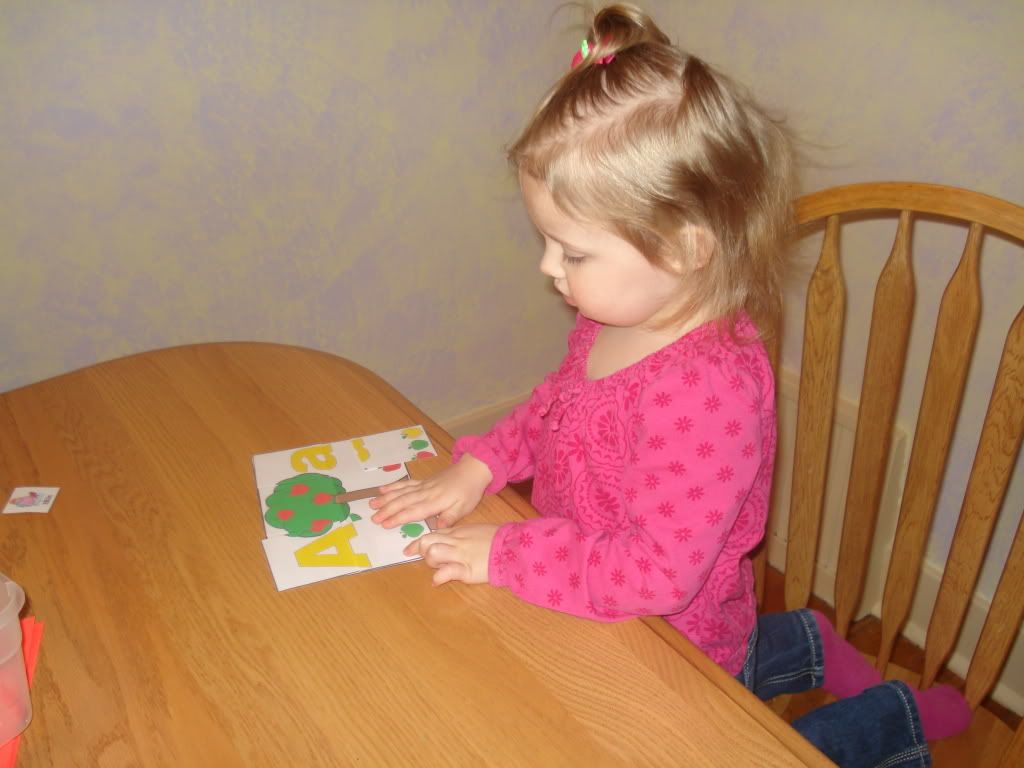 This is one of the magnetic printables I showed Kelvin doing….for the Letter A (she also did one for the Number 1 that isn't pictured).  You're going to have to excuse the horrible lighting.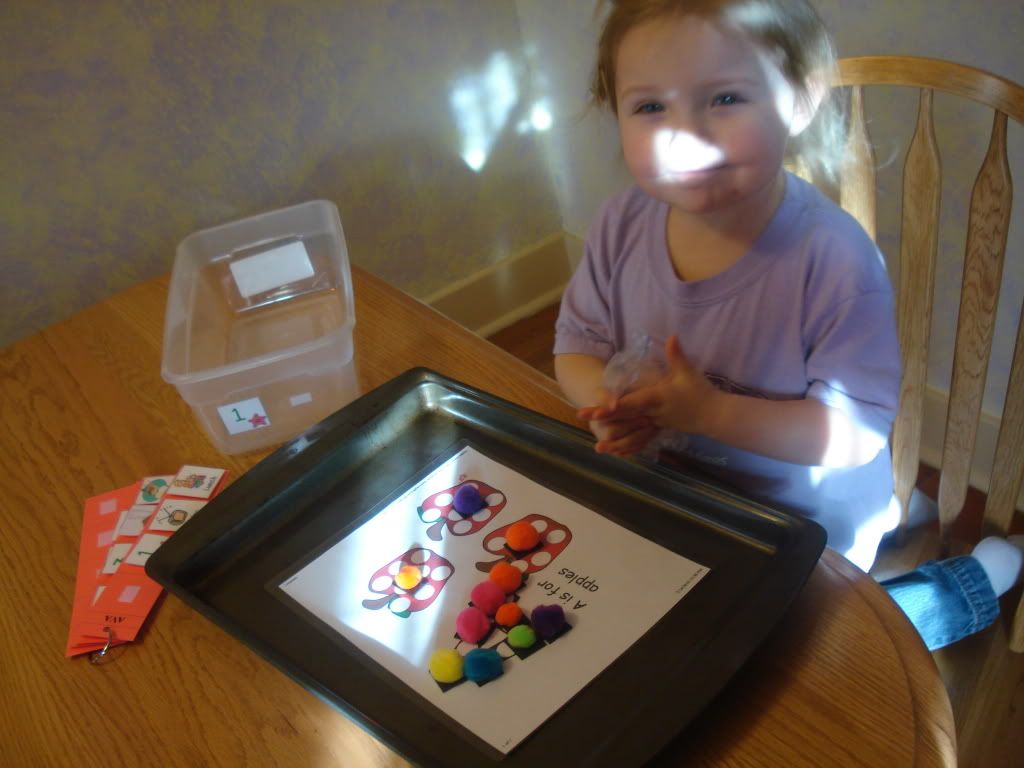 She did an amazing job on her A Lacing Card!  She'd never done a lacing card before, so I was surprised at how well she did.
We worked on sorting apples by size.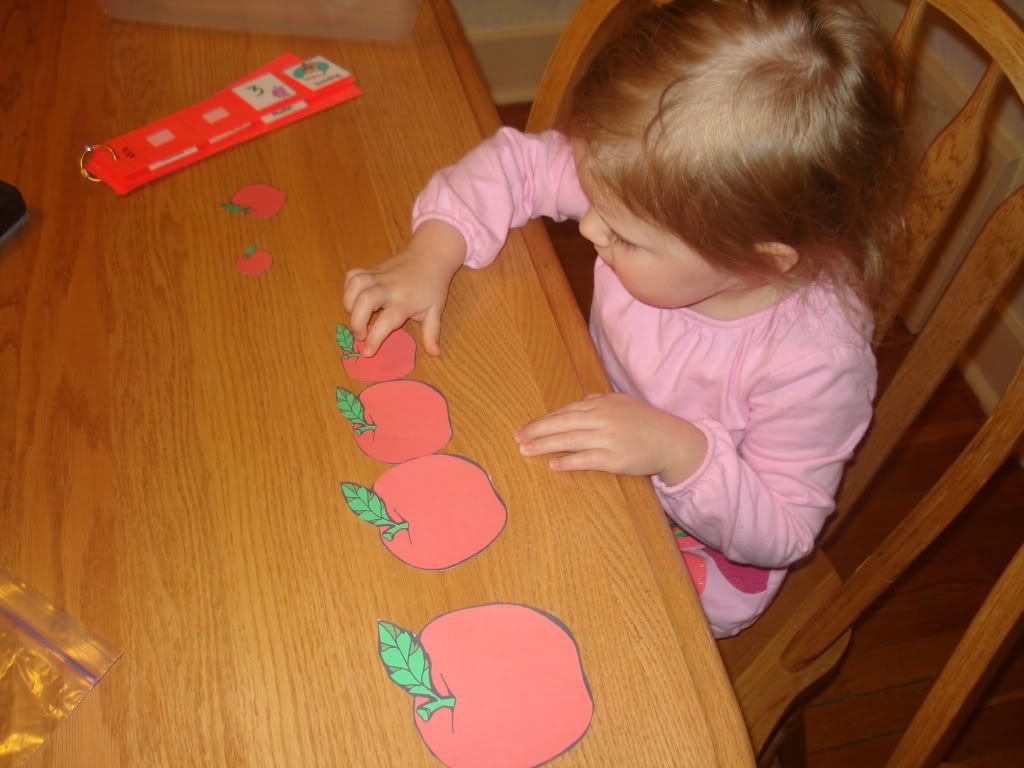 She matched number cards to the trees with the same number of apples on them.
She matched capital and lowercase A's on colored ants: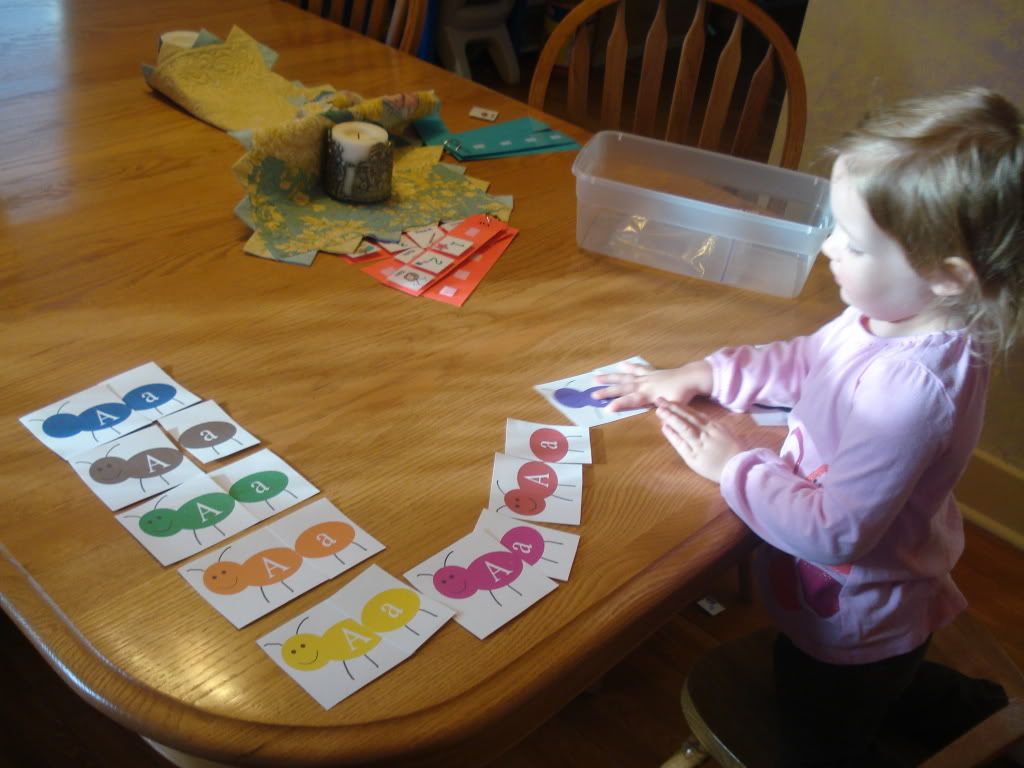 To end the week, we made slab apple pies.  Basically, you press the crust into a 13×9 inch pan instead of a pie plate.  This makes it much easier for little people to help!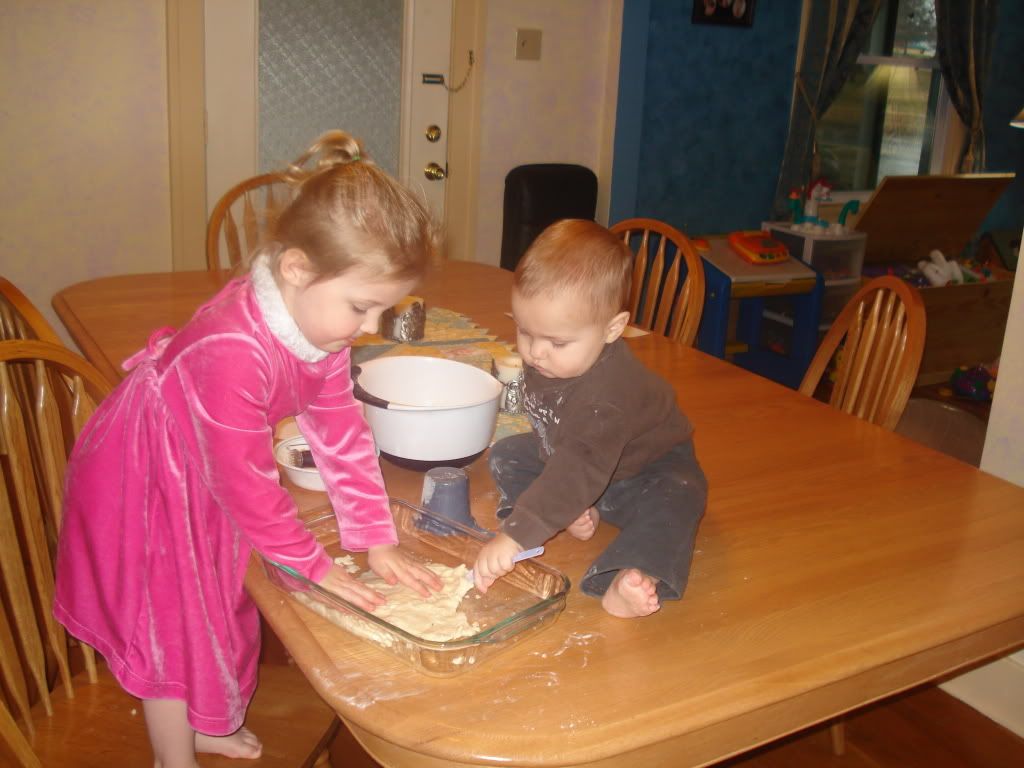 As you can see, we have a lot of fun with preschool at our house.  They don't see it as work (Ava always says, "Let's play school!" at school-time) and we don't do workboxes all day.  It's really nice to have some structured activities in addition to free play, though.
To see other Letter A activities we did and download all the activities, I strongly encourage you to visit Confessions of A Homeschooler's Letter A post.
We managed to make it through last week with just a quick trip to the store to pick up milk, broccoli and loss leaders! I'm pretty proud of myself, since we haven't done a regular weekly grocery shopping trip since right before we left for Wisconsin…almost a month ago!
But all good things must come to an end and I am tired of eating from the pantry. Could we continue doing it for awhile longer? Yes, I know we could. But we're getting sick of frozen or canned fruits and vegetables. So my goal this week was to plan meals that only required me to shop for produce, dairy, meat, and things that were already on my list because we'd run out of them.
Now to find time to shop for them! Chad's van is still at the mechanic so he's still using my car for work. And I'm not too keen on loading the kids in the uppababy vista (stroller) and hiking through the snow, even though Dillons is only half a block away.  I'll probably end up taking the car some night after Chad gets home from work.  I can't wait to be a two-car family again and I have new-found respect for those who live with just one vehicle all the time!
Monday: Casserole from the Freezer, Vegetables
Tuesday: Chicken Enchiladas, Salad
Wednesday: Tuna Pasta, Fruit
Thursday: Cheddar Chicken Spaghetti, Broccoli
Friday: Chicken Noodle Soup, Rolls
Saturday: Leftovers
Sunday: Pizza, Salad
For more Menu Plan Monday, visit I'm An Organizing Junkie!
Before I had kids, I could never have imagined how much I would love shopping for kids clothes.  Now that I have both a girl and a boy, it's a little scary how much I enjoy buying clothes for them.  I've never even liked shopping for me as much I like shopping for them!  And there's not even any contest when compared to shopping for herbal diet pills!
But I have a public service announcement to make: Kids clothes can be expensive!!  Especially to get quality clothes that aren't going to look like they're 10 years old when you've only washed them twice!  And, hello, don't forget that they have to be adorable, too!
That's why Children's Place is one of my go-to stores for kids' clothes.  And yes, I know that you're surprised to hear that coming from a frugal zealot like me, but I really don't break the bank shopping at stores like that.  I always buy items that are already on sale or on clearance and I get an even better deal when I can find a coupon to go with it.
I've been looking through their sale items tonight and they have some adorable stuff for completely reasonable prices.  Look at this dress and it's less than $15!!  And this $30 boys jacket for $6!  The best part is that these are going to last so much longer than the things I could buy at Wal-Mart for pretty much the same price.
And I am so in luck right now because I found a 15% off your entire purchase at Children's Place coupon (ETA: no longer available)!  It expires tomorrow (oops!), but better late than never, right?  You can use it either in stores or online, so that makes it a little more convenient!
Now if you'll excuse me, I have some shopping to do…
For more Things I Love Thursday, visit The Diaper Diaries.
Disclaimer: This post contains affiliate links.
A few years ago for my birthday, Chad got me a George Foreman Contemporary Grill – 80 sq. in. (GRV80)
, which I was really excited about.  I know some people don't like getting kitchen or household things as gifts, but I love it.  I stay home with the kids, so I'm using stuff like that all day.  I'm not going to complain about something that makes my everyday life easier or more fun!  I might complain if he tried to pass off the best treatment for acne as a gift, though.
Anyway, back to the grill.  I love it, but it only took one use to realize that it is a pain-in-the-butt to clean!  This one doesn't have removable plates, so I was stuck scrubbing all the burned-on juices off of it every time.  That easily made up for the time I saved by not starting up the grill outside!
Until my grandma gave me a really great tip that I now use every time I grill!  As soon as I take the food off of the grill, I unplug it and lay a wet (not damp) paper towel over the plates and close it up while we go eat.  When I come back to it after dinner, it's a snap to wipe it off quickly and put it away.  And I'm all for anything that makes cleanup go faster!
For more great tips and tricks, visit Works For Me Wednesday.
Disclaimer: This post contains an affiliate link.
I miss doing Menu Plan Monday! I used to participate every week at Screaming Pennies, but when I stopped writing there, I stopped linking up. I never stopped menu planning, though…that's a big part in keeping me sane! I'm not a fly-by-the-seat-of-my-pants kind of person, so I love knowing what I need to make all week and that all the ingredients are already in the house!
This week will be an Eat From Your Pantry kind of week here. We're still sharing my car after our van accident last week, which makes it really hard to get out and do the grocery shopping. I made it to Dillons (half a block away) today to stock up on their loss leaders, but that will probably be the extent of my shopping this week. I might need to make a quick trip to buy milk in a few days, though.
But lucky for me, I always have a stockpile of groceries that I got free or very cheap by shopping the loss leaders with coupons! I bet I even have some of the herbs for colon cleansing somewhere around here…not that I know which ones those would be, but whatever.
Here's what I plan to make this week:
Monday: Baked Ranch Chicken, Garlic Mashed Potatoes, Corn
Tuesday: Beef Roast with Potatoes and Carrots, Biscuits, Peaches
Wednesday: Cheddar Chicken Spaghetti, Glazed Carrots
Thursday: Turkey Cheese Melts, Canned Soup
Friday: Beef with Broccoli, Mandarin Pineapple Salad
Saturday: Growing Kids God's Way Potluck (still not sure what I'm bringing…the theme is "American Food" and I'm drawing a blank! LOL)
Sunday: Chad cooks!
A lot of my recipes this week came from Menus 4 Moms. I didn't take them from a specific week because I was choosing recipes based on ingredients I already have. But you can type the recipe name in their search bar if you want the recipe!
For more great menu plans, visit I'm An Organizing Junkie.
I hope you're all having a fantastic weekend, whatever you may be doing….watching the Olympics, working on your job search, or just relaxing and enjoying time with your family!
Since the Haiti earthquake last month, I've posted several ways that I've found that we can help the victims. So when I got an email from Compassion International about another way to help, I wanted to post about it right away (even though I didn't plan to blog tonight).
Help Haiti Live is a benefit concert that is going to be held on February 27 to help the people of Haiti. There will be concerts in both Los Angeles and Nashville and it will also be streamed live from their site. This will be a fun way to help out and also see some awesome artists! I hope you check it out!
I'm having quite a time deciding on the new car seats I want to get for the kids. Since the old ones were in the accident, our insurance company will be paying for us to replace them, which I'm very excited about! The hard part is deciding which one! This isn't like picking out outdoor furniture…it has to be perfect and there are so many different things to consider.
This is my first choice…the Britax Boulevard TSIP Convertible Car Seat
:
This seems like the safest seat, which is extremely important to me. I even found a great price on it, with free shipping (even though the insurance company will be paying for it). The problem? These things are tanks! Two of them in the backseat of my car would obliterate the middle seat. And I'm fairly certain I would never be able to have one rear-facing. Of course, by the time we plan to need a rear-facing seat again, I will hopefully have a van, but still…
My second choice is the Evenflo Triumph Advance LX Convertible Car Seat
:
This seat was rated #1 for safety in 2009. I like it less than the Britax Boulevard, though, because it doesn't have the Side-Impact Protection. It also only holds toddlers up to 50 pounds, while the Boulevard fits a child up to 65 pounds. But it is considerably smaller and costs less.
And my 3rd choice is the Graco Nautilus 3-in-1 Car Seat
:
The only reason I'm considering this one is because it converts into a booster and then a backless booster. But it can't be used until children are 20 pounds.
So there you have it. Do you see my dilemma here? Chad says I should just buy the Boulevards and not worry about the middle seat because we rarely use it anyway. I guess that's what I'm leaning towards as well since I love the safety features. But I would really love it if you would weigh-in, too!

Disclaimer: This post contains affiliate links.
We are finally home!
We attempted to leave the hotel around 9 this morning, only to find that our van battery was dead. *huge sigh* Luckily, the guy behind the front desk at the hotel was willing to give it a jump and his van happened to be parked right next to ours!
Other than that, we made it home without any more incidents…and we were home by 2 pm! That was a refreshing change since usually we get home late at night and do the bare minimum before flopping into bed. This afternoon, I got quite a bit of unpacking done, did all the laundry from the trip (except the kids' blankets), ran to the store for basics like milk, and even edited pictures of the trip that are uploading right now!
Here are some pictures of where our little nightmare played out: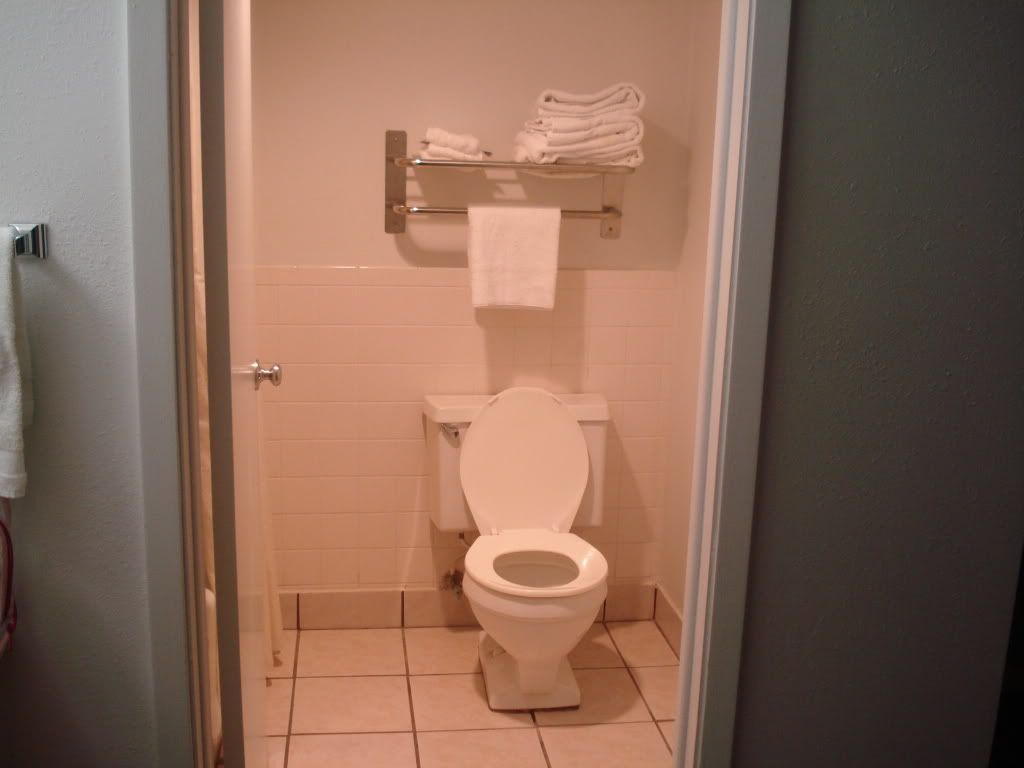 Get a load of this shower set-up! It's so fifty years ago!
Here's hoping I can get back to normal, less exciting posting next week!!
Here's where Kelvin slept. We pushed the two cushion-y chairs together to make a makeshift bed, lined it with a comforter, put a pillow and blankets in there and he slept really well until the last night. We tried letting him sleep in Ava's bed with her, but he just wanted to play all night long, so this was what we resorted to.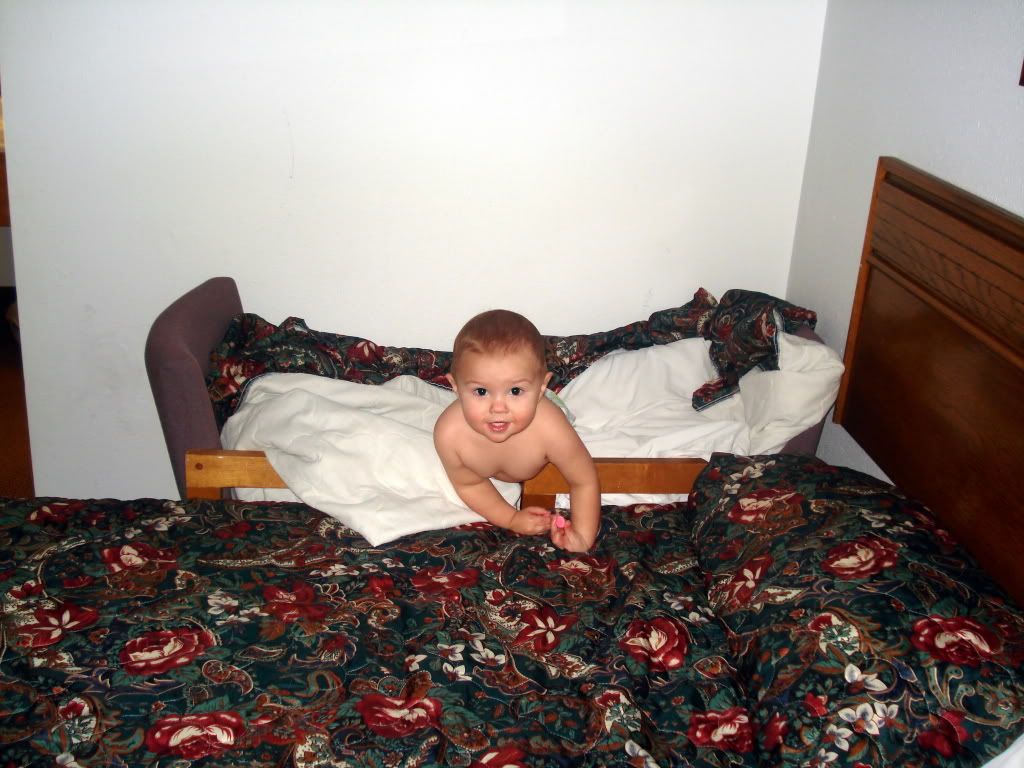 This is the space-heater that made the whole experience tolerable. Before they gave this to us, our room was a whopping 58 degrees!!
And here is how some of us entertained ourselves.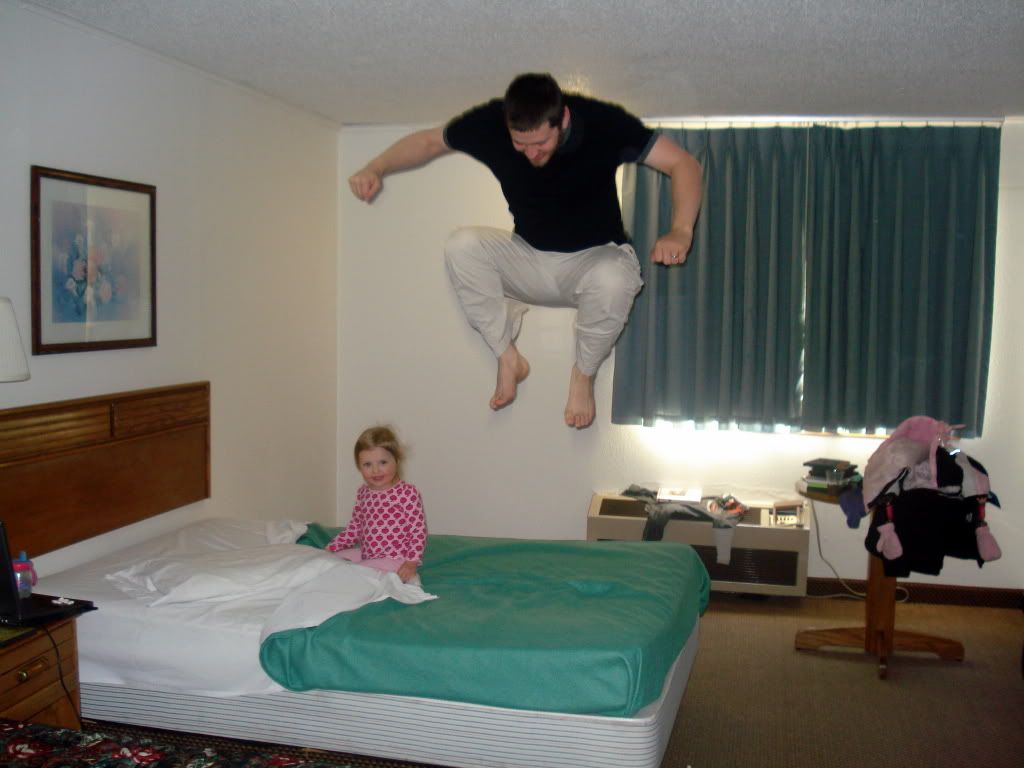 I love this picture. It captures how this experience strengthened our bond as a family.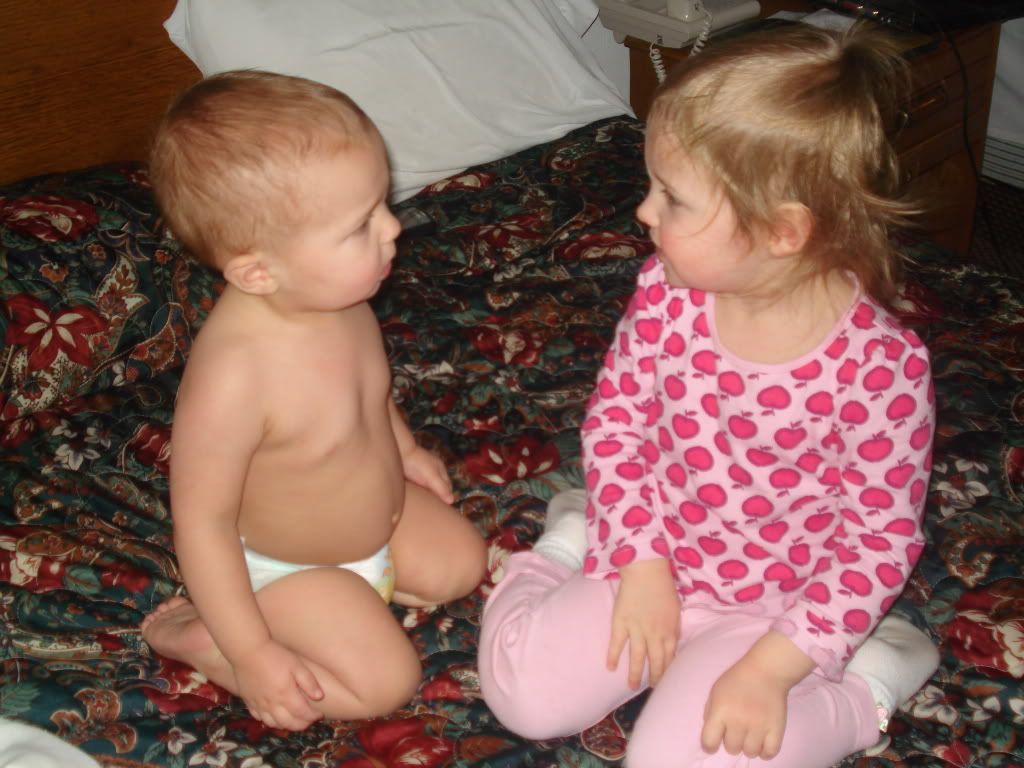 And finally….the damages. The insurance adjuster was at our house within 30 minutes of us getting home and he decided the van was totalled based on these things and the mileage. We have a couple options that we're deciding on now.
The front: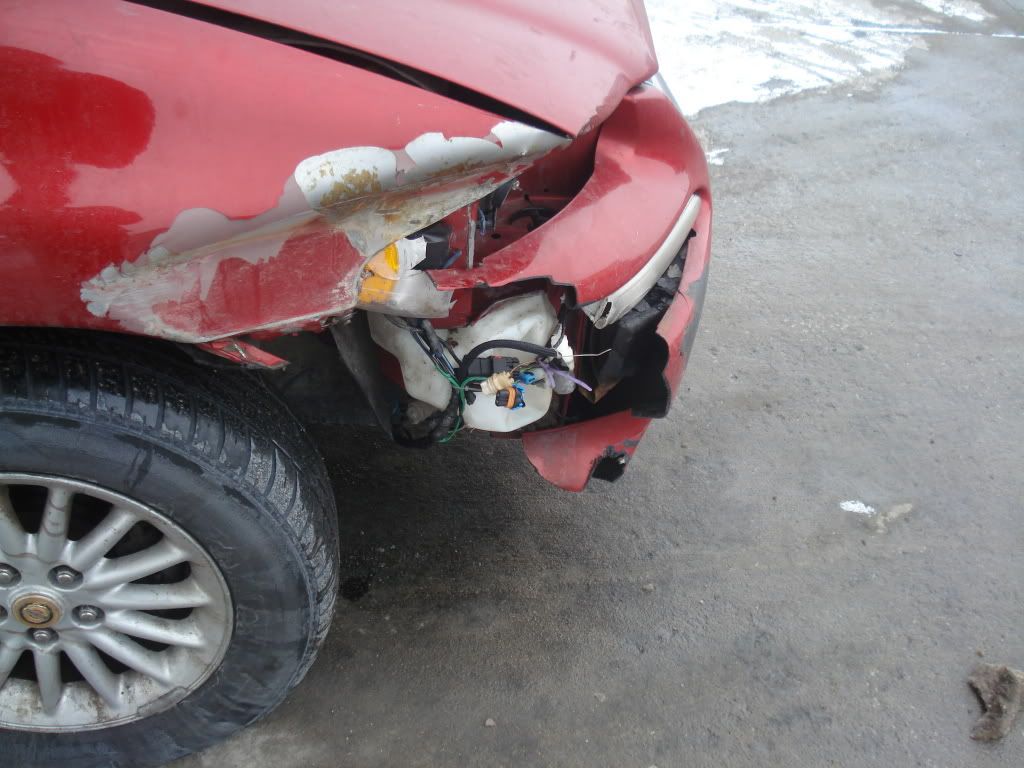 The back: