When it comes to fastening cloth diapers, everyone has their own preferences.  Some people like aplix, some like snaps.
When I first began cloth diapering, I liked aplix far better than snaps.  I was able to get the fit perfect instead of getting it as good as the closest snap.
But when my aplix began wearing out after about a year of use, I started second-guessing myself.  I actually sent all of my bumGenius diapers in to have them converted to snaps.  Then I sold most of our remaining aplix diapers and bought snap-fastened ones instead.  It didn't take something as complex as energy auditor training to realize what worked for us and what didn't!
Want to hear a funny example of another reason I love snaps?  Maybe you just had to be there, but I thought it was hilarious….
This week, my grandparents were visiting and my grandma had sewn each of the kids cute little knee-length aprons.  They wore them quite a bit this week….even to the library!
Anyway, one night we were finishing dinner and Kelvin was wandering around the dining room in his apron and eventually climbed up on my grandpa's lap.  All of a sudden, I happened to look down and saw his aplix-fastened diaper sitting by my feet!
It didn't even click at first….I looked at the diaper, over at Kelvin, back at the diaper and then back at Kelvin again.
Me: What's he wearing???
Chad: His apron.
Me: No, on his butt!
Chad: (checking) Nothing!!!
Grandpa: I hope you cleaned his butt good after that poopy diaper change!
Since his apron went down to his knees, no one noticed he was walking around with no diaper on!
So there you have it.  In my opinion, aplix is good for newborns with brand new diapers, but once the diapers get some wear and tear and the baby starts removing his own diaper, snaps rule!
I've taken the plunge!  No more plans with no follow-up action!
For several years, I've wanted to get my feet wet with container gardening by growing a few plants and then gradually adding more varieties in the subsequent years.  But it was overwhelming to me…I don't know a whole lot about growing things and tend to kill houseplants.
Last week, the kids and I ventured into the plant section and bought 6 cherry tomato plants and a packet of bush green bean seeds.  We had fun picking them out together and I can't wait to involve them in planting and caring for the vegetables.
Right now the tomatoes are on my kitchen window sill because the weather is still pretty unpredictable.  I plan to transplant them into 5-gallon containers, half of which I already have!  Chad's soap for Aire-Master comes in 5-gallon buckets and he has three empty ones downstairs so I'm going to clean those out and put them to use!
I'll still have to buy soil and containers for the other three tomatoes and the beans and then I'll be all set (and it shouldn't be nearly as expensive as life insurance rates )!  I'm really excited and hope that I'll have a nice (but small) harvest in a few months!
It's finally Friday!!
I hope everyone has a great weekend and week next week!
I won't be around here because my grandparents will be here for a visit!  We don't get to have company too terribly often, so when we do, we're basically on vacation mode (other than cooking).  I barely touch the computer (definitely no time for researching irvingia gabonensis weight loss!) and we just focus on spending time together because the time just flies by!
I will be back at the end of next week!
I just hate it when I think I have everything under control and then something comes along to prove me wrong!
My mom's birthday is on Monday and for once, I was going to get her card to her on time!  Her gift is a different story…I don't have time to get to the post office today, so that's going to be late, but that card was going to get there by Monday!!  Or so I thought.
I spent quite a bit of time in the card section at Walmart picking out the perfect one, got the rest of our groceries and checked out.  The cashier put the card in a thin paper bag to keep it safe and I remember taking it from him and putting it in the cart.
That's where things got a little fuzzy (probably thanks to sleep deprivation…and no, it's not from lack of sleeping pills, just from lack of children who sleep through the night!) .  The kids were getting restless and I wanted to run over to the plant area (or whatever it's called) to pick up some tomato plants.  By the time we got back to the car, I loaded up all our stuff, got the kids in the car and left.
When we got home, the card was nowhere to be found!  I'm assuming I left it in the cart because I know it was in there at some point and I don't remember trying to find a safe spot for it in the car.
I'm so frustrated….we have a jam-packed afternoon and evening today and my grandparents will be visiting next week, so I don't anticipate getting back to the store before her birthday.  I guess the card will just have to get sent with her gift and they'll both be fashionably late!
This year, having guests got a whole lot easier.  Instead of stressing out trying to get everything spotless several days before they arrive, I found a new system and I'm never going back!!
What's my secret?  I bought the Motivated Moms Planner and it has made housekeeping so much easier!  Of course, it helps me keep the house cleaner all the time, not just when we're having guests….that's just what's on my mind right now because my grandparents are coming to visit in a couple days and I'm strangely un-stressed!
The idea behind this planner is that it plans out several chores for you to do each day so that you don't ever have to spend an entire day cleaning the whole house.  This way, the house never gets completely, out-of-control messy!  You can have a clean house and still have time leftover to read diet supplements review or whatever it is you like to do in your spare time.  LOL
Click here to visit Motivated Moms. You can also use coupon code "giveaways" (no quotation marks) to get $1 off your order!
Disclaimer: I have not received any compensation or free products from Motivated Moms for this post.  It was written because I really like this product.  However, I am an affiliate of Motivated Moms and will receive a small percentage for every planner bought through the link above.
I don't know what I am going to do with these little people!
I remember thinking it was so hard taking care of them when they were newborns….I had no idea what I was in for or I never would have felt that way!
At least when they were newborns, I could put them in their bouncer or swing, go to the bathroom and know they'd still be there when I came back.  Now anytime I need to leave them alone for even a minute or two, I have to weigh the risks because I know something is going to be destroyed or messed up while I'm gone.
With Kelvin, it's usually climbing.  Anytime it's quiet, I know it's because he's standing on the dining room table or on his dresser or something.  If it's not climbing, it's emptying cupboards or drawers for no reason other than to make a huge mess.  This morning, I ran to the basement to get a box of cereal.  I wasn't even gone for a minute, but when I came back, he'd found a stack of napkins in a cupboard and scattered them all over the kitchen.
With Ava, it's a lot more mischievous.  A few mornings ago, she got up early without making any noise or waking us up.  When we woke up, we found her sitting under my desk eating Pringles and painting her toenails purple!  A lot of mornings, she'll go straight into Kelvin's room and start getting into the dresser drawers that are supposed to be too high for her to reach (she climbs too).  Last week, I went in to get him up and he had Orajel all over his head!  Poor kid!
Sometimes she tries to be helpful and change his diaper for me, but that doesn't ever end well.  He almost always poops first thing in the morning and one morning I went in to find poop all over his bed and diaper rash ointment smeared behind his crib!
Keep in mind that it's not like I'm leaving them unsupervised for hours or even more than a couple of minutes.  They're just really fast!  The stuff that Ava does in Kelvin's room first thing in the morning happens in the time it takes me to get out of bed and go to the bathroom!
I don't know how I'm going to keep up with these two!  At least I won't ever need best weight loss pills !  Trying to keep them out of trouble burns plenty of calories!
I do not have a green thumb.  At all.  I know pretty much nothing about plants and only the hardiest ones survive my care.  Every year for the last few years, my grandma has bought me a hanging basket of moss roses because they need very little care.  I water those things maybe once a summer and they still survive (they do get rained on though)….now that's my kind of plant!
Even knowing this, I've always wanted to have a garden, even when I was a teenager.  My mom, of course, waited to turn their entire side yard into a garden until after I moved 600 miles away. 😛
We really have no room for a garden here.  We have a teeny-tiny back yard and pretty much no side yard (not even enough room for outdoor fireplaces here!).  So I decided to try to grow some veggies in containers this year.  I've thought of this idea before and always been overwhelmed by trying to decide which plants to try and how to grow them, so I decided to start with two this year.  I'm sure once I get my feet wet and am comfortable with it, I'll have no problem branching out and trying more next year.
Any recommendations on which veggies to try first? I'm thinking green beans and tomatoes, but don't have my mind made up yet.  I definitely want to start with something easy!
I feel incredibly blessed that we have had two perfectly healthy babies who are growing into perfectly healthy children.  Unfortunately, not everyone is that lucky.
I can't imagine what it's like to have a baby born too early that has to stay in the NICU for weeks or even months.  Some don't even survive.
This post isn't meant to be a downer, just a reminder that this is a problem and you can help to find a solution.
This Friday evening, our family will be participating in the March for Babies.  We will be walking for all the babies who have been born too soon, and especially for the families we know personally who have been affected by premature birth.
Please consider making a donation to sponsor us in this walk.  All donations go directly to the March of Dimes.  Think about it….instead of buying that pair of Christian Louboutin shoes, you could be a part of saving lives!  Isn't that awesome?
If you would like to donate, you can use the widget below or the one on my sidebar.  Thank you!
This morning before we got ready for church, we were laying on the bed with the kids and they were climbing all over us.  One thing led to another the kids got into a wrestling match (who needs best fat burners when you can wrestle with toddlers?) and pretty soon Kelvin's hair was sticking straight up.  Upon further examination, it appeared to be caused by snot in his hair.  Yuck!
After washing it out, I thought it would be fun to get out the hair gel and trying to style his hair for the first time.  He doesn't have much hair, but I thought it might just be enough!
It turns out I'm not very good at styling little boy hair.  In fact, Chad had to take over after about a minute.  It took him a few minutes of combing, wetting down, and gelling, but this was the final result.
Isn't he cute?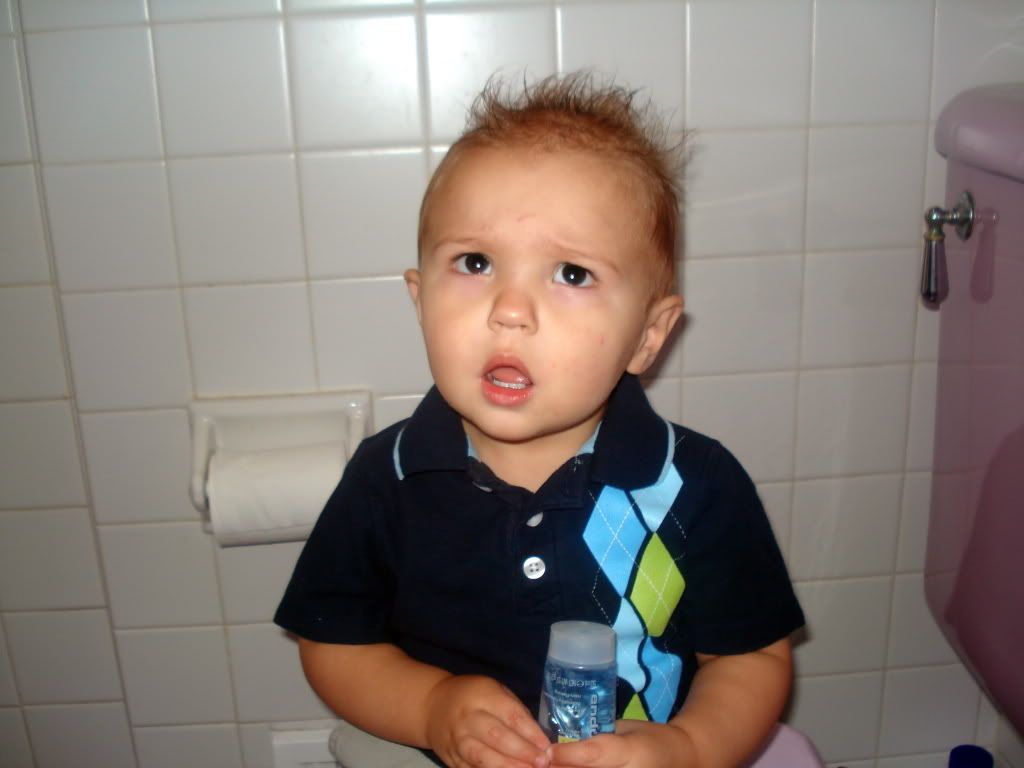 As you can tell, he wasn't too thrilled with the amount of time it took, but I think it turned out adorable!
One thing today's stay-at-home mom totally has over the 1950's stay-at-home mom is the ability to stay connected.  I know most moms still feel lonely or isolated from time to time, but can you imagine how much stronger those feelings would have been 60 years ago with no internet??  I really can't even imagine.
I love that I can post about having a bad day and almost immediately have people trying to cheer me up or just commiserating with me.  And if I have a question (about anything…parenting, household management or even side effects of diet pills LOL), I usually turn to twitter even before google!  Sad but true.  LOL
I love facebook, twitter and blogging for keeping in touch with family and friends, but I also spend some time everyday on forums.  Here are my two favorites:
All For Mommies – This one is my "home on the internet".  I've been a member since right after I got pregnant with Ava and I truly consider a lot of these ladies friends.  This forum is for every kind of mommy….working, stay-at-home, adoptive, biological, cloth-diapering, disposable-diapering….there's something for everyone here.  I highly recommend you check it out.
Diaper Swappers – I found this forum fairly recently because I had a few questions about a certain kind of cloth diapers and found out that I can really learn a lot here.  The main chatter here is about cloth-diapering, but they also have an off-topic forum for general chatter.  They also have a For Sale Or Trade section which is a pretty big draw for me.  I needed some new covers recently and got them for a steal (and a few other things that I really didn't need LOL)!  Yes, they were used, but most of the diapers listed here are still in very good used condition.  Definitely something to check out, especially if you're wanting to try some different diapers but don't want to pay full-price!  The really awesome thing is that if you find out you don't like them, you can simply resell them and try some different ones!
And while we're on the subject, all of you should see if there's a MOMS Club in your area!  I can't even begin to tell you how much MOMS Club has helped me with feeling less isolated.  Having friends on the internet is great, but having friends in real life is way better.
What are your favorite ways to stay connected with other moms?