Archive for October, 2010
"I did then what I knew how to do. Now that I know better, I do better."
— Maya Angelou
I stumbled across this quote a few days ago and liked it so much I posted it on Facebook.  It is so true, especially when it comes to parenting!  I can see it just in the decisions I made with Ava versus Kelvin…and things I plan to do differently with future babies.
I made so many decisions with Ava out of ignorance.  Knowing what I know now creates so much Mommy-guilt.  I so wish I could go back in time…I would make different decisions about vaccinations, I would cloth diaper, I wouldn't have given her bottles even if they were filled with pumped breastmilk, I would have worn her more, I would have co-slept from the beginning.  I could keep going here.  I also wish I would have bought the best hair loss shampoo instead of allowing half my "pregnancy hair" to fall out after she was born.  Just kidding…sort of.
Even though I made better decisions (at least from my perspective) in those areas with Kelvin, there are still things I regret and plan to change with future babies.  Things relating to epidurals, circumcision, and more.  I think even if I had ten babies (which I will not), I would still be learning more and doing things differently (better!) with each baby.
That's why I love that quote.  It reassures me that, even though I might view certain decisions as mistakes now, I was doing the best I could at the time.  It also motivates me to keep learning and growing and making better decisions without the fear of realizing I did something "wrong".
This year, Kelvin's birthday party theme was Toy Story.  He's pretty obsessed with anything related to Buzz and Woody, so it was a no-brainer when it was time to decide on a theme!

Some of the gifts

Blowing party toys at the balloons
This year I went super-simple on the cake.  With the chaos of trying to have his party right after getting home from a trip, it was just best this way.  And as long as it had Buzz Lightyear on it, he really didn't care!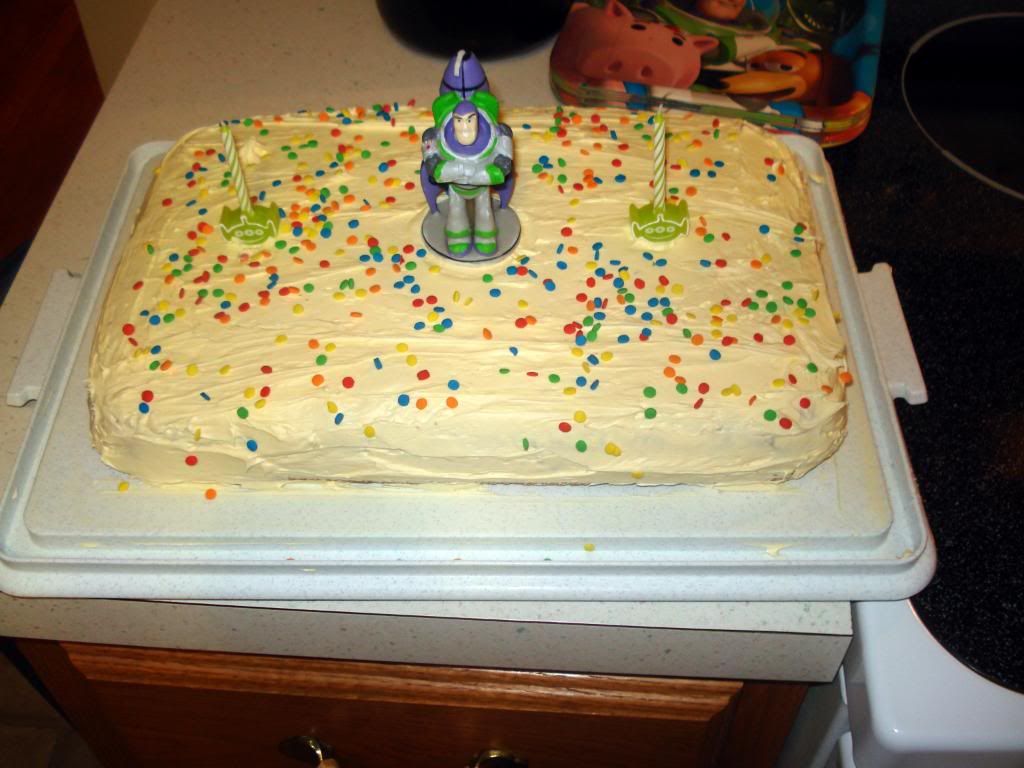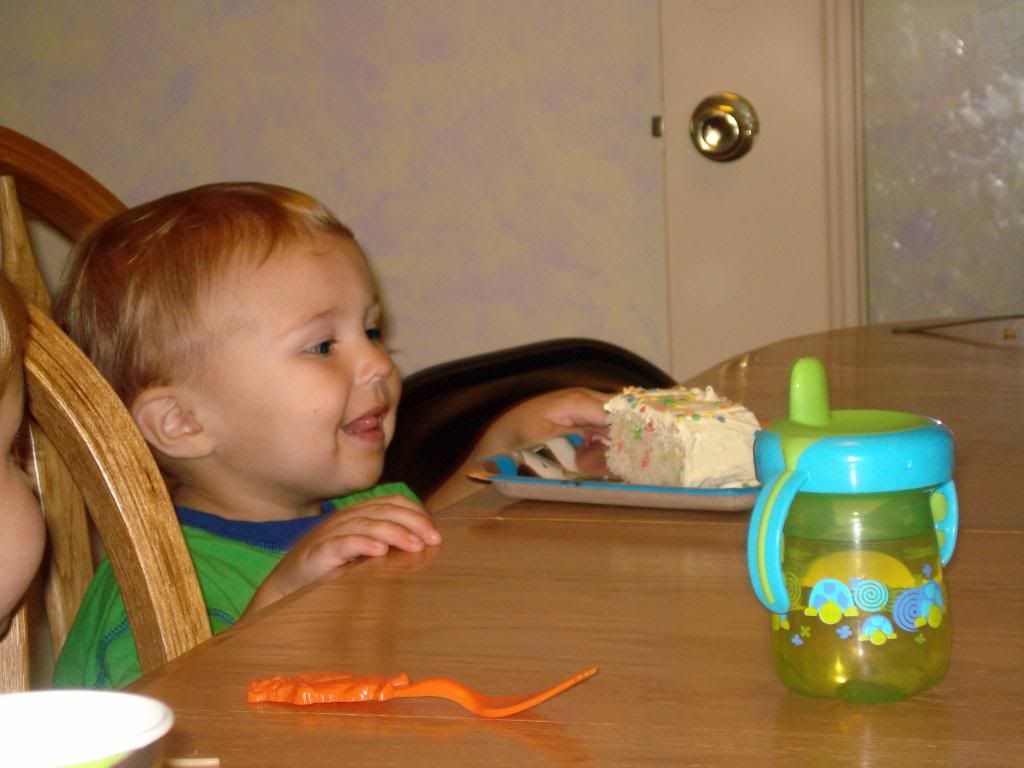 And then it was present time!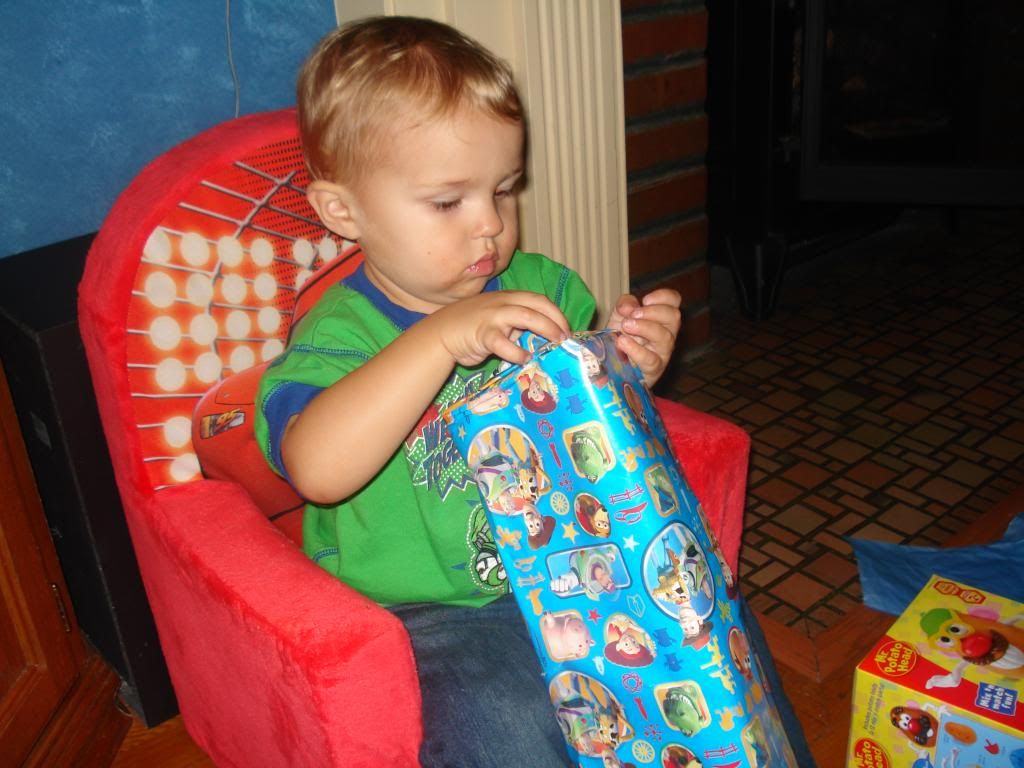 He ended up with quite a haul!  He got clothes, a Mr Potato Head, a wooden stacking train, a beanbag toss game, a building set, a parking garage for his Hot Wheels, a Buzz Lightyear toy, bathtub crayons, Hot Wheels cars, and a playdough set.  Who needs steiner binoculars when you've got all those cool toys?!
He really didn't understand the concept of gift bags, though.  We would hand one to him and he would kind of pat it and then go on to the next thing.  It was like he was thinking, "OK, Mom, great.  A bag.  What do you expect me to do with that?  Next!"  So Ava opened all of those gifts and handed them to him.
I often talk about how stubborn and independent Kelvin is, but now I have solid proof that I can share with anyone and everyone!
In case you can't tell what is going on here….see that little pretend carrot thing behind him?  Way behind him?  Yes, he is trying to reach through his legs to get it.  And he couldn't possibly take the easy way out and let Ava get it for him!  A very frustrating situation for him, but I'm not going to lie to you…I thought it was hilarious!
And yes, I was laughing all the way through this video.  And I laugh every time I watch it.  I'll probably still be laughing when I'm old enough to need treatment for arthritis!
Enjoy!
If you follow the cloth diapering world at all, you probably know that Cotton Babies just released their first-ever print diapers…the Tiny Socialite Collection by Chelsea Perry!
I was psyched for the big announcement of what their prints would be and was a slightly disappointed to see that they weren't traditional prints with farm animals, vehicles and flowers.  But each time I looked at them, they kind of grew on me.  I still decided not to order any right away.  After all, I do not need any more diapers!!  Just ask Chad.  I think at this point, he'd almost prefer I spend money on acne cream than on diapers.  And I don't even need acne cream, which is kinda the point.  ANYWAY…
A couple days after the big announcement, Cotton Babies was having a "seconds" sale where they sell diapers with slight imperfections at reduced prices.  The prices were really awesome this time around, so I was waiting around for them to be listed.  It took forever because people were overloading their server, so I passed the time on Diaper Swappers.  Little did I know that the owner of Cotton Babies was also hanging out at Diaper Swappers that evening and she would be doing a giveaway!  By some miracle, I ended up winning not one, but two of the brand new print diapers for free!!
I was beyond excited, but since the preorders wouldn't be filled until November, I was prepared to wait awhile.  Imagine my excitement when my diapers showed up in my mailbox last week!
Trust me when I say that they're way cuter than the pictures online make them out to be.  I was really surprised that I wasn't that impressed with them in the beginning, but am pretty much in love with them now.
So of course, I had to subject Kelvin to a photoshoot in his new fluff.  You should have heard me, "You have to let me take these pictures!  The other babies don't even have these diapers yet!  You have to show them off!"  In the end, I think I got some OK shots.  🙂
BumGenius 4.0 in Eiffel Tower: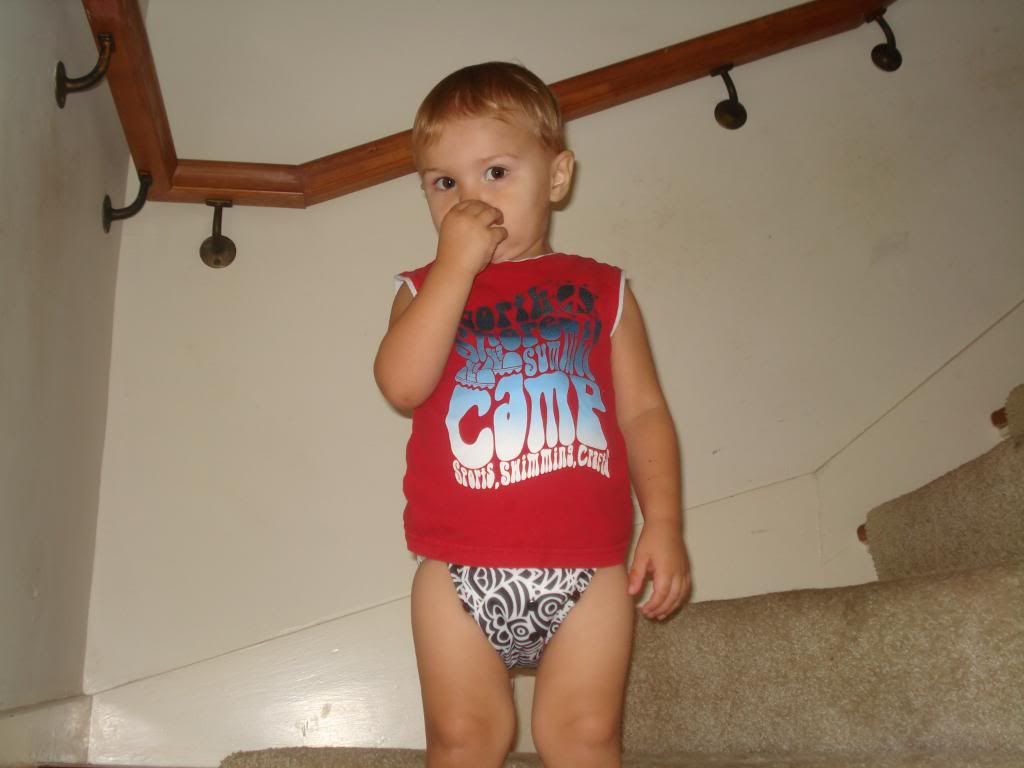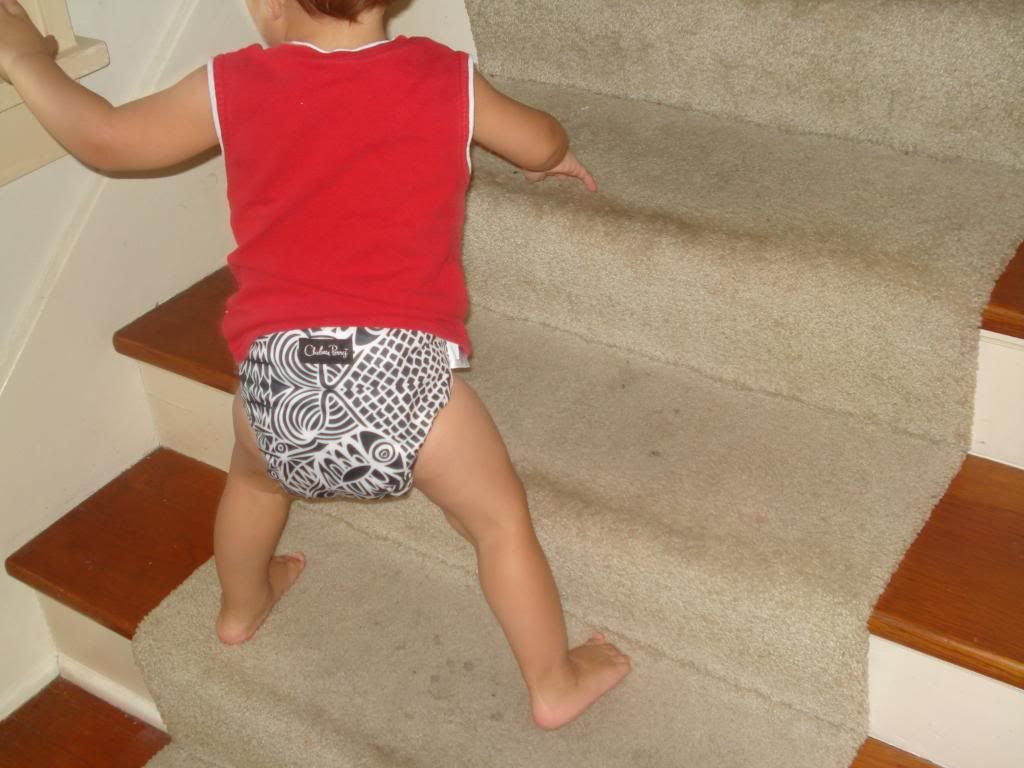 BumGenius 4.0 in Concrete Jungle: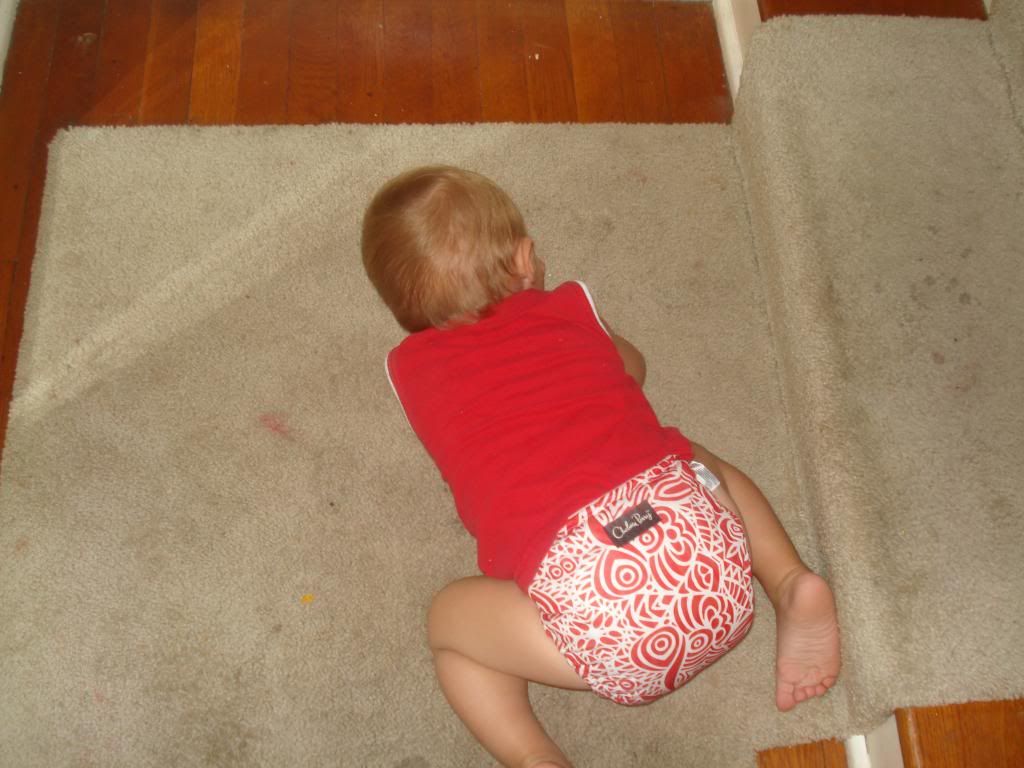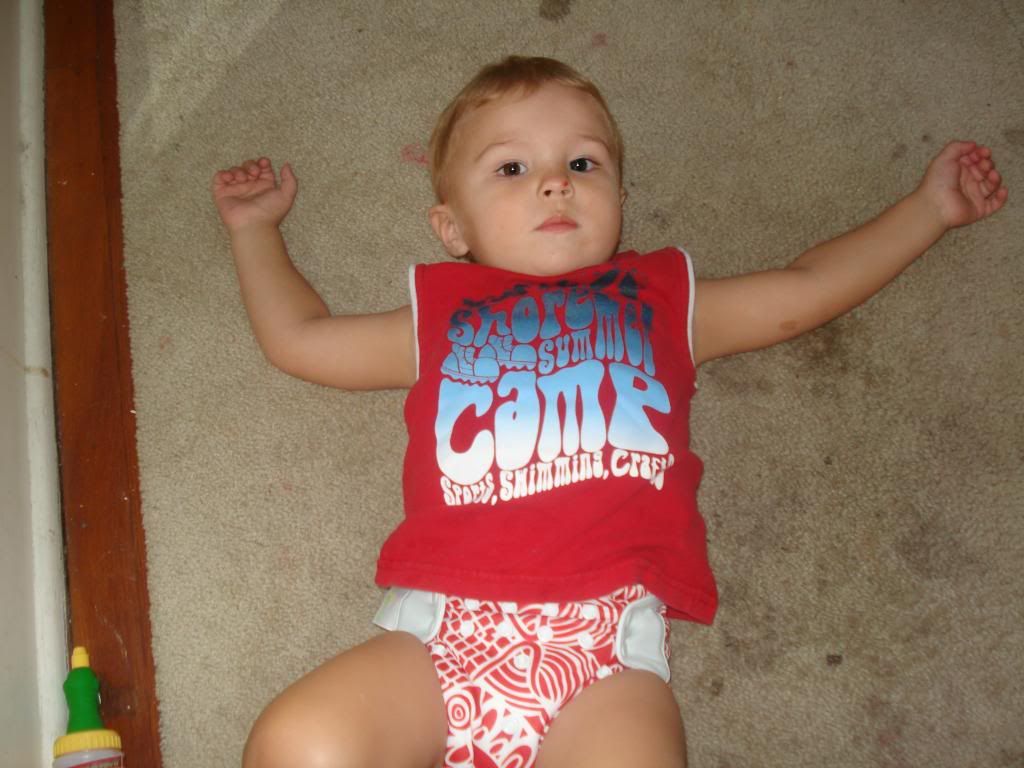 I'll admit it…I'm a people-pleaser.  When someone asks me for help, I absolutely hate telling them no.  Even when I have a legitimate reason for saying no and there's no way I could have said yes, I still feel guilty.  It's a sickness, really.
Lately I've been noticing that my "plate" is so full!  In addition to taking care of my family and the house, I'm the president of the Topeka chapter of MOMS Club, I'm homeschooling the kids (we just started preschool), I do all the office work for our business, and I shop with coupons and get amazing deals but it takes a lot of time to plan all my deals out.
So there's that.  I still believe that the first and foremost reason that I'm staying home is for the kids, so all this extra stuff?  During nap time and after the kids to go to bed.  I don't even have time to look for treatment for oily skin anymore!
But I'm sure all you moms know what happens when you fill your "spare" time with all these extra commitments, right?  There's no time left for Mom, which doesn't make Mom a very happy camper!  I'm a much better mom when I have even 30 minutes of "me" time in the evenings (even folding laundry while watching a TV show is better than nothing).  So obviously, I'd better not be adding anything more to my "plate"!
I had a couple of things come to my attention recently that I really would have loved to do.  One was joining the Compassion Advocates Network.  We already sponsor a little boy in Uganda through Compassion and are in the process of choosing a little girl to sponsor as well.  I would love to become even more involved with this program and help even more children get sponsored.  But I absolutely cannot do it right now.  Maybe next year.  But not now.  It won't stop me from spreading the word about Compassion and the children that you can help, but I can't commit to anything more.
It was kind of hard to file away that letter for reconsideration at a different time.  But I know that I just can't spread myself thinner than I already have or it's going to start affecting my children…the very reason I'm staying home in the first place!
So I'm learning to say no.  When exactly is this going to get easier?  And do I even want it to get easier?  I like helping people and I like saying yes.  I don't want to get too used to saying no, but I'm going to have to start asking myself if, by saying yes to helping someone else, am I saying no to my children?  Because if I have to say no to someone, it had better not be them!
Kelvin had his 2nd birthday party last night!  We decided to have it in the middle of the week so that more people could come (we go to church on Saturday and a lot of our friends go to church on Sunday), but a lot of families ended up sick and couldn't come.  So it was small, but still lots of fun!  Kelvin was definitely anticipating it….he kept saying, "Party!  Blow candles!  Presents!"
Today we're kind of laying low, though.  After frantic party preparations yesterday, I'm enjoying the clean house and we've been playing with birthday toys all day!  After the kids' naps, I think we're going to get dressed (!) and head over to the park since it's a beautiful fall day.  Hopefully there won't be any inconsiderate parents smoking (probably something like la flor dominicana ) right in the middle of the playground like there was last time!
P.S. I will be back with pictures within the next few days!  I have a lot, but they need editing.  Because it was at night, the lighting wasn't that great and I'm not sure how many of them turned out.
I don't know about all of you, but I have a hard time buying gifts for my husband!  I know he loves video games, but I have no idea what kind of games, what he has, what he wants, etc.  I do know that he would really love a new xbox 360 though!  His is a few years old and I bet he'd love a new one with kinect Ready technology!  Basically, it does away with the need for xbox controllers.  Even I think this would be a really cool xbox accessory and I know pretty much nothing about games like this!
Last month it was Kelvin, this month it's Ava….with pretty much the exact same thing!
Ava's been coughing up a storm for about the last week and a half.  Since she didn't have any other symptoms (other than an occasional runny nose), I took her in to the doctor today.  He said she has bronchitis and put her on albuterol breathing treatments and antibiotics.  He's going to be out of town next week, so he also gave me steroids to start on Saturday if the cough hasn't improved by then.
I got a picture of her having her breathing treatments tonight, but I'm just too tired to upload pictures now.  Plus, I have 7 loads of laundry hollering at me to fold them!  No rest for the weary…
The Wiggles are really popular around our house!  The kids love both the DVD's and the CD's and I love that even when they're watching a Wiggles DVD, they're still active.  They never sit around and watch it…they're always up dancing around the living room!
I love this video that I caught the other day!  I'm sure by the time they're old enough for mild acne, they'll probably threaten me with bodily harm if I show off this video, but I think it's adorable!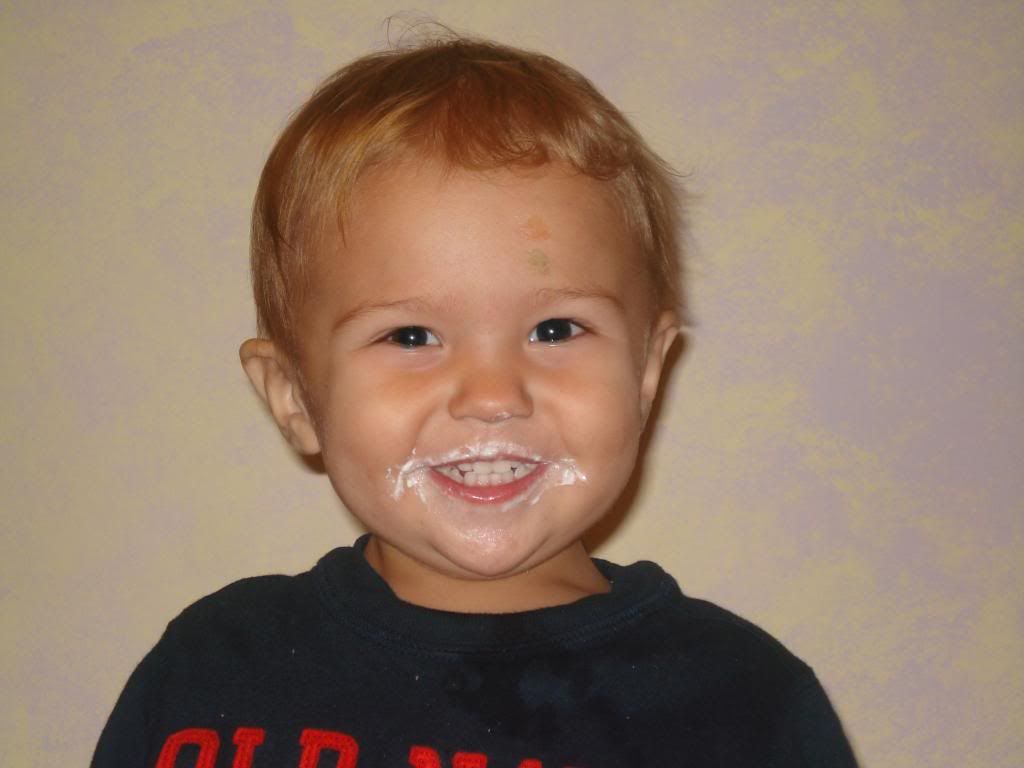 Today our baby boy turned 2!  Where has the time gone?  TWO?!  Really?!
We had a pretty low-key day.  We took a walk, went to playgroup, baked cupcakes, and watched Lion King.  We sang Happy Birthday several times so that he could blow his candle out multiple times.  Then he opened one of his gifts from us (he'll get the rest at his birthday party) and his gift from Grandma Darlene and Poppa Wally in Hawaii.
Since we just got back from Daytona Beach, we postponed his party until October 17.  I'm lucky he's 2 and has no idea that his party is so late.  I'm so excited for it, though…we decided on a Toy Story theme, which he'll absolutely love.  He doesn't have much interest in movies yet, but Toy Story is the one exception!