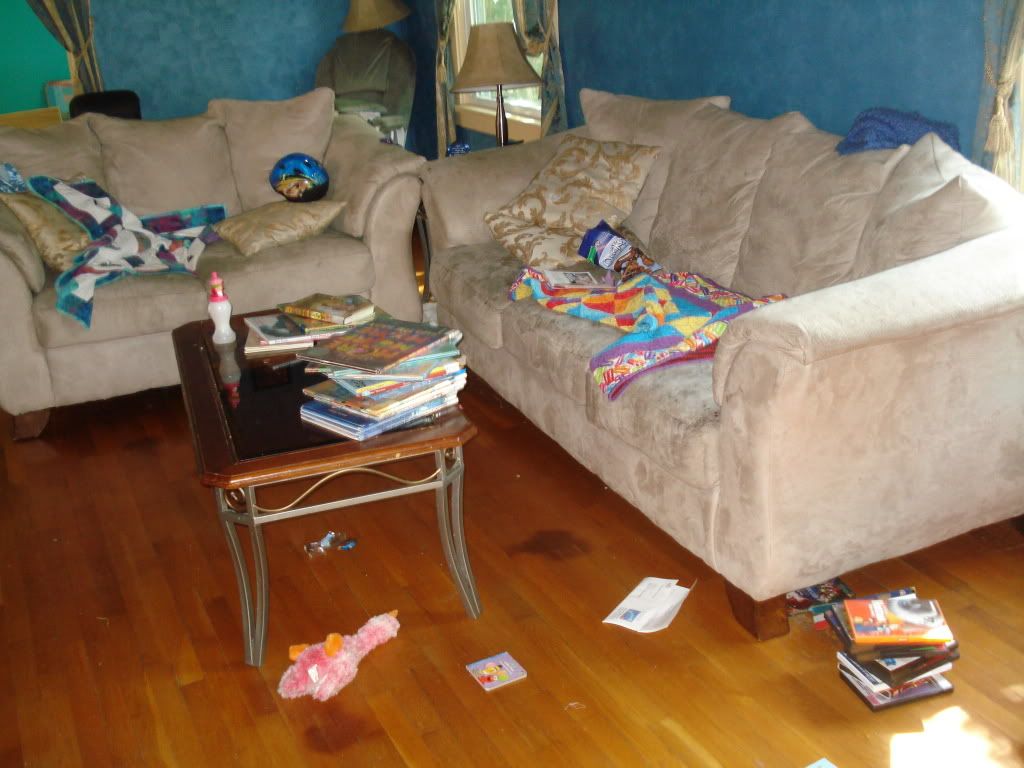 …It's just too beautiful outside, so…
…You just have to ignore the mess…
…And the never-ending piles of laundry…
…And go outside…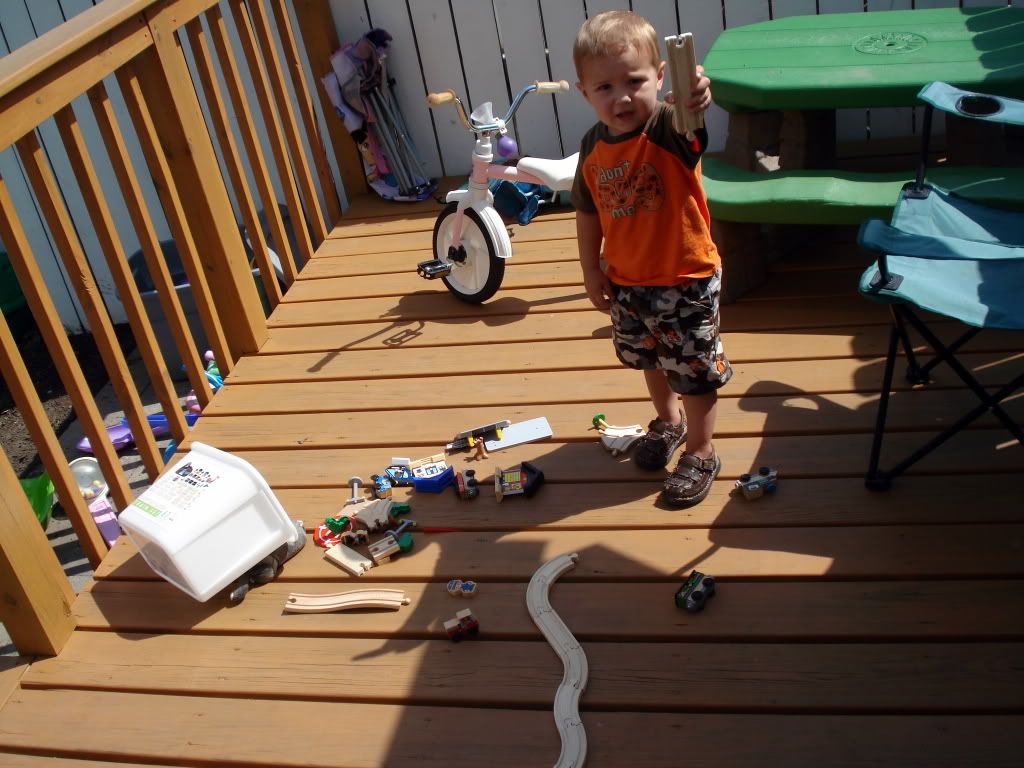 …And build a train-track!!
P.S. I can barely even believe I posted those pictures.  Oy.  But it's not like I was ignoring it to go take a bath and use some dead sea salt scrub !  We were making memories!! 🙂
This last weekend, the carnival came to Topeka!  Ava noticed it outside the mall, so we decided to take the kids after dinner on Friday.
I was impressed with how many rides they could do!  There were a lot of rides only for older kids and adults, but our kids (36″ and 40″) could ride 9 different rides.  They could also ride the ferris wheel, but Chad and I had to go with them on that one (obviously…that one's about as obvious as not letting babies play with Beads ! LOL).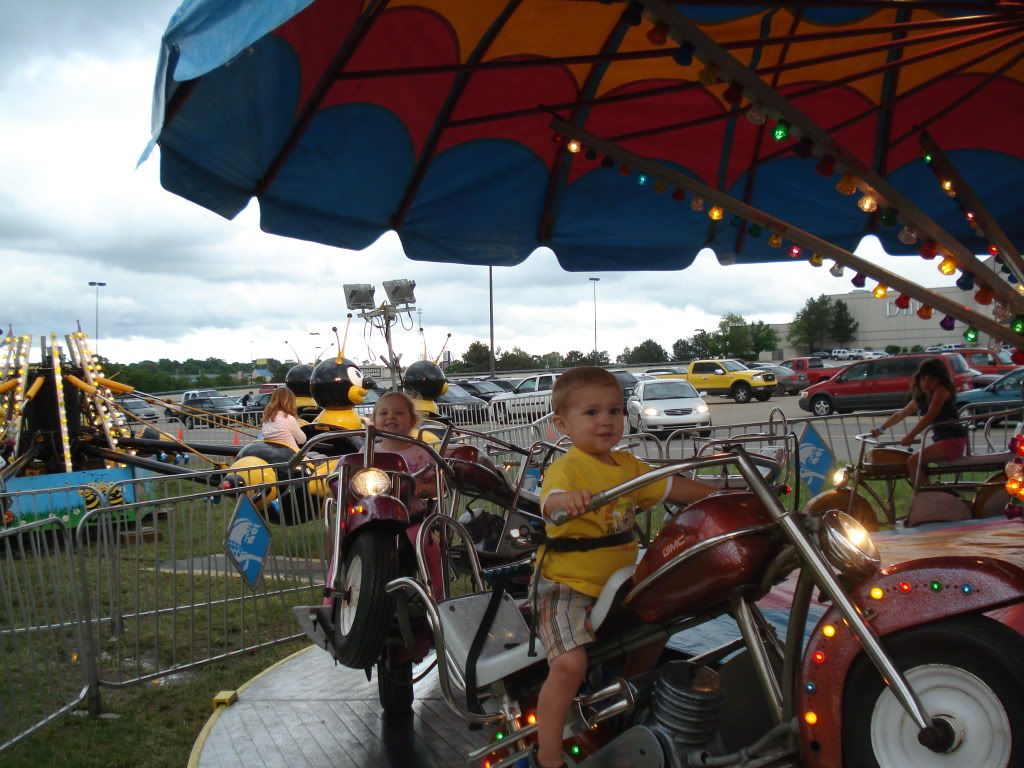 Riding motorcycles
Every year, our Parks and Rec department puts on an event called Touch a Truck.  They get all kinds of companies that have trucks (UPS, fired department, police department, EMS, library, energy company, etc.) to bring their trucks and let the kids get in them, pretend to drive them, honk the horns and see what they look like.  Most of them also give away candy or toys, too.  🙂
This year, it was POURING rain, but we went anyway!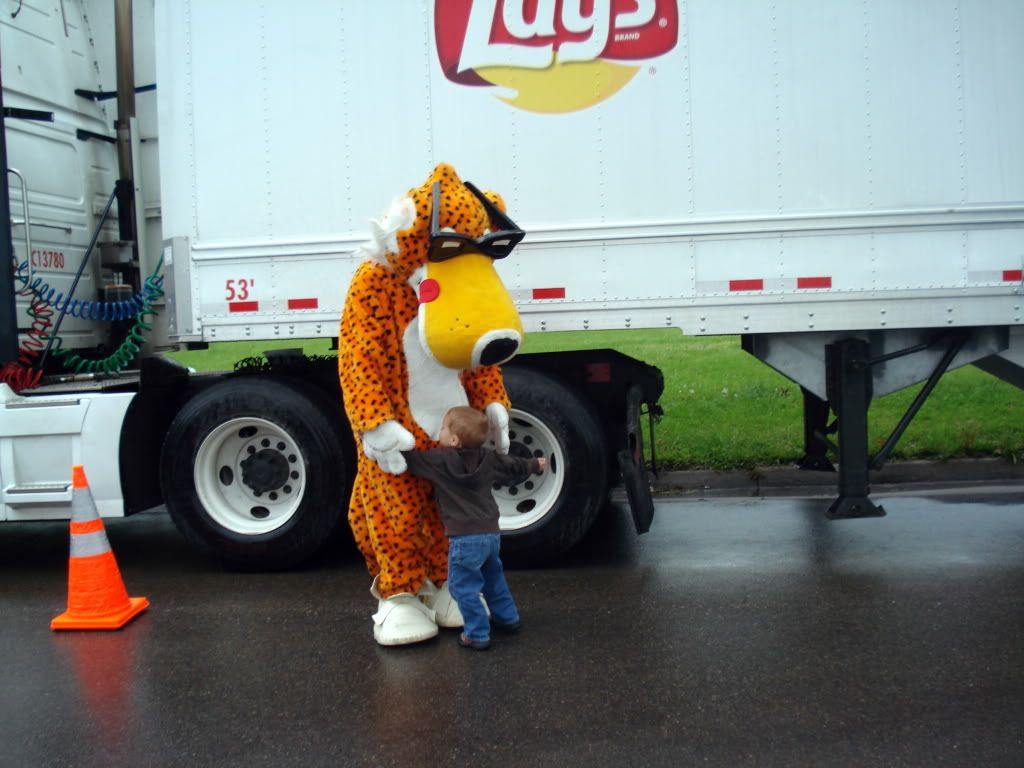 Kelvin hugging the cheetah outside the Lays truck.
Ava honking the horn in the library's Bookmobile.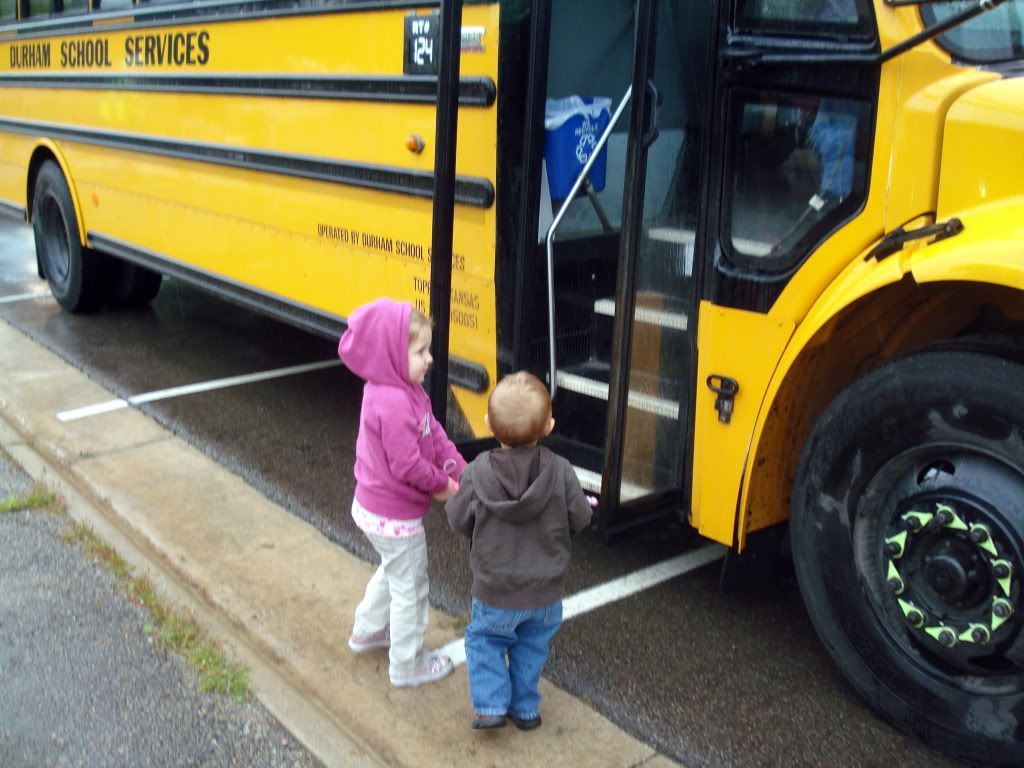 Ava and Kelvin getting ready to get in the school bus.
Ava outside the UPS truck.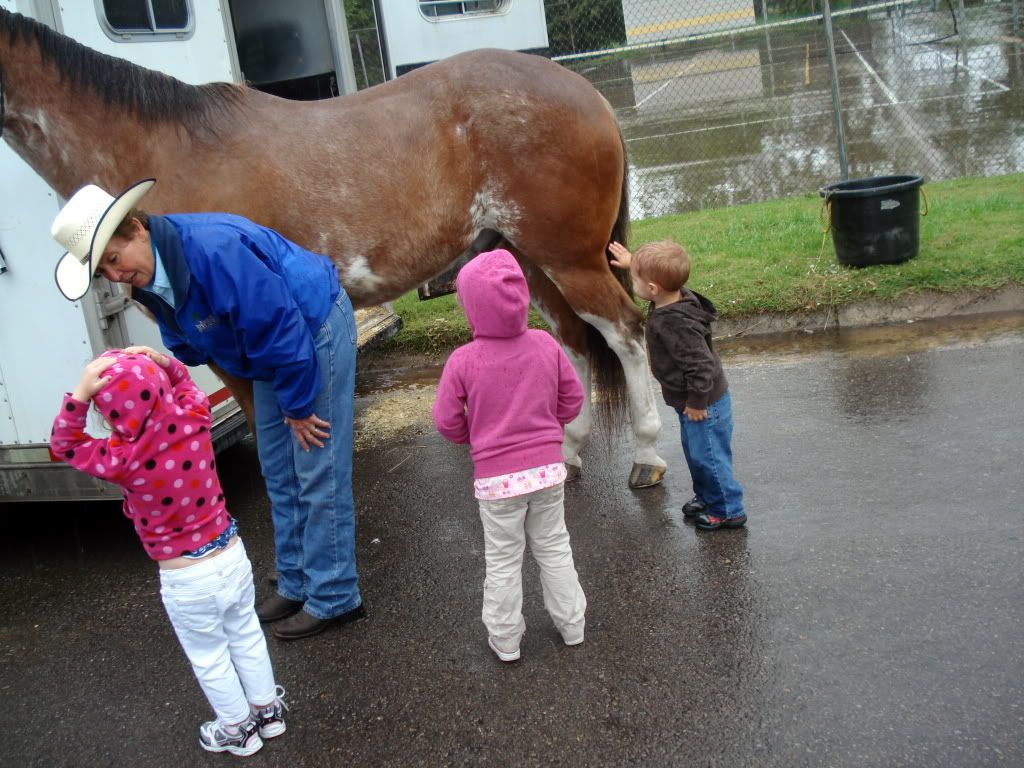 Ava and Kelvin petting the horses.  I'm not quite sure how horses belong at Touch a Truck, but the kids liked them!  🙂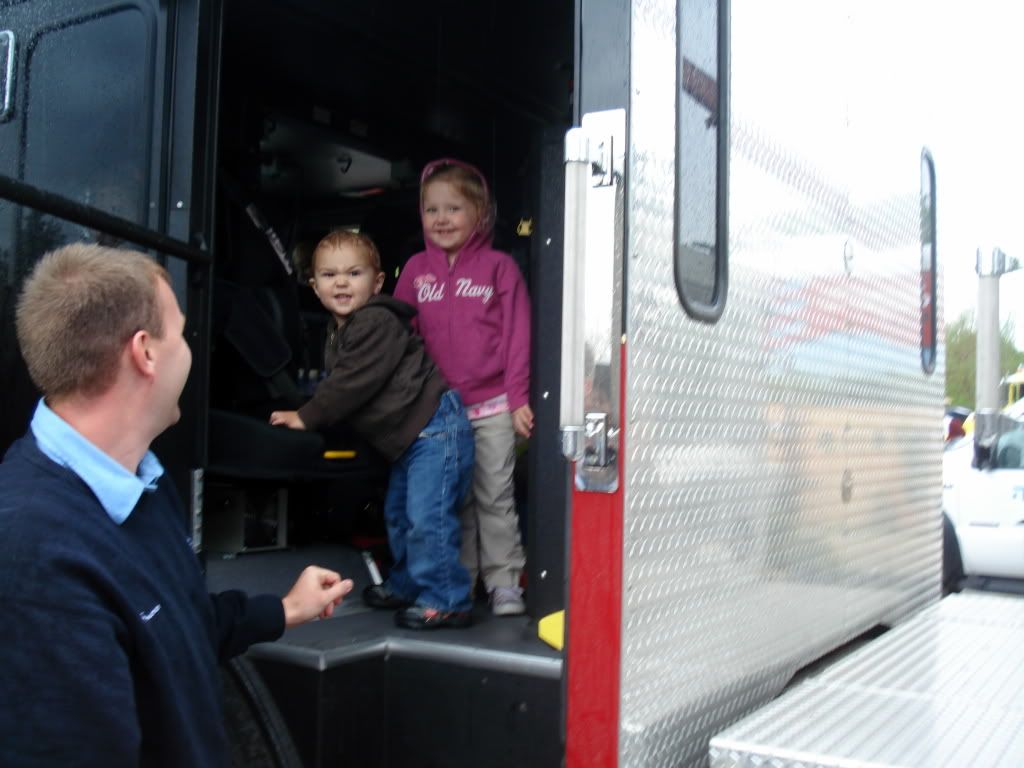 Kelvin and Ava in the ambulance.
Kelvin and Ava with the fire truck.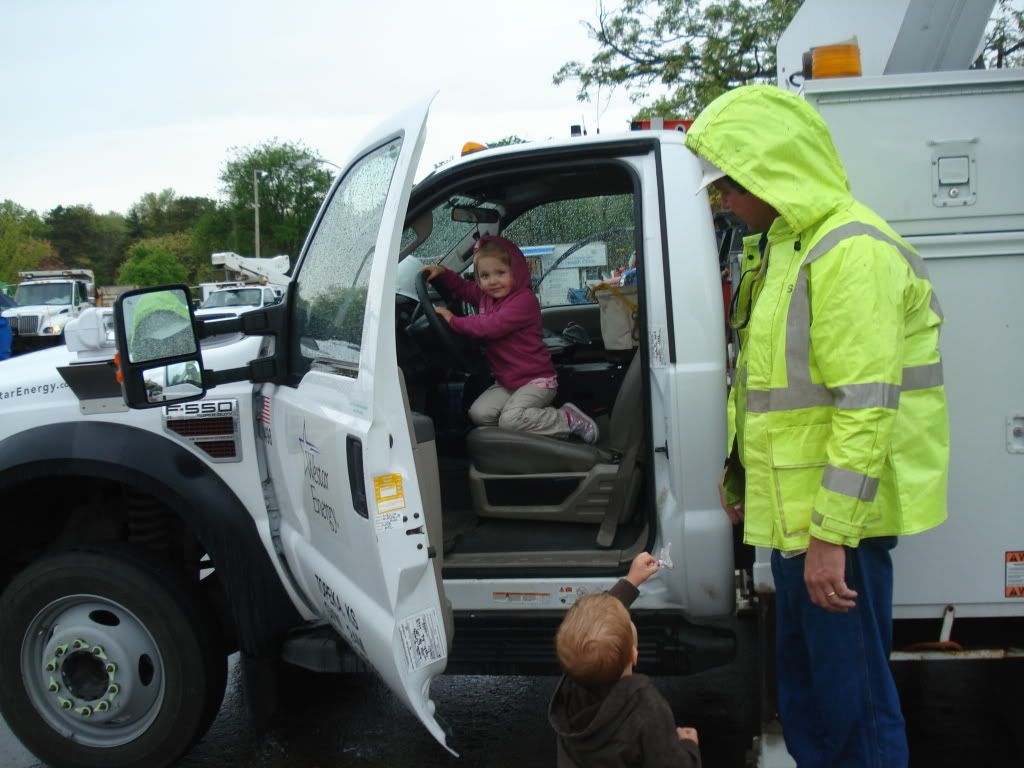 Ava "driving" the Energy truck.
I wish it hadn't been raining so we could have stayed longer.  As it was, we got cold and had to go home before we'd even seen all the trucks.  We had to make sure to load up on supplements when we got home to avoid getting sick from the dampness and cold, too!  It was still a lot of fun, though, and I'm glad we went!
The winner of the Juppy Walker is….Sarah! You have been sent an email and you have 48 hours to respond or another winner will be chosen.  Congratulations!
Thanks to all who entered!
I may have mentioned that I'm trying something different this month.  On May 1, I planned out the entire month's worth of meals.  I'd always wanted to do that, but I'd been too overwhelmed at the thought.  It was actually way easier than I'd expected and it has relieved a lot of stress these last few weeks.  Sunday's are typically busy for me and sometimes I don't get around to planning the week's menu, so I usually end up flying by the seat of my pants the rest of the week.  And you don't need an information technology degree to know that's not a good idea!
One thing that really helped was that I was able to stock up on a lot of meat right before planning that menu.  I planned the entire menu based on meat that I already had in the freezer, which turned out to be a good thing because there hasn't been another good meat sale until this week.  All the meat I bought during the sale this week will be in next month's menu.  I love doing it this way so that I won't have to worry about adjusting my menu if the right ingredients don't go on sale before I'm supposed to make a particular meal (and we all know how I feel about paying full price….even if I had an information technology degree and high-paying job, I wouldn't do it!).  Just another perk of having a stockpile!
Anyway, on to this week's menu…
Monday: Taco Salad, Spanish Rice
Tuesday: Bacon & Broccoli Penne
Wednesday: Chili (doubled for the freezer), Cornbread
Thursday: Baked Turkey Sausage Stew (doubled for the freezer)
Friday: Meatloaf, Mashed Potatoes, Cauliflower
Saturday: Kabobs, Sweet Corn, Potato Salad
Sunday: Crazy Corn Dogs, French Fries
This post is linked up to Menu Plan Monday.
I honestly don't mind laundry.  Is that weird?  In fact, on the days when I don't have any laundry to do, I feel a little lost.  I know that's weird.
When I saw another blogger commenting on how her laundry schedule is her secret to loving laundry, I thought I would share mine too.  My schedule probably wouldn't work for anyone else, but it works for me and might give you some ideas for starting your own.
Sunday: No laundry
Monday: Big laundry day (darks, lights, reds, jeans, towels)
Tuesday: Cloth diapers
Wednesday: Sheets (this is a little odd because I change the sheets on Friday, but it just works for me)
Thursday: Big laundry day (darks, lights, reds, jeans, towels)
Friday: Cloth diapers
Saturday: No laundry
What does your laundry schedule look like?
All of us parents know what it's like when our babies start learning to walk….it's so exciting, but it can also be painful for the parents!  Bending over to hold them up while they take supported steps can take its toll on our backs.  And once they realize how much fun it is being mobile, they want us to help them walk ALL. THE. TIME.  Fun, but tiresome after awhile.
Enter…The Juppy Walker!
The Juppy Walker is a small cloth walker that is small enough to fit in your purse or diaper bag.  You put the baby in it and hold onto the straps while standing upright.  Now Baby can practice walking to their hearts' content without Mom or Dad having to hunch over.
Additionally, the Juppy Walker is far safer than traditional baby walkers.  The parent is right there assisting Baby to make sure there are no dangerous falls down stairs.
I got the chance to try out the Juppy with my little sister Rachel who is 10 months old (unfortunately, my two kiddo's are too old for this, but I look forward to trying it with my next baby).  She loved it!  We had to wait for her to grow into it, though.  The first time we tried it, she had just started crawling and had no idea what to do in the Juppy.  But when she tried it out this last week, she had so much fun in it.  She was so excited she actually got the hiccups.  The video says it all!!
And the people at Juppy have been kind enough to give one of you lucky readers the chance to win one for yourselves!
Mandatory Entry:
#1 Visit the Juppy website and leave me a comment letting me know which color walker you'll choose if you win.
Extra Entries:
#2 Follow Juppy on Facebook and/or Twitter.
#3 Share this post on Facebook and leave the link in a comment.
#4 Tweet about this giveaway using the hashtag #giveaway and the handles @TheJuppyWalker and @love2bmommy.  Can be done once daily.  Leave the link in a comment.
#5 Follow Motherhood Moments on Twitter.
#6  Subscribe to Motherhood Moments via a reader or email.
This giveaway is open to the U.S. only until May 23, 2011 at 11:59 p.m. CST.  The winner will be chosen randomly. I will post and email the winner, who will have 48 hours to respond. If winner does not respond within 48 hours, another winner will be chosen.
Disclosure: I was provided with a Juppy Walker to do this review, but was not compensated in any other way.  All opinions are 100% my own.

This post is linked to Things I love Thursday.
For anyone who thinks that stay-at-home moms don't work, I'd like to share my day yesterday with you.
Get up.
Feed kids breakfast.
Get kids dressed.
Put diapers in the laundry.
Take kids and puppy to the vet.
Take kids and puppy to Pet Smart to buy more toys for puppy.  Absolute disaster.  Will never happen again.
Take puppy home.
Take kids to playgroup.
Go to grocery store.
Feed kids lunch.
Make casserole for dinner to heat up later.
Put laundry away.
Hang diapers up on the line.
Write two blog posts.
Do school with kids.
Give kids a bath to get them ready for professional pictures.
Get kids dressed for professional pictures.
Spend an hour and half getting professional pictures done.
Pick up new knife set.
Eat dinner.
Put kids to bed.
Bake 7 dozen cookies and package 4 dozen of them for a bake sale.
Steam clean downstairs floors.
Take a shower.
Stuff and fold diapers.
Collapse in bed.
I don't even think I sat down for longer than a few minutes at a time all day long.  I'd better look into iphone 3gs cases because the only way I can keep up with anything online is from my phone! My Google Reader currently contains 721 unread posts because I barely ever have a chance to sit at the computer anymore!
Anyway, that is by no means a normal day.  In fact it was a downright crazy day.  But my point is that stay-at-home moms put in longer hours and squeeze more into those hours than most people with a 9 to 5 job!
During Ava's first summer, she was a newborn so we weren't really spending much time outside.  But her second summer, I remember being at a loss for what to do with her outside.  She loved being out in the yard, but I had no idea what to do to keep her busy and entertained.
Now with two active kids who love the outdoors, I have an arsenal of ideas.  Here are a few of them:
Sidewalk chalk.  We especially love drawing designs and then using the watering can to blend the colors.
Bubbles.  We have about a million bubble wands that we got in a set and they provide nearly endless fun.
Wading pool.  Need I say more?  My kids spent 4 hours in it just on Sunday afternoon.  Remember the sunscreen!
Water table.  I got a fairly inexpensive one that my kids love for those warm days that aren't quite hot enough for the pool.
Sandbox.  Again, ours was fairly inexpensive….add a few buckets, shovels and cars and they're entertained for a long time!
Have a picnic.  I don't know why, but the kids are always more willing to sit down and eat their food when it's served outside.
Water the flowers.  This is a bit hands-on, since I have to be the one constantly filling up the little watering cans, but they love taking them around and watering all the plants.
Ride bikes/trikes or other riding toys.  Our backyard is small and all grass, so we have to go on the driveway to do this.
Go out at night and catch lightning bugs.  Leave the Off Road Lights out of it and make a live flashlight by collecting them in a jar and then releasing them.
Get out of the yard….go for a walk, to the park, etc.
What are your favorite outdoor activities to do with your kids?
We are sort of potty training Kelvin again this week.  I say "sort of" because it isn't going well.  He wants to wear his underwear, but he doesn't seem to get the concept of sitting on the potty.  He'll pee in his pants and then look at me and say, "Why are my legs wet?"  Oy.
So we're trying, but taking it slow.  I'm trying to put him on the potty a lot and he goes on it sometimes.  He almost never decides to sit on it by himself though.  And some afternoons I get completely fed up with cleaning up boy and puppy pee all day long and put him back in a diaper.
We'll see what happens.  He's 2.5 years now, so maybe he'll be potty-trained by his third birthday!  Either that, or I'll be fighting stress-induced hormonal acnehormonal acne !