Thanks for the guest post by Jo Levy
Brothers will be brothers and my sons are no different. They love each other and hate each other all at the same time but they've been talking about moving to a house together when the school year starts. We haven't told them yet but my husband and I bought them a house to live in with their best friend Dane just outside of campus – they're going to be so excited! We got them a Http://www.allhomeSECURITY.com alarm and fenced in the backyard so they can get a Labrador like they've been wanting to…I'm sure they're going to turn the place into a big party house but I don't care as long as they live together and can keep their relationship alive and strong forever. All I care about is that my boys stay friends and don't fight like my two brothers do since we're Italian and that means family is everything! I know they think it's corny but I'm a mama and that's really all I think about when it comes to them.
Seriously, I do.
I was hesitant to write about my miscarriage last week.  I wasn't sure how people would react or how I would react to everyone knowing.  I'm really glad I did, though.  Everyone has been so supportive.  We've gotten so many sweet messages, emails and cards from.  And my MOMS Club friends set up a schedule to bring us dinner every night this week.  It's been a stressful, yucky week and not having to worry about cooking dinner has helped so much.  Don't even get me started on the desserts they've brought.  Everyone has brought a dessert and they have been amazing!
I'm just so thankful for the great support system I have, both from our family back home and from friends here where we live.  It has made a really rough time more bearable and it's really helped me feel better than I was when I wrote the post last week.  I definitely won't be taking on extra things like applying for Resort Manager Jobs right now, but it's getting better.
Alternatively titled…..This Has Been The Crummiest Summer of My Life.
I had high hopes for this summer.  This was going to be the summer that we did super-fun things every day and we could easily go on more day trips because the kids were older and didn't need as much stuff.  Unfortunately, life had other plans and this has been a summer I never want to repeat.
I had a miscarriage last week.  I was 7 weeks and 2 days along.  The miscarriage itself was pretty much textbook, but the entire (short) pregnancy was an emotional roller-coaster from hell.  Even my doctor told me several times that he had no idea what was going on.  I wasn't planning on telling anyone about the miscarriage besides the very, very few people who already knew I was pregnant, but word has gotten out in various ways anyway.  Besides, I feel like I need to explain my lack of enthusiasm for life and why I haven't gotten things done that people have been waiting for.  People have been noticing that my online presence has been almost non-existent and I've been canceling IRL (in-real-life) appointments and play dates.  I haven't been replying to many emails or texts (whether they are about the loss or not) and I don't always answer the phone.  Most days, I just don't really want to be around people.  That sounds nasty, but it's really not meant to be.  It has nothing to do with the people who are trying to reach me, it's just exhausting pretending that everything is OK when it isn't.  And even with those who already know, it's exhausting to not pretend, too.  I don't really feel like talking about it much so I still pretend everything is fine.  It's a lose-lose situation.
I feel like I shouldn't be taking this as hard as I am.  All of the warning signs were there and I should have been prepared for this.  But I really wasn't (really, how can you prepare for something like this, though?).  There were complications from the very beginning.  As soon as I had my first blood draw, we knew things were not as they should be.  But the hcg numbers kept rising (very, very slowly), even after my doctor predicted that I would miscarry that first weekend after I got the positive pregnancy test.  I figured there had to be a reason I was still pregnant 3 weeks after he had predicted I would miscarry.  It was an absolute roller-coaster of blood tests every 48 hours and ultrasounds once a week.  Each time, the results would be bad and I would be crushed, but somehow I would have my hopes up again by the time the next one rolled around.  I was sure that somehow things had turned around and we were going to get good news this time.  Optimism sucks.
What is especially hard is that I did everything "right".  I was taking my prenatal vitamins every single day.  I stopped drinking caffeine the day I found out I was pregnant.  I didn't take any medication, not even Tylenol.  I cooked my lunch meat to within an inch of its life.  And yet, the day after I started to miscarry, I saw a hugely pregnant woman smoking a cigarette.  Life is so unfair.  I'm not a violent person, but I really wanted to punch her.
One thing I've learned from this is what to say to people who have had miscarriages.  Before the miscarriage, I would always say, "I'm so sorry" and I would feel like that was totally inadequate, but I didn't know what else to say.  I wish I'd found the following article earlier, so I'm passing it along now.  Not because I'm trying to dictate what people say to me or call out anyone who said anything of these things, but just because it's relevant and there's no time like the present.
Now I know that "I'm so sorry. Let me know if I can do anything." is really the ONLY thing anyone can say that helps at all.  Nothing that anyone can say will make it go away, but that's the only thing that doesn't make me feel like people are minimizing it and thinking I shouldn't be feeling the way I am.  I even had a nurse tell me, "Well, I bet you're glad it's over now."  Ouch.
What we wish you knew about pregnancy loss:
A letter from women to their friends and family
by Elizabeth Soutter Schwarzer
I assert no copyright for the material. Please use it as you see fit to help women who have endured this terrible grief. Thank you.
Date: Sat, 23 Mar 2002
When women experience the loss of a child, one of the first things they discover they have in common is a list of things they wish no one had ever said to them. The lists tend to be remarkably similar. The comments are rarely malicious – just misguided attempts to soothe.
This list was compiled as a way of helping other people understand pregnancy loss. While generated by mothers for mothers, it may also apply similarly to the fathers who have endured this loss.
When trying to help a woman who has lost a baby, the best rule of thumb is a matter of manners: don't offer your personal opinion of her life, her choices, her prospects for children. No woman is looking to poll her acquaintances for their opinions on why it happened or how she should cope.
-Don't say, "It's God's Will." Even if we are members of the same congregation, unless you are a cleric and I am seeking your spiritual counseling, please don't presume to tell me what God wants for me. Besides, many terrible things are God's Will, that doesn't make them less terrible.
-Don't say, "It was for the best – there was probably something wrong with your baby." The fact that something was wrong with the baby is what is making me so sad. My poor baby never had a chance. Please don't try to comfort me by pointing that out.
-Don't say, "You can always have another one." This baby was never disposable. If had been given the choice between loosing this child or stabbing my eye out with a fork, I would have said, "Where's the fork?" I would have died for this baby, just as you would die for your children.
-Don't say, "Be grateful for the children you have." If your mother died in a terrible wreck and you grieved, would that make you less grateful to have your father?
-Don't say, "Thank God you lost the baby before you really loved it." I loved my son or daughter. Whether I lost the baby after two weeks of pregnancy or just after birth, I loved him or her.
-Don't say, "Isn't it time you got over this and moved on?" It's not something I enjoy, being grief-stricken. I wish it had never happened. But it did and it's a part of me forever. The grief will ease on its own timeline, not mine – or yours.
-Don't say, "Now you have an angel watching over you." I didn't want her to be my angel. I wanted her to bury me in my old age.
-Don't say, "I understand how you feel." Unless you've lost a child, you really don't understand how I feel. And even if you have lost a child, everyone experiences grief differently.
-Don't tell me horror stories of your neighbor or cousin or mother who had it worse. The last thing I need to hear right now is that it is possible to have this happen six times, or that I could carry until two days before my due-date and labor 20 hours for a dead baby. These stories frighten and horrify me and leave me up at night weeping in despair. Even if they have a happy ending, do not share these stories with me.
-Don't pretend it didn't happen and don't change the subject when I bring it up. If I say, "Before the baby died…" or "when I was pregnant…" don't get scared. If I'm talking about it, it means I want to. Let me. Pretending it didn't happen will only make me feel utterly alone.
– Don't say, "It's not your fault." It may not have been my fault, but it was my responsibility and I failed. The fact that I never stood a chance of succeeding only makes me feel worse. This tiny little being depended upon me to bring him safely into the world and I couldn't do it. I was supposed to care for him for a lifetime, but I couldn't even give him a childhood. I am so angry at my body you just can't imagine.
-Don't say, "Well, you weren't too sure about this baby, anyway." I already feel so guilty about ever having complained about morning sickness, or a child I wasn't prepared for, or another mouth to feed that we couldn't afford. I already fear that this baby died because I didn't take the vitamins, or drank too much coffee, or had alcohol in the first few weeks when I didn't know I was pregnant. I hate myself for any minute that I had reservations about this baby. Being unsure of my pregnancy isn't the same as wanting my child to die – I never would have chosen for this to happen.
-Do say, "I am so sorry." That's enough. You don't need to be eloquent. Say it and mean it and it will matter.
-Do say, "You're going to be wonderful parents some day," or "You're wonderful parents and that baby was lucky to have you." We both need to hear that.
-Do say, "I have lighted a candle for your baby," or "I have said a prayer for your baby."
-Do send flowers or a kind note – every one I receive makes me feel as though my baby was loved. Don't resent it if I don't respond.
-Don't call more than once and don't be angry if the machine is on and I don't return your call. If we're close friends and I am not responding to your attempts to help me, please don't resent that, either. Help me by not needing anything from me for a while.
If you're my boss or my co-worker:
-Do recognize that I have suffered a death in my family – not a medical condition.
-Do recognize that in addition to the physical after effects I may experience, I'm going to be grieving for quite some time. Please treat me as you would any person who has endured the tragic death of a loved one – I need time and space.
-DO understand if I do not attend baby showers/christening/birthday parties etc. And DON'T ask why I can't come.
Please don't bring your baby or toddler into the workplace. If your niece is pregnant, or your daughter just had a baby, please don't share that with me right now. It's not that I can't be happy for anyone else, it's that every smiling, cooing baby, every glowing new mother makes me ache so deep in my heart I can barely stand it. I may look okay to you, but there's a good chance that I'm still crying every day. It may be weeks before I can go a whole hour without thinking about it. You'll know when I'm ready – I'll be the one to say, "Did your daughter have her baby?" or, "How is that precious little boy of yours? I haven't seen him around the office in a while."
Above all, please remember that this is the worst thing that ever happened to me. The word "miscarriage" is small and easy. But my baby's death is monolithic and awful. It's going to take me a while to figure out how to live with it. Bear with me.
Recently, my brother Daniel and his wife Jessica and their kids Madison and Josie came down to visit us.  They were able to stay for a week and it was a lot of fun.  We played more games of cards than I typically play in an entire year, which I didn't get a picture of.  But I got pictures of a lot of the rest of it., including the Discovery Center.
We played Guitar Hero.  A lot.  We got a lot of use out of that home theater system 5.1 !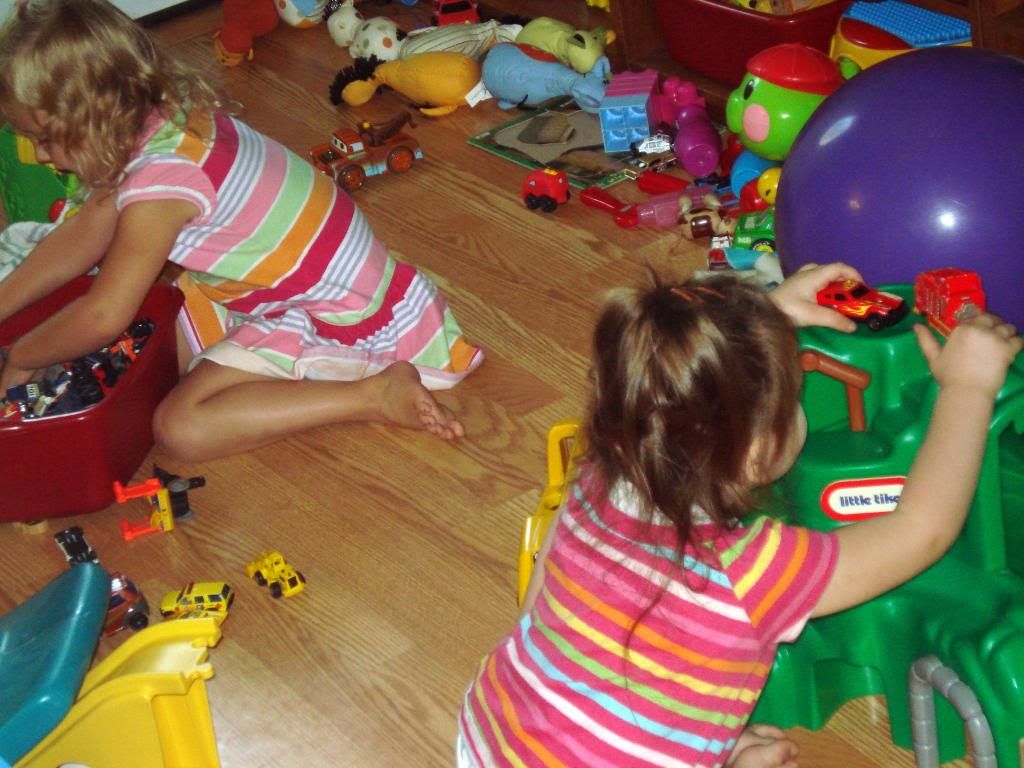 The kids trashed the playroom on a daily basis.
Some of us wore really goofy hats.
We tried to get good pictures of the cousins together.  It didn't go well.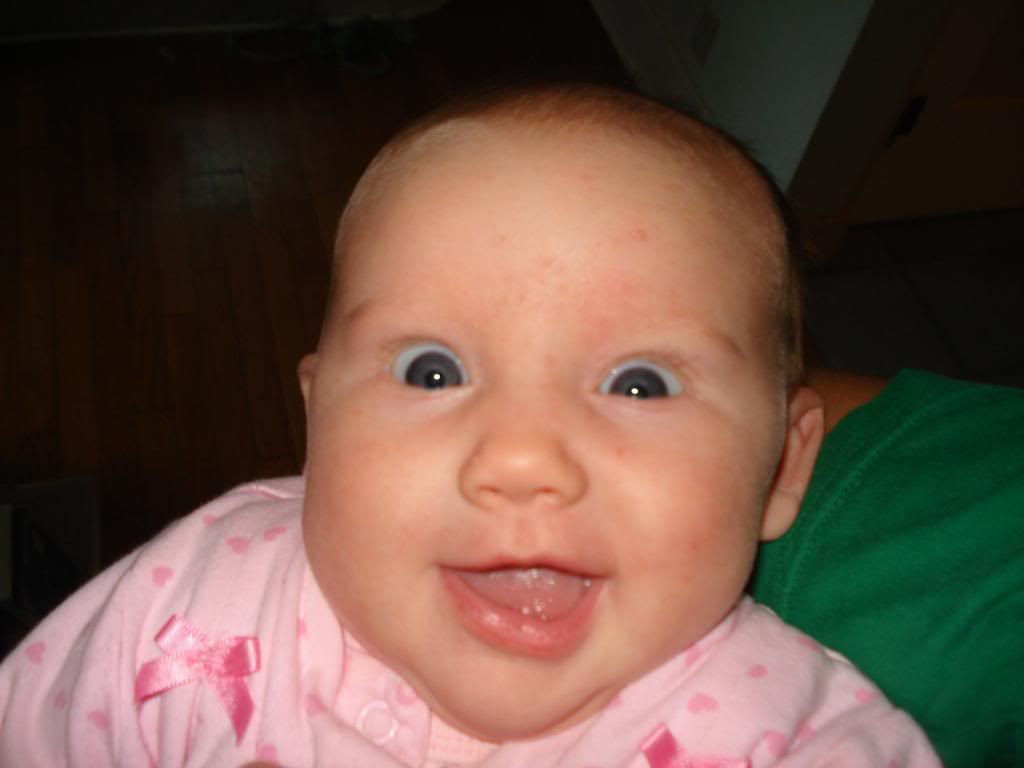 We got to see lots of Miss Josie smiles.  And coos.  She started "talking" a lot while she was at our house.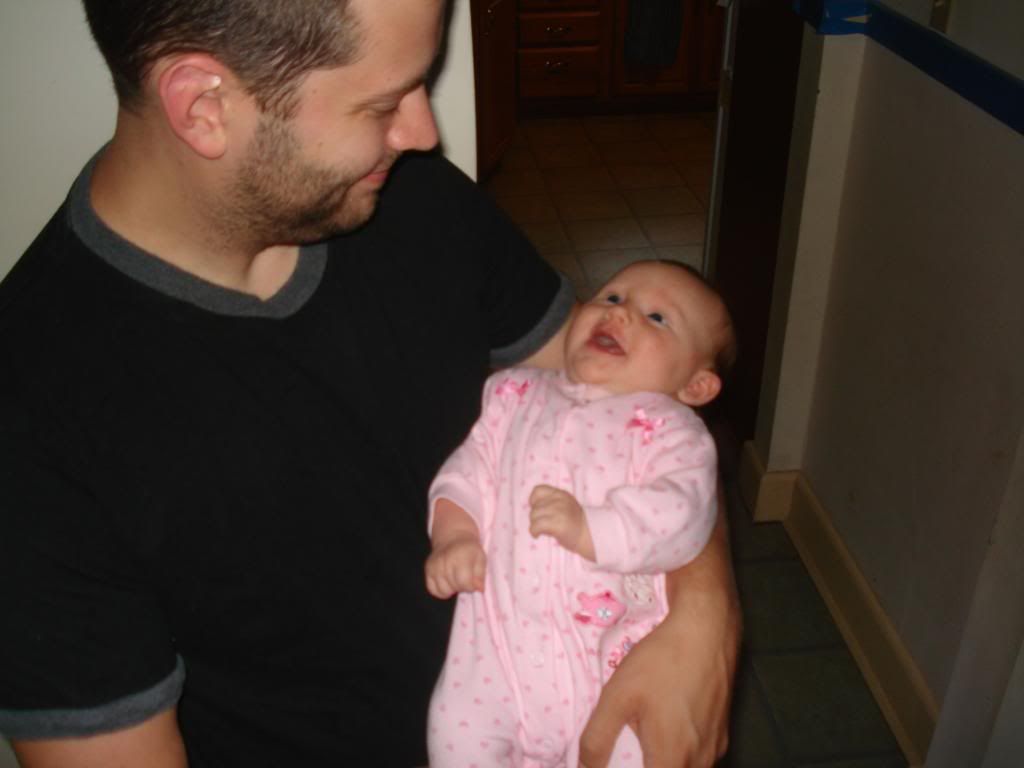 Josie LOVED Chad!
I'm so glad they were able to come and stay for so long.  It makes it much easier to be away from family when we get to see them often!
Last Friday, I took the kids over to the art lab at Washburn University.  The lab is in the basement of the art museum and has tons of stations set up for the kids to do different art projects.  This time, they had several Lego tables set up where the kids could build their own creations, too.  The best part of all this is that it's completely free!  I was almost excited enough to pass out swisher sweets cigars when I found out we had a place like this so close to us.  We are so lucky to have so many free educational opportunities for the kids here.
Ava drawing still-life portraits.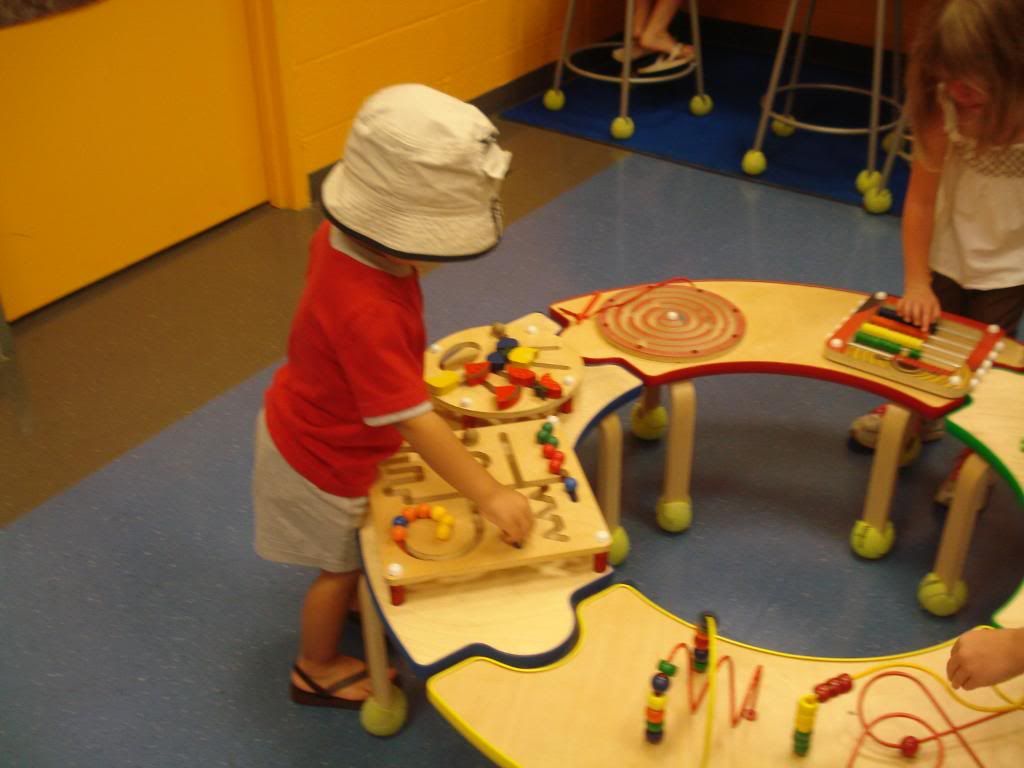 Kelvin is in love with this hat and wouldn't take it off the entire time we were there.  🙂
Ava making mosaics out of magnetic pieces.  See all those bins to her left?  Those are all different colors and patterns of pieces cut into various shapes for the mosaics.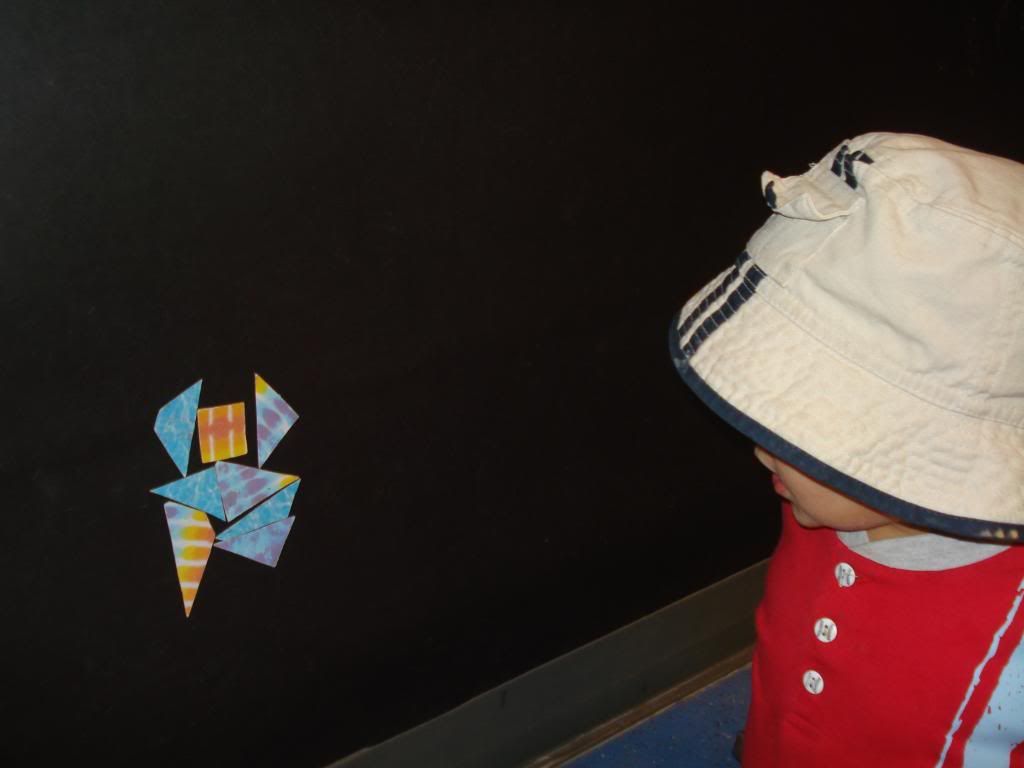 Kelvin's creation with the mosaic pieces.  It's an airplane.
Kelvin drawing with chalk on the cave wall.
Watercolor painting.
I didn't even get pictures of everything they did…including the Lego's.  The kids are already asking to go back this week!
While Daniel, Jessica and their kids were here last week, we decided to visit the new Discovery Center in Topeka.  Even though it's so close to us, we've only been there once since it opened up in June, because we were traveling so much.  So a rainy Sunday afternoon seemed like the perfect opportunity!
Kelvin and Maddie putting balls through the tubes.  Air pushes the balls through and then they pop out the top.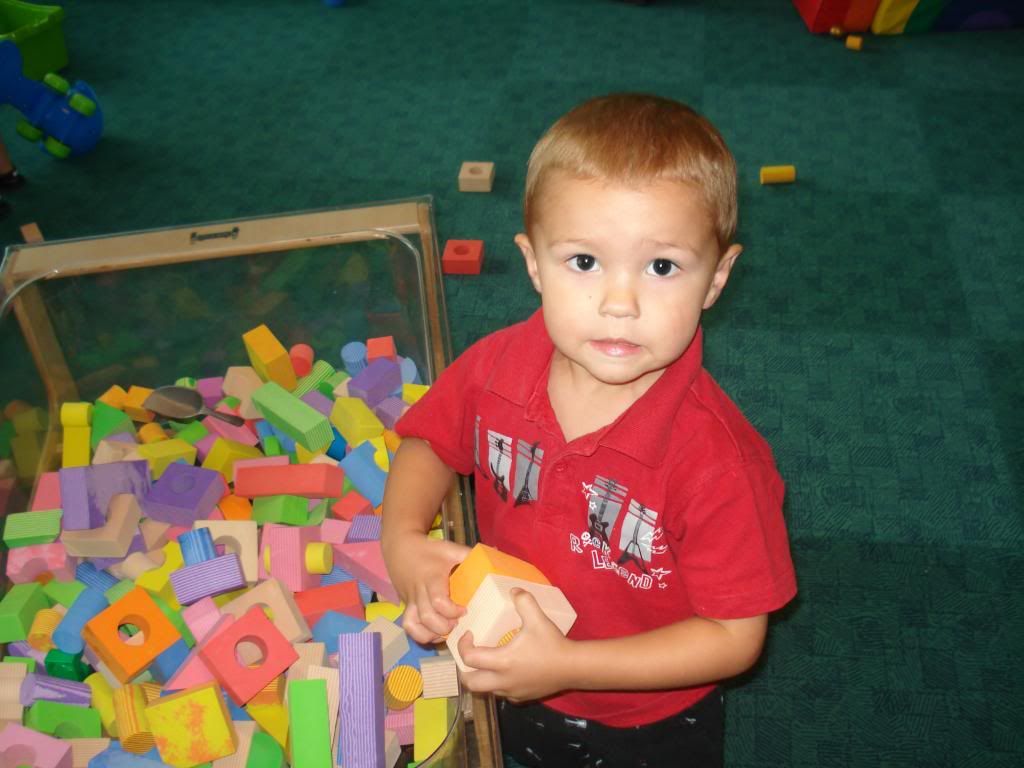 Kelvin playing with blocks in the "toddler garden".
Madison playing in the toddler garden.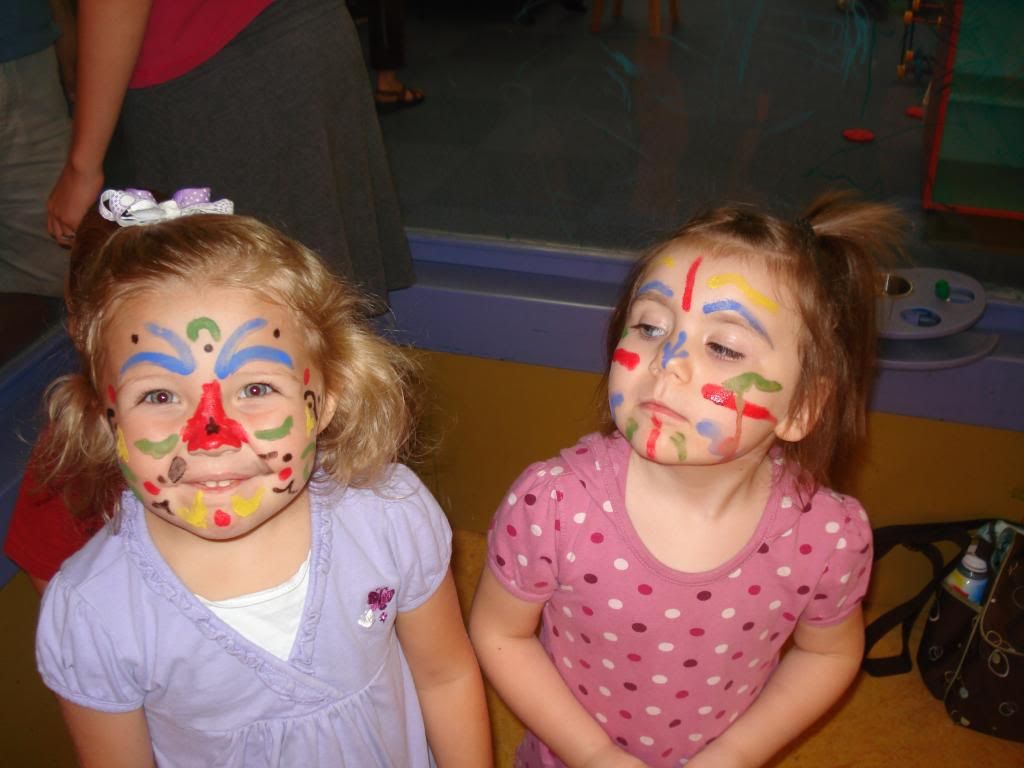 Chad and Daniel painted Ava and Maddie's faces.  Luckily, it was washable or it would have taken some deadsea salt to get all that paint off!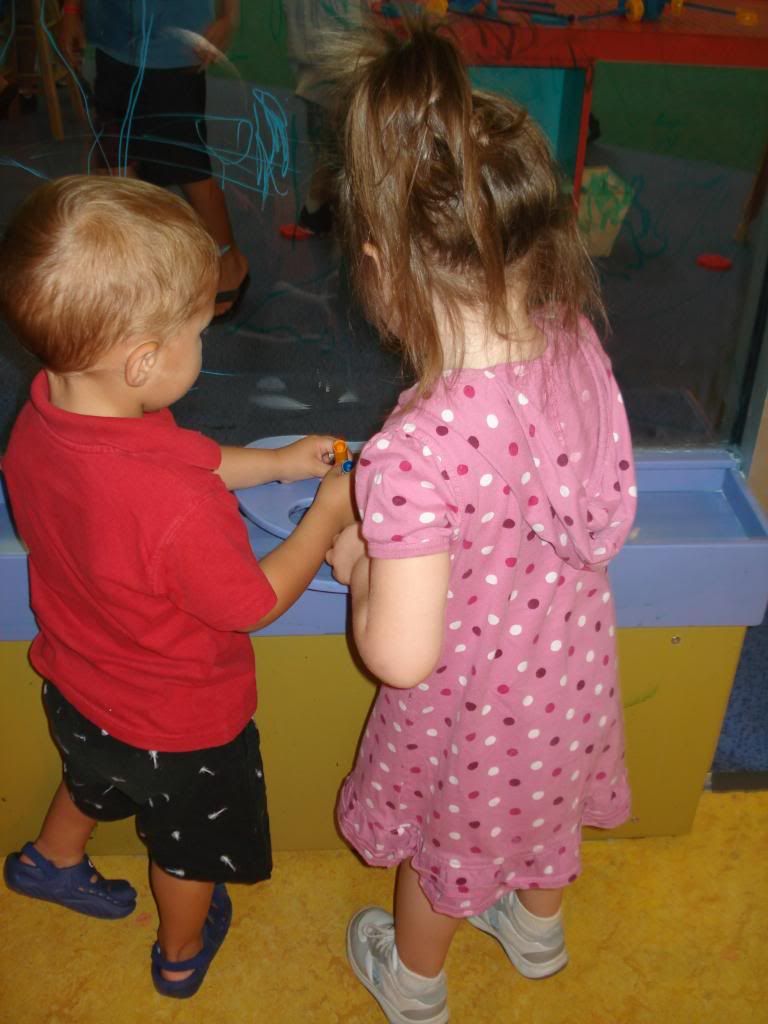 Kelvin and Madison coloring in the glass house.  Last time we were there, they had paint instead of markers…paint was more fun, but the markers were definitely less mess!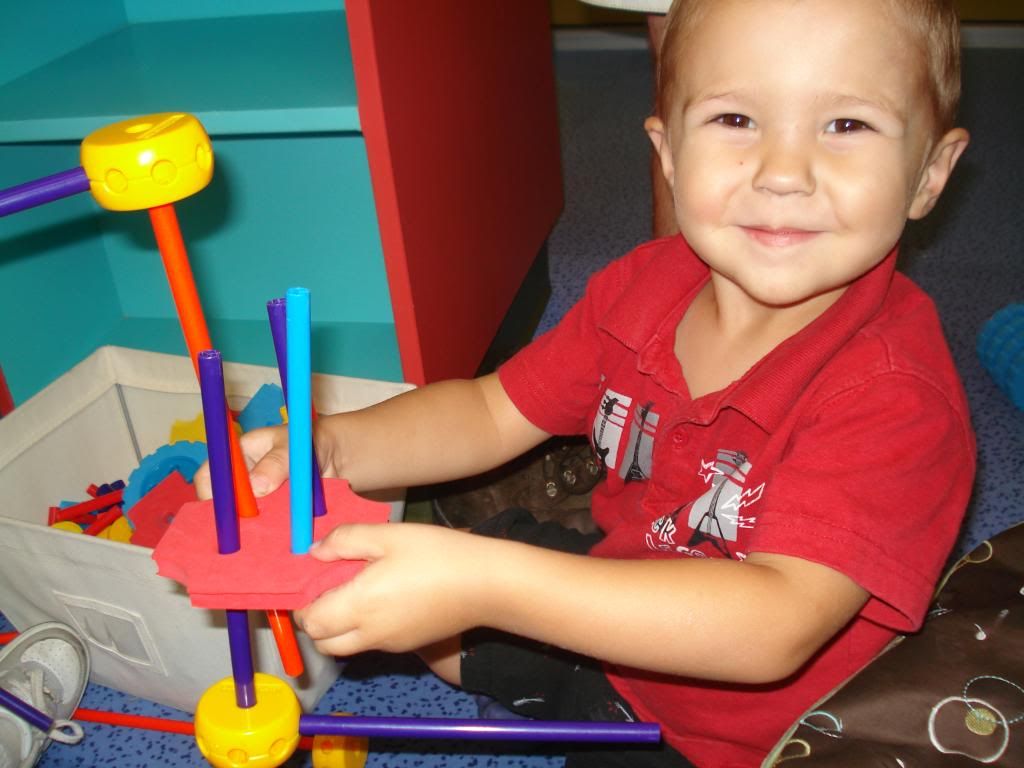 Kelvin and his invention.  I'm not quite sure what it is.  🙂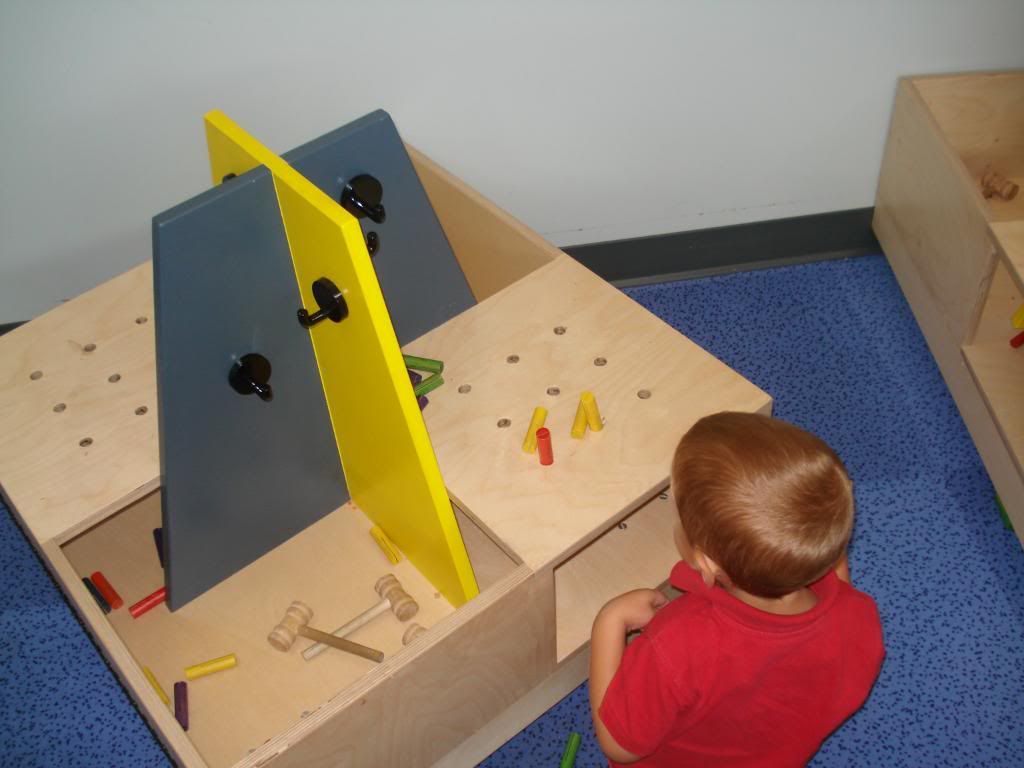 Kelvin pounding pegs.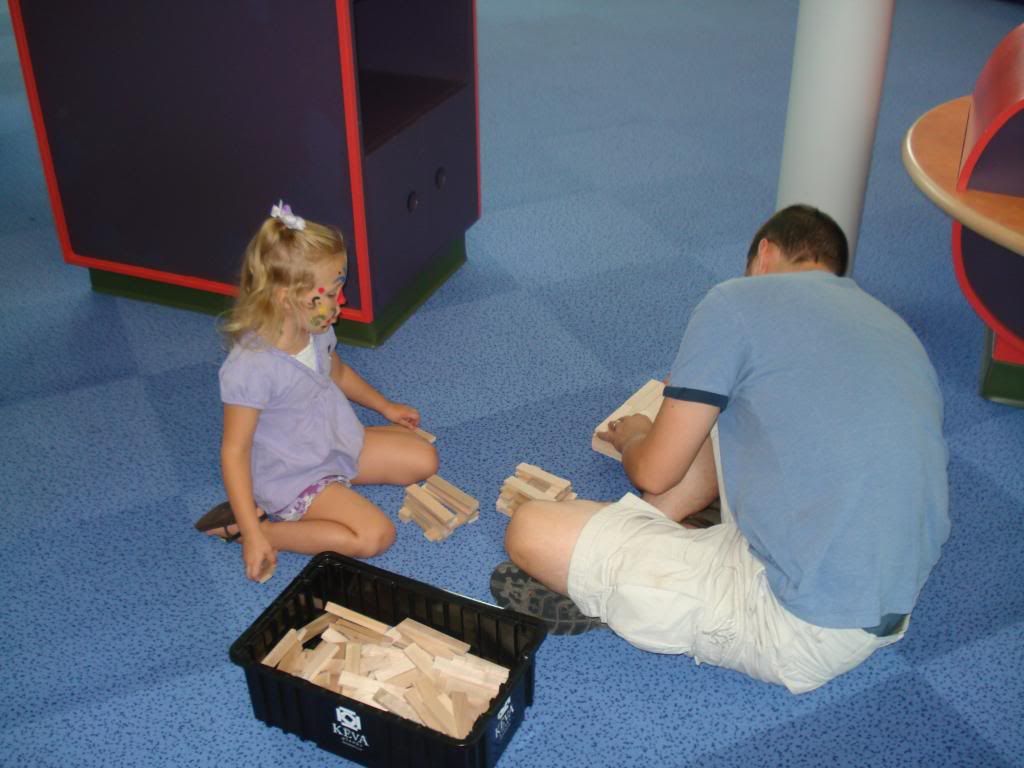 Ava and Chad building houses.
 Kelvin playing dress-up.
Miss Josie spent the entire time at the museum like this!  <3
We all know that being a mom can feel isolating sometimes. Especially when you're a stay-at-home mom, sometimes you just want to have an intelligent conversation with someone….anyone over the age of four!
That's where Cafemom comes in.  CafeMom offers moms conversation, advice, friendship, and entertainment. Moms connect on shared interests, passions, challenges, and local geography and have created tens of thousands groups on every topic.
Sign up and bring on the intelligent conversation! 🙂
This week is get-our-groove-back week around here.  After tons of traveling and then having company for a week-and-a-half, it's time to settle back in.  We're also adjusting our routines a bit as we attempt to get back into homeschool-mode in the next few weeks and I'm also taking on some more writing projects.  Now would be the perfect time to invest in document management software from Dokmee.net to keep me organized! While life was crazy with traveling and company, I fell off the menu-planning boat, but with life remaining crazy now, it's time to climb back on the boat before dinner time turns into a nightly disaster!  😉
Monday: Chicken Enchiladas, Steamed Broccoli
Tuesday: Waffles, Turkey Sausage
Wednesday: Roast Chicken, Mashed Potatoes, Mixed Veggies
Thursday: Sandwiches, Fruit
Friday: White Chicken Chili, Cornbread
Weekend: Leftovers (a necessity since my weekends are now going to be packed with planning and preparing for the upcoming school week)
See more menu plans at I'm An Organizing Junkie!
Here are a few money-saving offers for you to kick off the weekend!
Sign up for the Chili's Email Club and receive exclusive offers and print a coupon for FREE order of Skillet Queso & Chips.
Sign up for JCPenney emails to receive special offers and coupons.
Totally paperless, there's nothing to clip or print since they are 100% digital! They work at over 100 chains in 24,000 stores nationwide.  This is a great option for those who say they don't have time to clip coupons!  And if you are an avid couponer, you can use these in addition to paper coupons at many stores.  I highly recommend this!