In December, we had another first for our family…first stitches! And of course, it was Kelvin who needed them….we know to never let insurance lapse on that boy.  It seems like he's in the ER at least a few times every year.
I was at Walgreens and Chad had been playing with the kids outside.  Kelvin ran inside and Chad heard him crying, so he came in to see what was wrong and there was blood everywhere.  Chad said he didn't even know where it was coming from, because there was blood all over his face and hands.  He put Kelvin in the bathtub to rinse away some of the blood and found a small, but deep, gash on his forehead.  It turns out he had tripped over a chair leg and hit his head on the corner of our china hutch.  As soon as I got home and took a look at it, I knew we were heading to the hospital for stitches.
Luckily, he only needed two and he didn't fuss too much when they put them in (they numbed it beforehand, of course).  I had always thought it was important to keep wounds dry to prevent infection, but the doctor actually told us to keep it moist with Neoporin and covered with a bandaid at all times.  I guess that's to minimize scarring.  I actually alternated Neosporin and Vitamin E oil, because that's supposed to help prevent scarring, too.
Two stitches
Immediately after getting his stitches out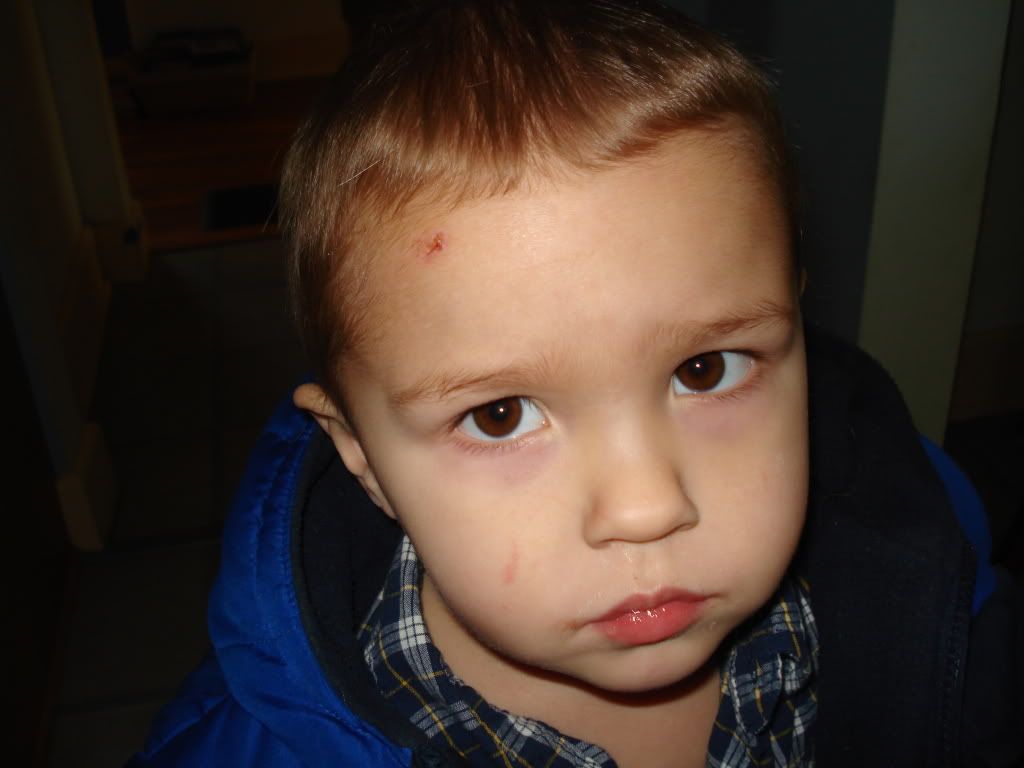 Unfortunately, over a month later, it still looks pretty much the same as that second picture.  I'm not sure if it's because he keeps messing with it, or if that's normal.  It doesn't look infected at all, which is why I haven't brought him back in to have it looked at again.  I probably will have to, if it doesn't start looking better soon though.