Well, I have to say that I did not expect to be posting a 40-week update….especially when I'm 40 weeks, 2 days!
Apparently, my body has forgotten what it's supposed to do here.  I have been at the same point (4 cm, cervix VERY posterior) for 3 weeks now.  I had to see a nurse practitioner instead of my doctor yesterday and my cervix was so posterior, she couldn't even measure it (and as a side note….OW!).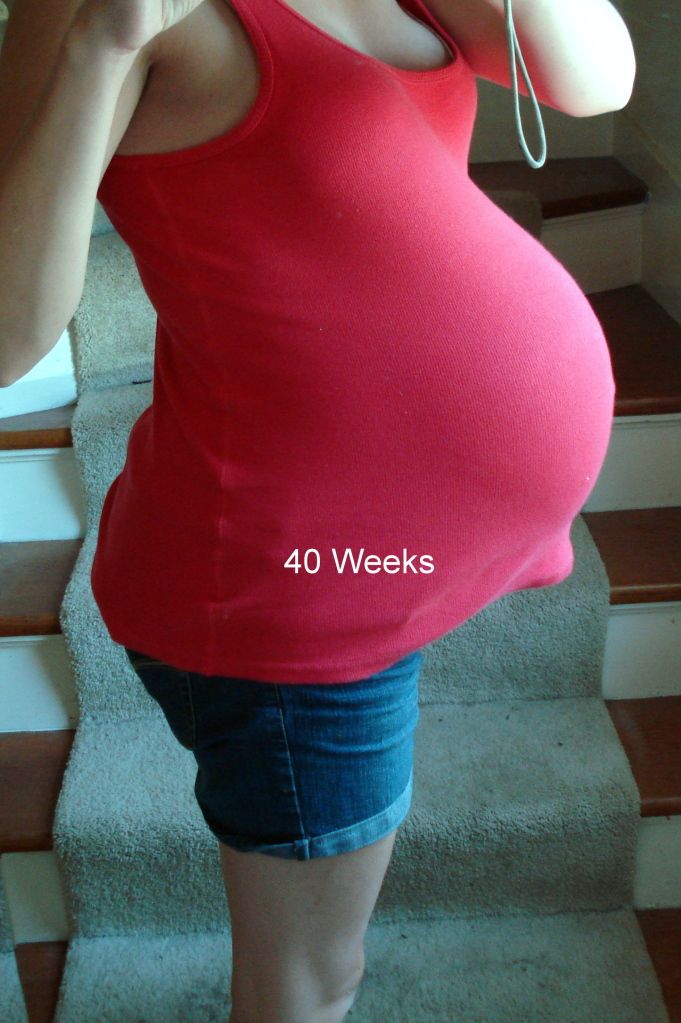 She said that the doctors don't want patients going past 41 weeks at this practice.  I really wanted to avoid induction and I'm so lucky that I have a doctor who is supportive of me trying to do things as naturally as possible as long as there isn't a medical reason not to.  But I'm OK with being induced at this point.  I am not progressing at all on my own, I'm already measuring 41 weeks (which means I'll be measuring 42 by the time they induce) and I'm 100% certain about the dates…if I was wrong at all, it would have meant having him earlier, not later.  My biggest concern is his size…and I cannot risk a c-section in the land of no VBAC's.
So I have an appointment with my doctor on Monday and we'll figure out what we're going to do.  If he doesn't want me to go over 41 weeks, I'll probably be induced on Tuesday.  If he's OK with me going a few days over 41 weeks, I'll be induced on Friday when he's on call.  I'm still really hopeful that I'll go into labor on my own, because I think the element of surprise is the only fun part of going into labor.  LOL  But I've pretty much accepted that I'll be induced.
So that's that.  I'll end this post with a video I got of the baby moving around a couple of weeks ago.  Ignore the rash on my stomach…I'm not sure what that was, but it's gotten way worse since then and I'm pretty sure it's heat rash now.  It itches/hurts sooooooo much!