This week was my favorite twice-a-year consignment sale.  This year I didn't find as many cute clothes at great prices as I have in previous years (more of it looked outdated or was something I wouldn't put the kids in, like sports shirts or an army t shirt ), but I still managed to find enough awesome stuff to spend almost $200!  Part of it was on a stroller, though.  I will need to supplement all three kids' fall and winter wardrobes with more clothes, but it was awesome to get such a good start on it!
I'm writing this post on the tablet with a baby asleep on my chest, so no pictures this time.  But I did want to record Carter's stats for the week.  He turned 7 weeks old on Monday and weighed 14 pounds 1 ounce.
I also battled mastitis this week which was loads of fun, but I managed to beat it without antibiotics.  Lecithin is awesome stuff…I'll be taking it until I'm done nursing!
We've really been enjoying watching the Olympics this year.  This is the first time Ava and Kelvin have been old enough to be interested in it at all.  Their favorite event is the gymnastics.  They're so funny…they watch the gymnasts and then tell us, "I can do that!"  Then they try and realize it's a lot harder than it looks!  It's good timing because they're in a tumbling class right now and they can feel like they're doing the same thing as the gymnasts when they're on their balance beam at class.  🙂
They haven't been interested in many of the other events, but they haven't seen the equestrian one yet.  I need to show that to them because I think they'll love it.
My little turkey has decided sleep is overrated.  Don't let that adorable sleepy baby face fool you for a second!  He is still hands-down the best newborn sleeper I have ever had, but he has decided he likes being awake a LOT more than being asleep!  Usually, he would go to sleep around 9 or 10, and I would hold him until I went to bed around 11.  Last night, he stayed up until midnight, slept two 3-hour stretches (with a 30-minute feeding in between) and then got up for the day.  There was no reasoning with him either!  I thought he would sleep more today to make up for it, but he's just been catnapping.  Oh well, I have the rest of my life to fold these three baskets of laundry that are sitting here, right?!
I finally got birth announcements done for Carter!  Well, almost done.  I still need to order 5×7 envelopes (I wish I knew where to look to get them in town, because I could get them out quicker that way).  But anyway, my mom did them for me and I love the way they turned out.  It took me awhile to get a picture I wanted to use, but once I did I got SIX I loved!  I really love the one I ended up using, though…I'm even thinking about getting some photos on canvas here and having that be one of them.  I will post the announcement here next week sometime…I don't want to post it yet because I don't want the people who will receive one seeing it before they get it in the mail!
Carter turned 5 weeks old yesterday!  That is hard to believe, but at the same time it seems like forever ago that we were dealing with the NICU stay and all of that.
Little man is getting such a personality now.  He smiles and coos all the time and is very aware of his surroundings.
I got him weighed this morning and he is 13 pounds, 1 oz.  He's been consistently gaining just over an ounce a day.
And he is very firmly attached to Mommy.  I've been typing all my blog posts with one hand because he wants to be held all the time (even when he's sleeping, which he is now).  I don't mind because I know this time is going to go so fast…and my baby carriers are getting tons of use!
I'm loving watching the bonds forming between these three. 🙂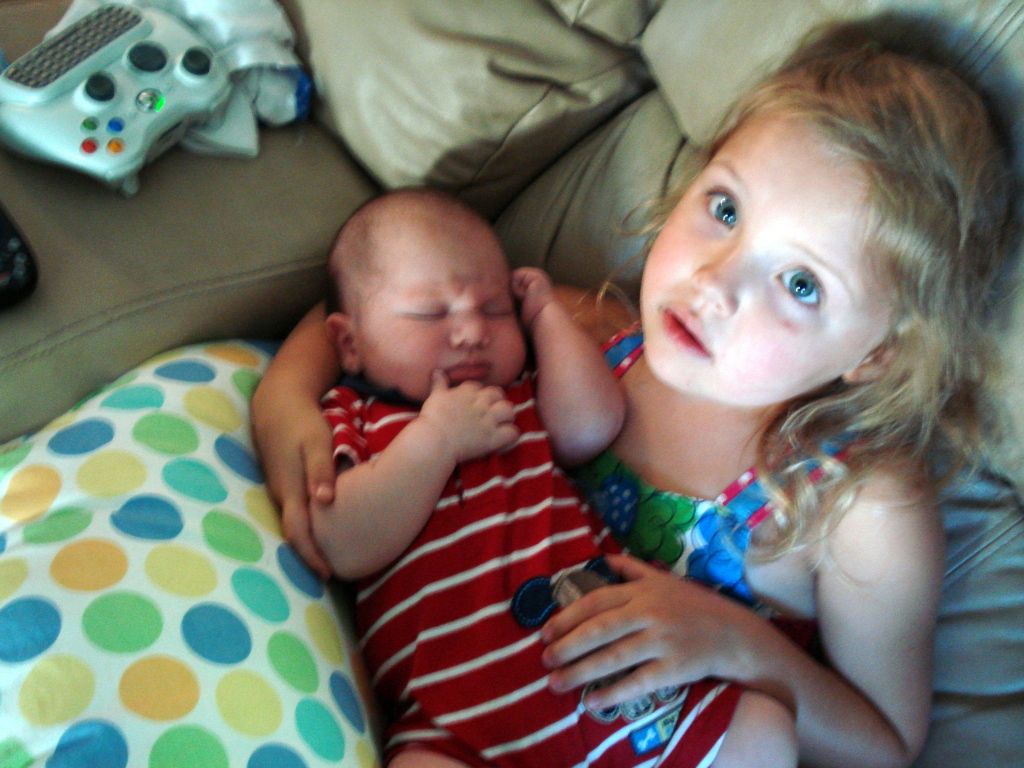 This little girl insisted she would have nothing to do with the baby after she found out he was a boy.  Now she never stops asking to hold him!
Carter already adores his big brother.  Every time he sees Kelvin he smiles and coos at him.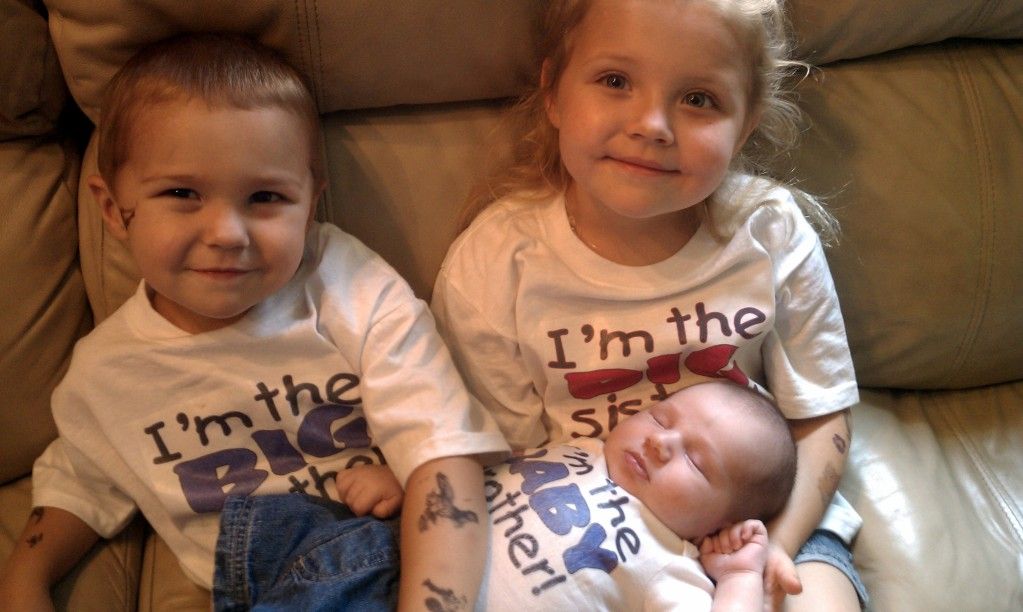 I'm looking forward to watching them grow up together.  I know they'll be the best of friends!
Carter turned 1 month old yesterday!  Two days before his 1-month birthday, he weighed 12 lbs, 9 oz.  I looked back at pictures of Kelvin and Ava at one month to see how they compared to him.  Kelvin looked about the same size, but Ava was a little peanut still.  It's these boys and their love of eating!  LOL
I also looked back to see exactly how much Kelvin weighed at 1 month (it's times like these that technology like the bb playbook is awesome to have so that you can look back and get info quickly) and he weighed almost exactly the same as Carter does.  Which is weird because Kelvin was over 2 pounds lighter than Carter at birth!  So even though Carter started out so big, at least he's staying little longer.  That's nice, since I kind of feel like I got jipped out of having a "tiny" baby.  🙂
Carter finally had his first bath this week!  It took FOREVER for his cord to fall off…it finally fell off the day he turned 4 weeks old, so he had to wait almost an entire month for his first real bath (versus sponge baths).
Apparently it was worth the wait though, because he LOVED it!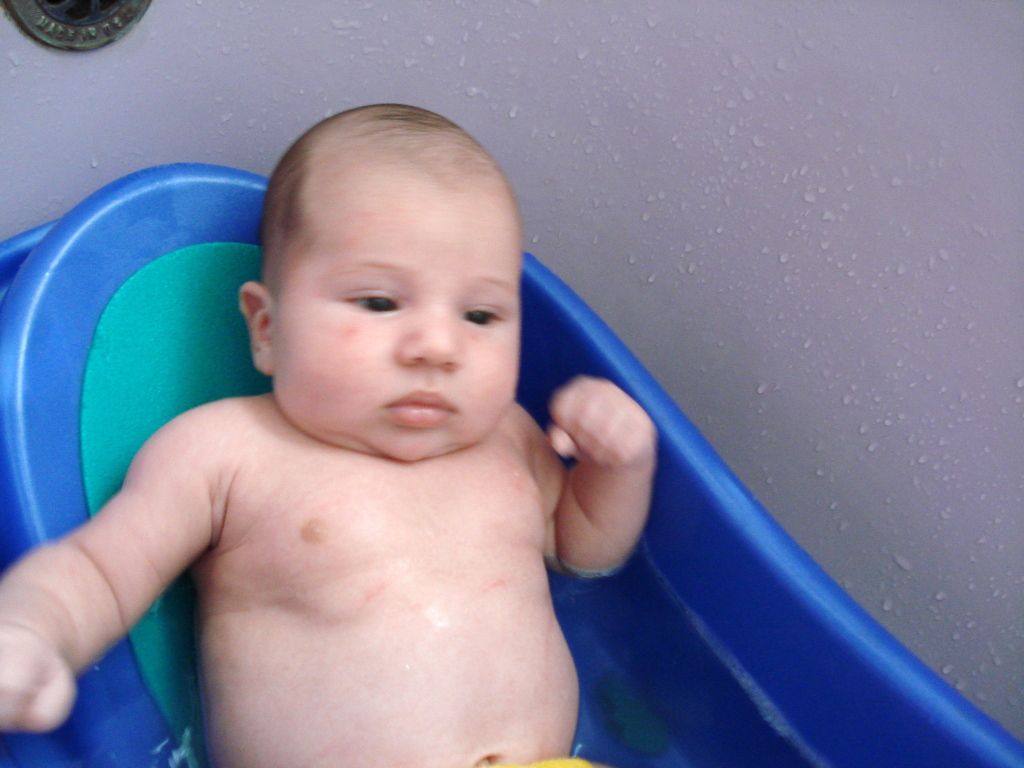 He wasn't too thrilled when it was time to get out, though.
Since Carter arrived well after his due date, I had several weeks of anxious waiting beforehand.  (Side note: whoever says that each baby comes sooner than the last?  So not right!  Every pregnancy gets longer for me!) While I was wishing I could be spending the last few weeks of the pregnancy in beach house rentals , that just wasn't part of the plan, so after my grandma got here, we tackled a few projects.
This was one of them…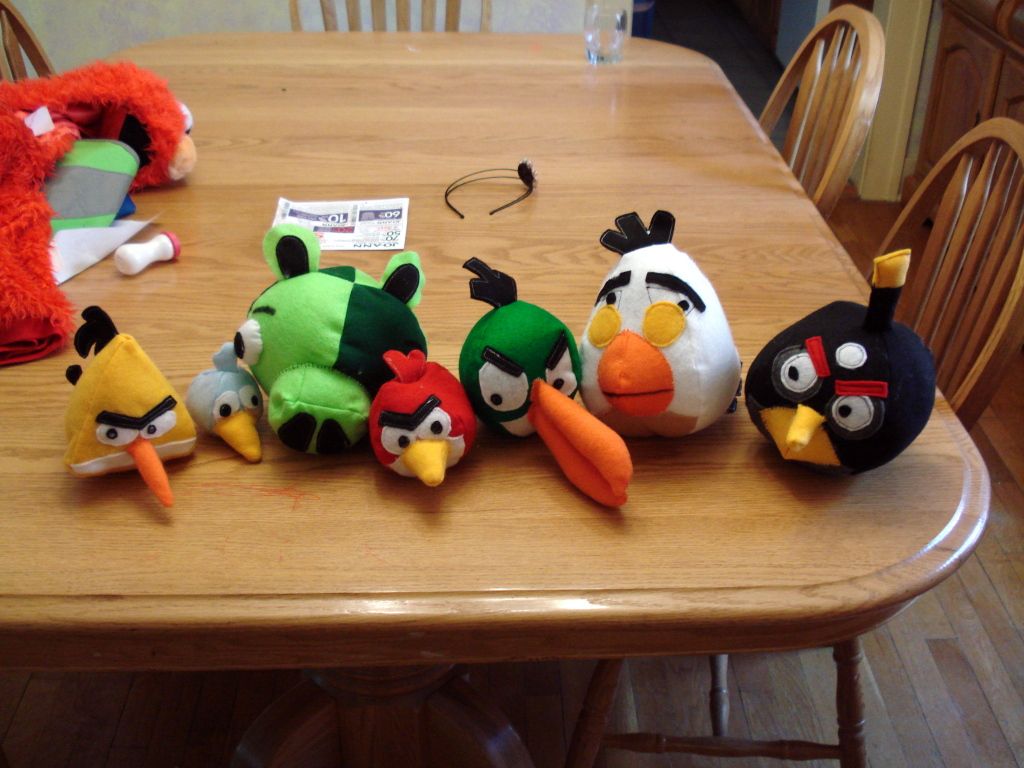 Angry Birds!
This was one project that I'd wanted to do for quite awhile….since last winter, actually.  I had bought the supplies and everything, I just hadn't found the time to sew them.  Once I made these, I was actually glad I had waited.  It would have taken me FOREVER if I hadn't had my grandma here to help me.  The pattern was a little unclear in some spots and there was a lot of hand sewing, and my grandma was able to help in both those areas.
I think they turned out really cute, but I definitely will not be making them again.  They were a lot of work and by the time I got to the last ones, I was pretty frustrated!
The Angry Birds was one project I'd had