Archive for the 'Cloth Diapers' Category
A few weeks ago, Carter had a nasty stomach bug and we put him in disposable diapers for a few days.  I figured it was a good time to get pictures of our entire cloth diaper stash while it was all clean.
I keep a lot of our diapers in a 3-drawer rolling cart.  I pulled the drawers out to take pictures so you could see all of them.
Here is the backbone of our stash — pocket diapers!  This is Carter's drawer and he has all of the boyish and gender neutral diapers in it, but he definitely has enough for both him and Baby Girl to use once she has grown into one-size diapers.  The left row is a Katydid, several Kawaii's, several Fuzzi Bunz, a Lil Smudgeez and some Alvas.  The middle row is a few more Alva's (in the back) and BumGenius 4.0's.  The third row is all Bum Genius 4.0's.
We have also acquired a Chaplin BumGenius 4.0 since I took these stash pictures.
This is the baby's drawer.  On the left are her BumGenius 4.0's and Freetimes.  These are all one-size so she probably won't fit in them right away, but there wasn't enough room in Carter's drawer, so I put all the girly ones in here.  The middle row is newborn all-in-ones.  There's a mixture: a Thirsties, some Lil Joey's, a GroVia, a couple Nana's Bottoms, and some THX.  The far right row is 6 BumGenius newborn AIO's in the front and 6 Green Mountain Diapers fitteds in the back.  We also have 2 newborn Simplex AIO's and 5 GMD newborn workhorses on their way to us.
The last drawer in the cart is hybrids.  The left row is pre-"stuffed" Flips with a GroVia shell and inserts in the back.  The middle row is more pre-"stuffed" Flips with some me-made inserts in the back.  And the right row is a couple Flip covers, a couple Flip inserts, and more me-made Flip inserts.  This drawer is getting re-done because the Flips used to be our night-time diapers (that's why they were pre-stuffed), but Carter isn't as much of a heavy wetter anymore so we've been able to switch to BG 4.0's with an extra hemp insert.  So I've been replacing the elastic in the Flip covers to get them ready for Baby Girl to use with prefolds and flats.  Flip covers are my very favorite for newborns.
This is what the top of the cart looks like.  On the right are premium-size prefolds (for Carter, though he barely ever uses them right now because we have more than enough pocket diapers for just one in cloth).  On the right is the rainbow of newborn and infant prefolds I dyed when I was pregnant with Carter.  There are several embelished preemie prefolds on top.
This is what the top of the cart typically looks like (with wipes in front of the prefolds….Baby's on the left, Carter's on the right).
I also have baskets of cloth diaper supplies on the changing table.  The first basket has fleece liners (for the fitteds and prefolds) and wet bags.  I typically have a pail liner in there too….one is usually in here and one is in the pail.
These are their covers.  On the left are the preemie and newborn covers.  In the middle are the pattern-coordinating covers for Carter and Baby Girl (mostly Thirsties).  And on the right are Carter's covers.
And this is the wool basket.  On the left is the newborn wool.  A lot of it is a little more boyish because I knit some of it when I was pregnant with Carter.  I still have more in the works in super-girly colors for Baby Girl.  In the middle are the changing pad covers.  And on the right is Carter's wool (shorties and longies).
This is what the whole changing table looks like.  On top is a pack of disposable diapers for each of them, along with some disposable wipes.  There is also a stack of 6 Green Mountain Diaper flats (we have another 6 on the way).  On the first shelf is the basket of covers and the basket of wet bags and fleece liners.  On the bottom shelf is the basket of wool, some extra containers of cloth wipes (in the back on the right) and extra fleece liners (in the front on the right).
These are their accessories.  In the front right basket are Boingos (I refuse to use Snappi's anymore).  In the front left basket are Baby Girl's accessories so far…nail clipper, bulb syringe, thermometer, nail files.  In the back left basket are their CJ's BUTTer jars (they're two deep in the basket…unopened ones are underneath the opened ones).  that basket also holds Vick's Baby Rub, prescription diaper rash ointment, and Carter's thermometer.  In the back right basket is the CJ's BUTTer spray and wipes spray (Kissaluvs Diaper Lotion Potion and two bottles of Baby Bum Drops).  And behind the baskets is baby wash, baby lotion, Glade spray for when we change a particularly stinky diaper and deodorant bars that we put on top of the ceiling fan to keep the stinkies away.
There you have it!  With adding another growing bum to the house soon, this will obviously be changing frequently, but this is what we're starting out with.  I'm excited to have two in cloth again!
About a year ago, I started replacing the elastic in my BumGenius 4.0 diapers.  It only took me a year, but I finally finished!  It's pretty simple and straightforward, but does take some time and focus, so sometimes I would go a few months between repairing diapers.  I finally finished today!  Now I just have a few 3.0's that need snaps and new elastic and some 4.0's that need snaps and then all my diapers will be in perfect working order!
When Kelvin was born and I began cloth diapering, I washed all the diapers in Purex Free n Clear.  It worked great for awhile, but then we started getting some funky odors.
Around that time, I heard about Rockin' Green Cloth Diaper Detergent.  After hearing raves about how it strips buildup out of diapers and gets rid of all those funky odors, I ordered some samples.  I was a little less than thrilled.  It cleaned my diapers about as well as Purex, but I didn't have the dramatic results after soaking that I'd seen other people take pictures of.
I ended up switching to Tide Original powder and never looking back.  I love it…no funky odors ever, until this last weekend.
Kelvin had diarrhea while we were out of town visiting family and some of his diapers ended up sitting for a few days before they were able to be washed.  I did several pre-rinses to get all the yuckies out and then washed as normal with Tide.  When I took them out of the washer, they still smelled a little funky.  So I decided to give Rockin Green another try.  I had bought a bag from my sister-in-law that she didn't want, so I "rocked a soak".  And, lo and behold, the diapers came out with no funky smells!
So I'm not sure where this leaves me.  I'm a little confused about the mixed results I've gotten with Rockin Green (about as confused as I am about www.freedirectorysubmission.com! LOL). I think I may switch back and forth between Tide and Rockin Green a few times and figure out what works better for us, especially since I have a whole bag of Rockin Green to use up now! 🙂
If you follow the cloth diapering world at all, you probably know that Cotton Babies just released their first-ever print diapers…the Tiny Socialite Collection by Chelsea Perry!
I was psyched for the big announcement of what their prints would be and was a slightly disappointed to see that they weren't traditional prints with farm animals, vehicles and flowers.  But each time I looked at them, they kind of grew on me.  I still decided not to order any right away.  After all, I do not need any more diapers!!  Just ask Chad.  I think at this point, he'd almost prefer I spend money on acne cream than on diapers.  And I don't even need acne cream, which is kinda the point.  ANYWAY…
A couple days after the big announcement, Cotton Babies was having a "seconds" sale where they sell diapers with slight imperfections at reduced prices.  The prices were really awesome this time around, so I was waiting around for them to be listed.  It took forever because people were overloading their server, so I passed the time on Diaper Swappers.  Little did I know that the owner of Cotton Babies was also hanging out at Diaper Swappers that evening and she would be doing a giveaway!  By some miracle, I ended up winning not one, but two of the brand new print diapers for free!!
I was beyond excited, but since the preorders wouldn't be filled until November, I was prepared to wait awhile.  Imagine my excitement when my diapers showed up in my mailbox last week!
Trust me when I say that they're way cuter than the pictures online make them out to be.  I was really surprised that I wasn't that impressed with them in the beginning, but am pretty much in love with them now.
So of course, I had to subject Kelvin to a photoshoot in his new fluff.  You should have heard me, "You have to let me take these pictures!  The other babies don't even have these diapers yet!  You have to show them off!"  In the end, I think I got some OK shots.  🙂
BumGenius 4.0 in Eiffel Tower: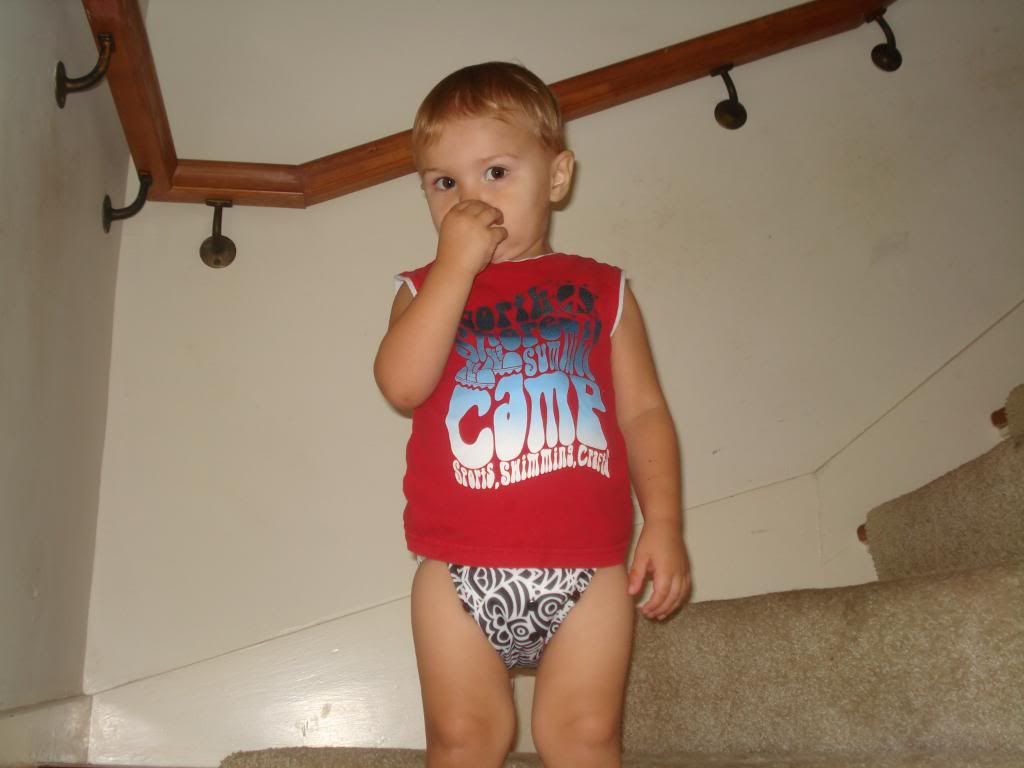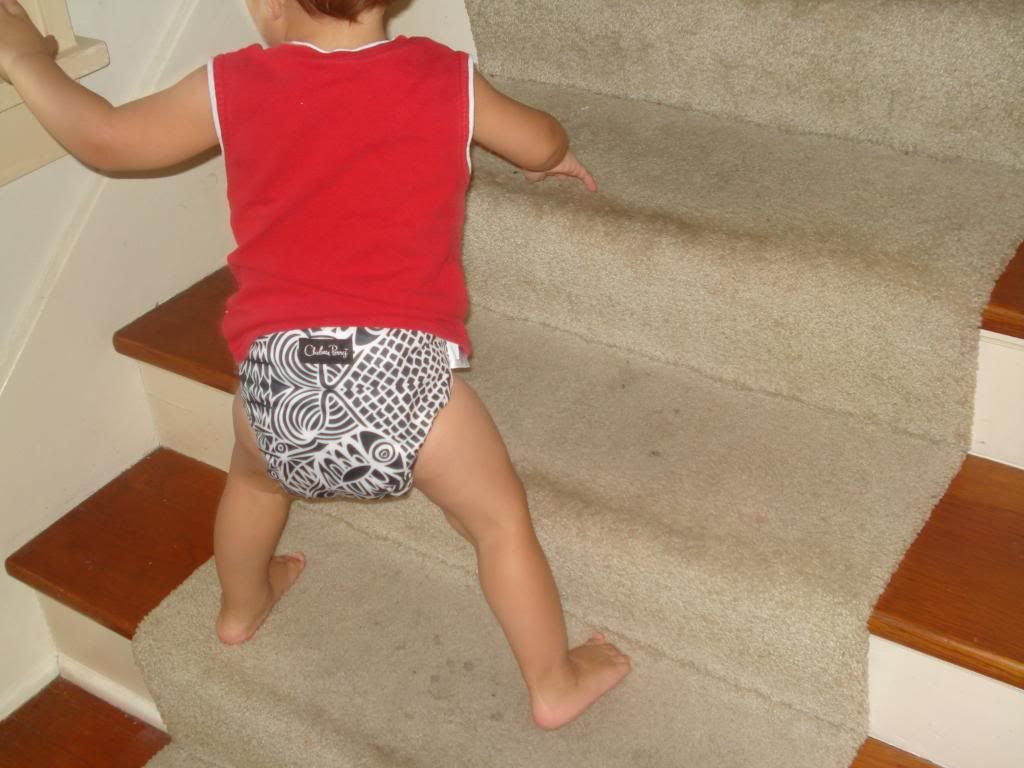 BumGenius 4.0 in Concrete Jungle: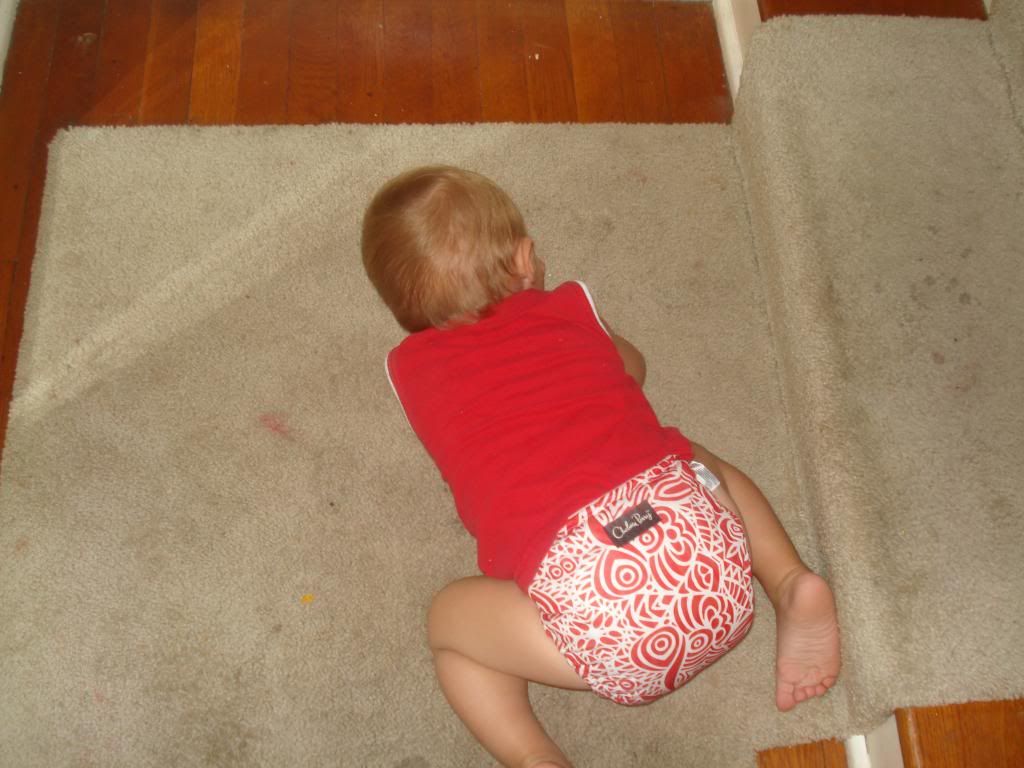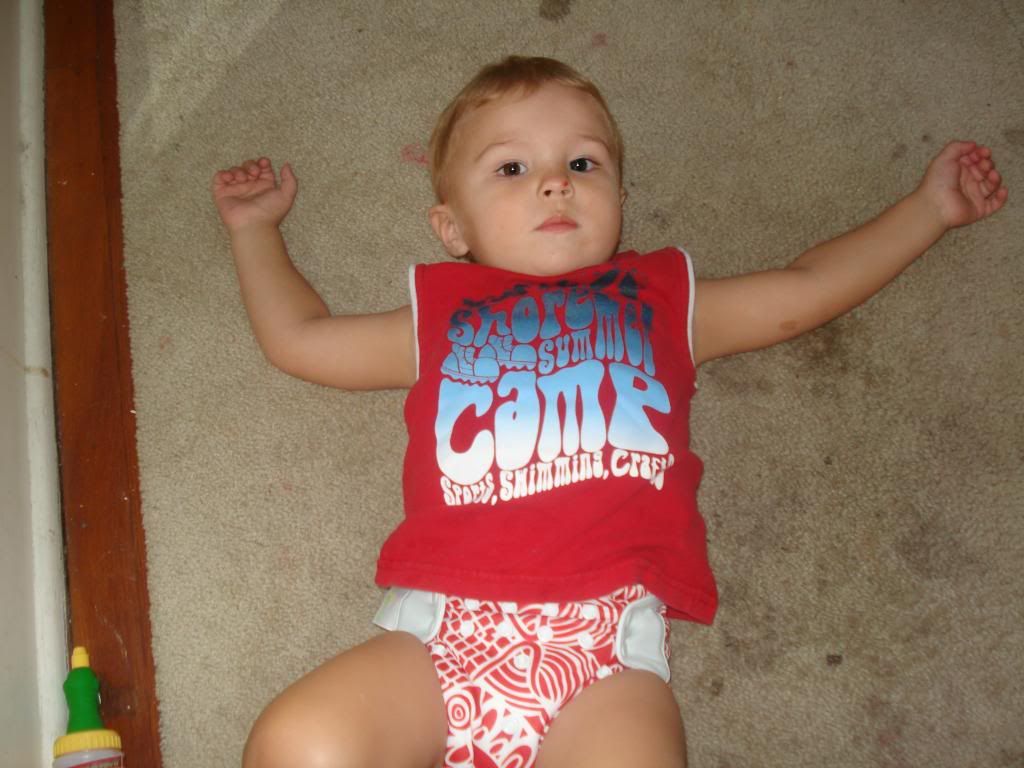 If you've spent much time reading this blog, you know I'm a die-hard cloth diaper addict.  I've even begun traveling with cloth diapers instead of breaking out the disposables.
Well, next week we're going to be on a longer trip.  The kids and I will be gone for a total of 10-11 days and I thought I should just suck it up and use disposable diapers.  I don't like imposing on people any more than necessary and it felt awkward to ask to use people's washers/dryers for diapers.  I convinced myself that it's just a few days and it's not that big of a deal.
But last night I realized I just couldn't do it.  Sometimes it feels like ignorance really is bliss (and maybe it is when it comes to treatment for adult acne LOL)….because I found myself cringing at the thought of putting Mr. Kelvin in chemical-laden Huggies.
So I emailed my grandma and asked if she'd mind if I washed just my Flip covers and liners in her washer and I'd use the chemical-free Flip disposable inserts so there wouldn't be anything that's actually absorbing pee in her washer.  She emailed back and said I can use both her washer and dryer and clothesline for anything I need to.  🙂
I'm very excited and relieved to be able to pack cloth again for this trip and be able to avoid disposables once again!
We did it!  Even though I brought a pack of disposable diapers for backup, we didn't even use one disposable diaper during our entire trip!
All the nervousness on my part turned out to be for nothing.  Everything went exactly according to plan….no stink issues, no running out of clean diapers, and it wasn't even a hassle.
I did end up bringing too many Flip disposable inserts.  I brought 2 packs, but we only used 1 pack (plus a couple extras I had from a previously opened pack).  I'd rather have too many than too few though!  I ended up starting to use the cloth inserts at the perfect time….when we got home, we had 2 left.  I also brought too many blankets for changing him on….I brought them to lay on the bed mattresses to keep from messing anything up, but ended up just using the changing pad from the diaper bag every time.
One thing that really helped was bringing all my wetbags and diaper pail liners.  I used the smallest wet bag in the diaper bag (I would air dry it between uses and pour a little baking soda in the bottom so it wouldn't smell).  On the way home, though, I used the medium size one because we were using cloth inserts then which take up more room.
I brought two diaper pail liners and used one at each destination.  Then the diapers from the first few days could simply stay in the car instead of potentially stinking up our second destination.  They really didn't stink though….I used baking soda in every bag and stuck in a wipe with a few drops of tea tree oil on it.  Between that and the essential oils in my wipes solution, everything stayed sweet-smelling.
I definitely plan to do this from now on.  Now that I know that it's not only possible, but very easy, I don't foresee ever going back to disposables on vacation!
Call me crazy, but I've decided that I don't want to use disposable diapers at all anymore….even while traveling.  I might change my mind after our trip this weekend, though!
Here's my plan…
Flip diapers are my favorites for a variety of reasons:
They're hybrid diapers, meaning they have a disposable insert option (which is completely dye-free and chemical-free).
They take up very little room, which is a big concern this trip since we are bringing my car and not our van.
I love the fit.
So the plan is to bring all our Flip covers (10), 2 packs of disposable inserts, fleece liners to go on top of them (they're not stay-dry), and all our wipes and wipes solution.  I'm also bringing accessories like diaper rash cream and changing pads (luckily no hemorrhoid treatment). I don't plan to be able to wash diapers while we're up there, so this will all be for the first 2 days of the our trip.
For the last two days, I brought 21 stay-dry cloth inserts (half are Flip, half are me-made) and some doublers for night time.
I'm also bringing all our wet bags, some baking soda to sprinkle in them to control odor and some tea tree oil.  If the smell become uncontrollable for some reason, I can banish a wet bag to the car and have a different one for inside.
Hopefully I've thought of everything and will go really smoothly!  I'll be sure to update when we get home!
When it comes to fastening cloth diapers, everyone has their own preferences.  Some people like aplix, some like snaps.
When I first began cloth diapering, I liked aplix far better than snaps.  I was able to get the fit perfect instead of getting it as good as the closest snap.
But when my aplix began wearing out after about a year of use, I started second-guessing myself.  I actually sent all of my bumGenius diapers in to have them converted to snaps.  Then I sold most of our remaining aplix diapers and bought snap-fastened ones instead.  It didn't take something as complex as energy auditor training to realize what worked for us and what didn't!
Want to hear a funny example of another reason I love snaps?  Maybe you just had to be there, but I thought it was hilarious….
This week, my grandparents were visiting and my grandma had sewn each of the kids cute little knee-length aprons.  They wore them quite a bit this week….even to the library!
Anyway, one night we were finishing dinner and Kelvin was wandering around the dining room in his apron and eventually climbed up on my grandpa's lap.  All of a sudden, I happened to look down and saw his aplix-fastened diaper sitting by my feet!
It didn't even click at first….I looked at the diaper, over at Kelvin, back at the diaper and then back at Kelvin again.
Me: What's he wearing???
Chad: His apron.
Me: No, on his butt!
Chad: (checking) Nothing!!!
Grandpa: I hope you cleaned his butt good after that poopy diaper change!
Since his apron went down to his knees, no one noticed he was walking around with no diaper on!
So there you have it.  In my opinion, aplix is good for newborns with brand new diapers, but once the diapers get some wear and tear and the baby starts removing his own diaper, snaps rule!
I have a new favorite website….Diapers.com!  When I first heard about it, I thought, "Well, I rarely use disposable diapers, so that site won't do me much good."  (See my Cloth Diapering 101 series, which I really am going to finish someday!)  I'm glad I went and checked it out, though, because they carry so much more than disposable diapers!
Of course, they do carry disposables at pretty much the same price you would pay in the store.  But they also carry cloth diapers, including cloth swim diapers and training pants.  Yippee!  They have all the major brands….Fuzzi Bunz, flip, bumGenius, Bumkins, Happy Heiny's, and the list goes on.
But that isn't all!  They have toys (I ordered a lot of Ava's birthday presents here), books, clothes, maternity supplies, baby food, formula, strollers, car seats, and more.  Even though it's called diapers.com, you can find almost everything you need for Baby here!  And all their prices are very similar to what you would pay elsewhere….no gouging you like some life insurance companies do (if you want to see current life insurance rates go here).
You're probably wondering why you'd want to order diapers online when you can go to the store and not pay shipping.  Because they have FREE shipping on orders over $49!  And it's fast….I placed my orders late at night and they were shipped UPS the next day and arrived the day after that.
Wait…it gets even better!  Use this code to get $10 off your first order of diapers: LXRA6649 .  You're not going to find better deals than this, folks!  This is an awesome way to try out cloth diapers on the cheap, if you're not completely sold on them.
Happy shopping!
Disclaimer: All opinions in this post are 100% mine and I was not compensated for this post by Diapers.com.  However, I will receive a referral bonus for each person who uses the code for $10 off their order.
The fourth type of cloth diaper is the all-in-one (AIO).  AIO's have everything you need for diapering…the absorbent insert is sewn into the waterproof cover.  They come with either velcro (hook and loop) or snap closures.
Pros
AIO's are the easiest diapers to use…there's no assembly or folding required.  Grandparents and alternate caregivers really appreciate these diapers!!  Many people also say that they're the least bulky diapers, but I find pocket diapers to be about the same.
Cons
AIO diapers are definitely the most expensive option.  They also take the longest to dry because you can't disassemble them for faster drying.  Another disadvantage is that there are very few one-size AIO's (there is one from BumGenius, but that's the only one I know of).
Cost
AIO's range from about $18 to about $30, depending on brand.
My Thoughts
I don't really use AIO's.  I have used some from Thirsties, but I never bought more after Kelvin outgrew them.  There wasn't anything wrong with the way they worked…I never had leaks and they fit great.  I'm just perfectly fine using pocket diapers and don't see the need to pay extra money to avoid spending 5 minutes stuffing diapers on laundry day.
I also don't like AIO's because I never feel like I can get them clean enough.  I like being able to take the insert out of pocket diapers and knowing that the whole thing got really clean.  That's just the way I feel, though…I've never seen any evidence to support this.  There is evidence that they take forever to dry, though!!
But if you dislike stuffing pocket diapers or have another person caring for your child for a large amount of time, AIO's might be the way to go for you.  Basically, you're paying extra for the convenience of not stuffing diapers and if that's what you're after, this is the diaper for you!
I can't personally recommend many AIO's.  Like I said, I have only used Thirsties and those worked fine.  I know that at least one of my sister-in-laws has some BumGenius AIO's and really likes them, though.
Do you like AIO's?  Why or why not?  What is your favorite brand?