Archive for the 'Product Review' Category
One of my favorite parts of being an Influenster is mail day!  Every so often, I get an email informing me that I've been selected to receive a Vox Box and then the waiting begins!  I usually don't know for sure what's in the box, so it's extra fun when I finally get to open it.
The TLC Box Box didn't disappoint!
I got to try out a bar of Ivory Soap, a trial size pack of Puffs Plus Lotion, Anew Reversalist Complete Renewal Express Wrinkle Smoother, Neo To Go (perfect for the diaper bag!), a Shell gas rewards card, and a coupon for Breyer's Gelato.  I have to say, my favorite out of the whole box was the gelato!!  I am SOLD on it!
Summer is here, and although I haven't been able to spend much time out in the sun (one of the side effects of being stuck in a hospital bed for days), the kids have been spending lots of time out there!  I heard they were in their wading pool before 8:00 am this morning!
One of the biggest things on my must-buy-for-summer list is always sunscreen.  It's so important to avoid overexposure to the sun!
I was thrilled to receive the Coppertone Clearly Sheer Sunscreen to review as a BzzAgent this summer.  This is truly amazing sunscreen.  I hate it when you spray sunscreen on and it leaves a greasy feeling all over your skin.  You can barely tell that this is on!  It is non-greasy, it won't clog pores, it's completely sheer, and it even looks great under makeup!  My favorite is the spray because it's easy to spray the kids down, and it absorbs within a few seconds so I don't have to worry about it coming off as soon as they get in the pool.
In all, I can't recommend this sunscreen highly enough!
Disclosure: I received samples of Coppertone Clearly Sheer Sunscreen to review from BzzAgent.  All opinions are my own.
I wasn't even hosting Thanksgiving dinner this year, but it was still easy for regular week-night dinners to become a hurried after-thought.  We were busy wrapping up school work, getting laundry done, and packing to travel and too often it was 5:00 pm and I hadn't even thought about dinner yet.
Thankfully, Kroger Skillet Meals were there to save the day!  (When you try them, the Tuscan-Style Penne is to die for!)  Kroger also has Garlic Bread and ready-to-eat salad to round out your meal.
Why not keep a skillet meal and garlic bread in the freezer and a salad in the crisper drawer for those days when you're cooking up a storm for every dinner BUT tonight's dinner?
Disclosure: BzzAgent provided me with a Skillet Meal, a garlic bread and a salad mix to review. All opinions are my own.
Moms know it's important to get quality products for their babies, while still staying within budget. Comforts for Baby products make this easy! They are available exclusively at Kroger grocery stores (and affiliates).
I have trialed their diapers, wipes, bibs, baby wash, and baby lotion and I have to say I am impressed with everything I've tried.  They work just as well as brand name products for way less cost.
I have to rave about the bibs, especially.  I like bibs that have a waterproof layer to keep clothes away from soggy messes.  I have searched high and low and haven't been able to find exactly what I'm looking for….everything either doesn't have a waterproof layer or is too stiff and plastic-y.  Imagine my surprise when I found EXACTLY what I'm looking for at Dillons!  The Comforts for Baby bibs have a flexible waterproof layer between two cloth layers.  They are awesome. and they're also super cute.  Look for them!
Disclosure: I was provided coupons for free Comforts for Baby products to review.  All opinions are my own.
I used to do a LOT of running and have always had issues with joint pain, shin splints, and high painful arches.  I can't even do the 30-Day Shred without excruciating pain in my feet and knees.  I had pretty much accepted that I was just going to have to deal with it…until I received Dr. Scholl's Active Series Insoles for free from Influenster.
I was skeptical.  Did I mention my crazy-high arches?  Seriously.  Crazy-high.  I didn't even the think the insoles would be able to reach them to make much of a difference.  But these insoles are a game changer! They make even just being on my feet in general so much more comfortable.   I love the support they offer my high arches and the extra padding to cushion the impact on my joints.
Disclosure:  Received the Dr. Scholl's Active Series insoles for free in exchange for my review.  All opinions are 100% my own.
As someone with sensitive teeth and somewhat receding gums, it's important to me to make tooth-brushing a gentle experience.  I typically use sensitive toothpaste, and now I have a sensitive toothbrush to use too!
When Influenster sent me the Colgate SlimSoft toothbrush to review, I was a little skeptical.  Without stiff bristles, I didn't think it would be capable of cleaning my teeth very well.  I was pleasantly surprised!
The toothbrush has more bristles than normal toothbrushes and they are able to reach deeper between teeth.  You would think it would take an aggressive tooth-brushing to accomplish this, but the bristles couldn't be softer!
I would definitely recommend this toothbrush and I will be buying another one when this one wears out!
I received the toothbrush to review and some samples of mouthwash and toothpaste.  No other compensation was received.  All opinions are my own.

It's Friday!
If you have a Kroger chain store near you, that means more than, "It's almost the weekend!"
It means there is a Free Friday Download available!
Kroger and its affiliates are offering a digital coupon for a free product every Friday.  It's as easy as signing into your Kroger account, clicking on the coupon and then buying the product at the store.  The price of the product comes off your total automatically when you scan your shopper's card.
So far, I've gotten free mac n cheese, free Pop Chips, free Hamburger Helper, free granola bars, and several other items.  This week you get a FREE 7UP TEN®, A&W TEN®, Sunkist TEN® Soda, Canada Dry TEN® or Dr Pepper TEN®!
If you don't have a Kroger account yet, it's very simple to set up.  Once you have it set up, you get all kinds of benefits.  You can do things like tracking your savings and Fuel points, check the weekly ad to see what's on sale, and make your grocery list.
My favorite features of my Dillons (Kroger affiliate) account is the access to digital coupons.  I love saving money, and it's so easy to load coupons to my card.  No more clipping coupons only to forget them in the hustle and bustle of trying to get out the door with three kids!  Ain't nobody got time for that!  😉
We also love the Fuel Points we get from our Dillons account.  Chad does tons of driving for work, so our family goes through a lot of gas.  It's so nice to see the price per gallon drop at the pump after we scan our Dillons card!
What are you waiting for?  Your free products await!
Disclosure: I am a BzzAgent and received Free Friday Download coupons in exchange for my honest opinion.
The last time I posted, it was right after Carter bit through his tongue, bled everywhere and vomited blood on everything.  Remember?  Good, because I'd rather not.
Needless to say, after that night EVERYTHING needed to be disinfected.  Usually, I wait until the kids are in bed to do my cleaning.  I need to make sure things are getting disinfected and germs are dying, but I don't want my kids exposed to chemical fumes.  But after that up-all-night episode, cleaning had to happen STAT.
Enter, Lysol Power & Free!
I was so thankful that I had just received the Lysol Power & Free multi-purpose spray and cleaning wipes to review!  I was able to get rid of all the germy blood-and-vomit yuckiness without worrying that I was exposing the kids to harsh chemicals and fumes.  And FYI, it removes bloody vomit stains from leather couches.  Just so you know.
The Lysol Power & Free line is bleach-free.  It actually cleans using hydrogen peroxide, which dissolves into water and oxygen.  This is awesome because it means that it isn't leaving behind chemical residues…no more worrying about rinsing the chemicals off of surfaces after cleaning them!
I'm usually a bit wary about products that claim to be "chemical free" or whatever, because I've found that they usually don't work very well.  Not the case with Lysol Power & Free.  Before trying out this line, I always used regular Lysol and I honestly can't tell a difference between the effectiveness of the two.
One of the best parts for me is the fresh scent it leaves behind.  I am a sucker for clean, fresh scents and Lysol Power & Free's Citrus Sparkle Zest delivers!
The Lysol Power & Free line has gotten itself a new loyal customer.  Being able to safely disinfect around the kids while making the house smell amazing?  Who could ask for more?
Disclosure: I was provided the Lysol Power & Free multi-purpose spray and cleaning wipes to review.  All opinions are my own.
We will soon have another walker in the house!  Carter has just started pulling up on furniture and even took a couple of steps to cruise around it.  Exciting times, but also freaky….pretty soon my little baby will be a toddler!
It is also freaky for my back.  I remember spending countless hours bent over holding my new, unsteady walker's hands so they could practice toddling around.  Thanks to the Juppy Walker, I get to skip that this time!  My Juppy as already been used on my sister Rachel and my niece Josie and I have to say it's a pretty awesome piece of baby gear!
The Juppy Walker is a small cloth walker that is small enough to fit in your purse or diaper bag.  You put the baby in it and hold onto the straps while standing upright.  Now Baby can practice walking to their hearts' content without Mom or Dad having to hunch over.
Additionally, the Juppy Walker is far safer than traditional baby walkers.  The parent is right there assisting Baby to make sure there are no dangerous falls down stairs.
In addition to providing me with my own Juppy Walker a couple of years ago, the kind people at Juppy have given me a Blue Juppy Baby Walker to give away to one of my fantastic readers!
This giveaway is open to the U.S. only until July 9th at 12:00 a.m. CST.  The winner will be chosen randomly by Rafflecopter. I will post and email the winner, who will have 48 hours to respond. If winner does not respond within 48 hours, another winner will be chosen.
a Rafflecopter giveaway

Disclosure: I was provided with a Juppy Walker to do this review, but was not compensated in any other way.  All opinions are 100% my own.
I decided to find some new crafty, busy projects for the kids since they can't spend as much time outside in the winter.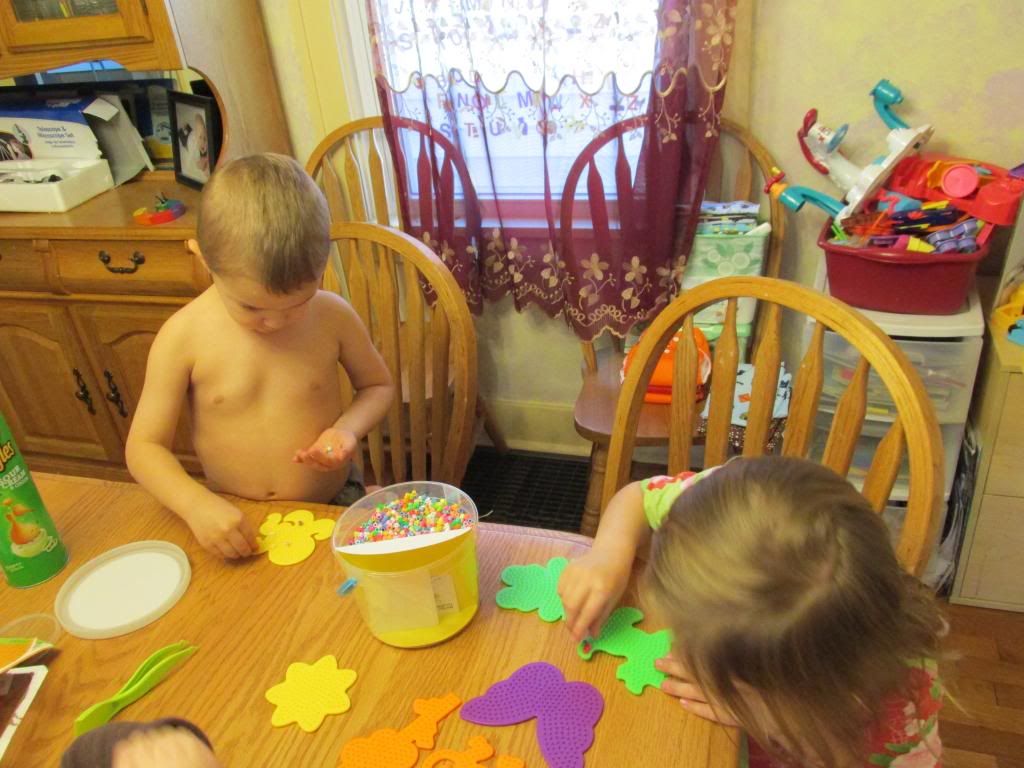 One of the things I decided on were perler beads.  The kids love them.  I was a little afraid that one or both of them wouldn't have enough of an attention span to complete an entire project, but they both did!  At first, they just put any color of bead anywhere on the board, but after awhile I got them to make the an entire butterfly wing the same color, or each of the octopus legs a different color.  This turned out to be a really fun activity for them!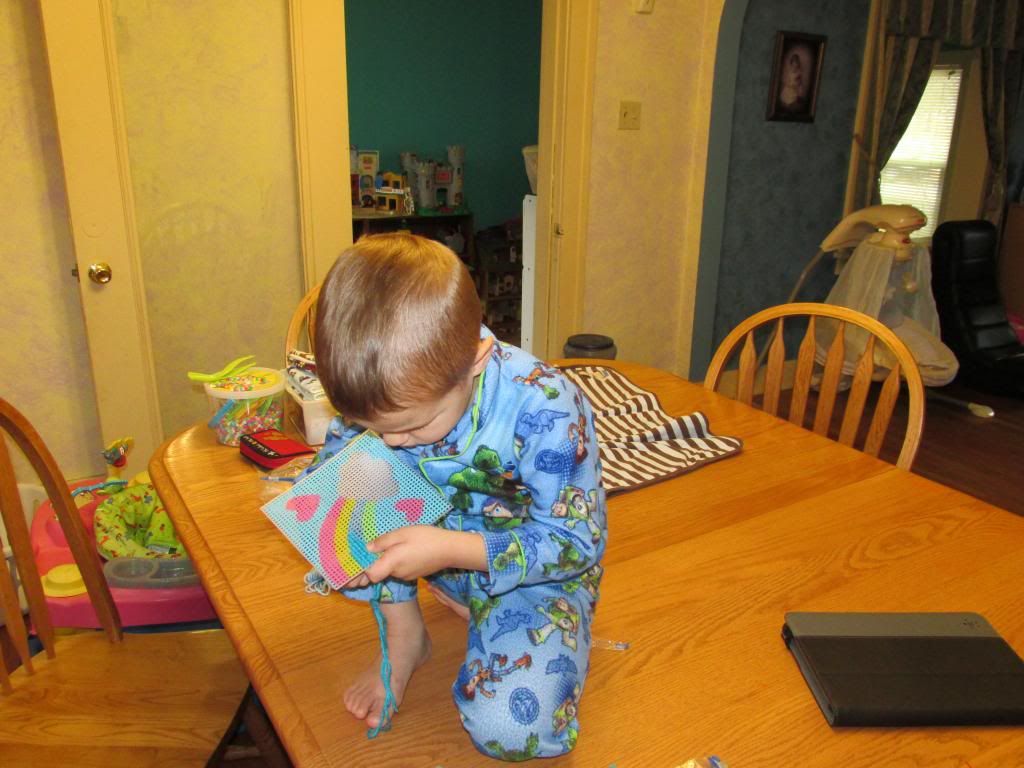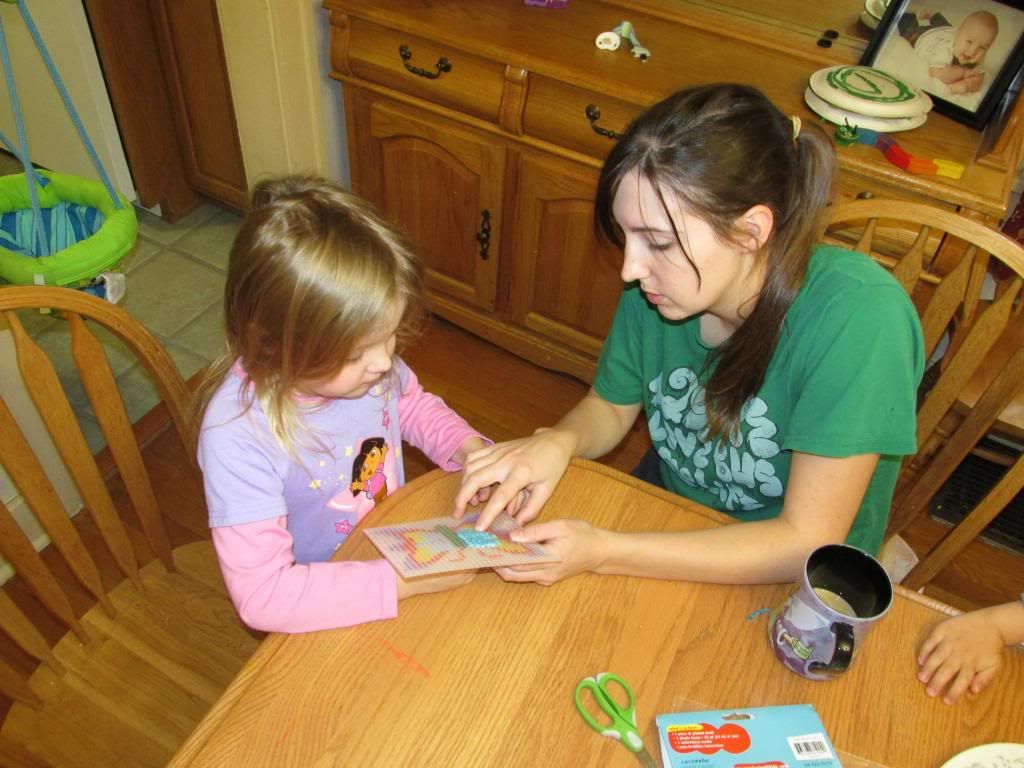 The other activity I got was beginners' cross-stitch kits.  The kids both love these, but they require a lot of help from me.  I sort of thought Ava would be able to do a lot of it herself, since the "canvas" is color-coded, but she is having trouble remembering that the stitches go "diagonal".  It's a good way to spend one-on-one time with the kids, but of course they usually want to do their sewing at the same time, which gets chaotic!